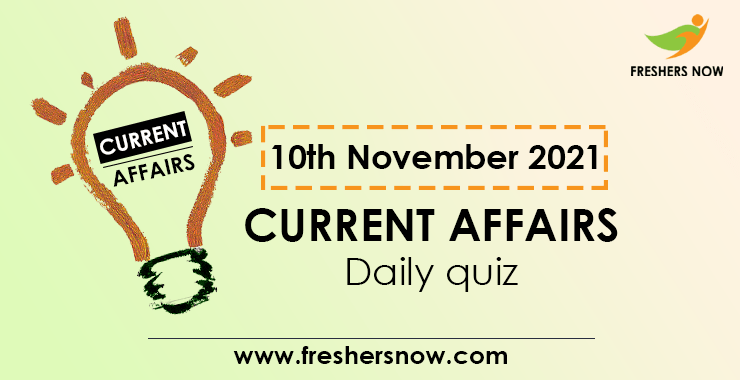 10th November 2021 Current Affairs Quiz: For the sake of candidates, we have provided the 10th November 2021 Current Affairs Quiz in the below section. We have provided the Latest Current Affairs along with the Answers, and Explanations. Candidates who are preparing for the banking exams and any other competitive exams need to check this article regularly. To get Daily Current Affairs, bookmark (CTRL+D) this page to visit more often.
★★ Monthly Current Affairs Quiz ★★
10th November 2021 Current Affairs Quiz
1) On which day the National Legal Services Day is observed?
a) 8th November
b) 9th November
c) 7th November
d) 10th November
Answer: B
Explanation: National Legal Services Day is marked across the country annually on 9 November. The day is observed to commemorate the enactment of the Legal Services Authorities Act and to create awareness about the various provisions related to the act.
★★ Practice Free Mock Tests ★★
2) What is the name of China's largest warship, which it has handed to Pakistan in order to boost its vigilance against India?
a) PNS Tughril
b) USS Nimitz
c) PNS Bismarck
d) USS Missouri
Answer: A
Explanation: China delivered its largest and most advanced warship to Pakistan. The Type 054A/ P frigate, named PNS Tughril, has been designed and built by China State Shipbuilding Corporation Limited (CSSC).
Static Points:
China PM – Xi Jinping
China Capital – Beijing
China Currency – Renminbi
Pakistan PM – Imran Khan
Pakistan Capital – Islamabad
Pakistan Currency – Pakistani rupee
3) which Indian city was included in UNESCO Creative Cities Network List?
a) Guwahati
b) Bhopal
c) Srinagar
d) Pune
Answer: C
Explanation: The United Nations Educational, Scientific and Cultural Organization (UNESCO) designated Srinagar as a part of the UNESCO Creative Cities Network (UCCN). With this, the capital city of Jammu and Kashmir has entered the club of 295 creative cities network across the world.
Static Points:
Jammu and Kashmir Capital – Srinagar (Summer) Jammu (Winter)
Rivers in J&K – Chenab, Indus, Jhelum, and Ravi
★★ Practice GK Questions & Answers ★★
4) How many scientists from scientific institutions across India have been awarded the Swarnajayanti Fellowship Award?
a) 11
b) 18
c) 14
d) 17
Answer: D
Explanation: Seventeen scientists from scientific institutions across India have been awarded the Swarnajayanti Fellowships for their innovative research ideas and the potential of creating an impact on R&D in different disciplines.
Static Points:
Swarnajayanti Fellowship Award (Awarded for) – Research in basic science in India
5) India, Indonesia, and ______ recently join multi-billion-dollar coal transition programme.
a) Italy
b) Philippine
c) China
d) Russia
Answer: B
Explanation: India, Indonesia and the Philippines will join South Africa as the first recipients of a multi-billion-dollar pilot programme aimed at accelerating their transition from coal power to clean energy, the Climate Investment Funds (CIF).
Static Points:
Philippine Capital – Manila
Philippine Currency – Philippine Peso
Indonesia President – Joko Widodo
Indonesia Capital – Jakarta
Indonesia Currency – Indonesian rupiah
★★ Practice Aptitude Questions & Answers ★★
6) Who launched the 1st Mentorship Programme for young innovators?
a) Anil Vij
b) Jitendra Singh
c) Jai Ram Thakur
d) Hemant Soren
Answer: B
Explanation: The first-ever mentorship programme for young innovators to mark the 75th year of India's independence was launched 8 by union minister of State (Independent Charge) Science and Technology, Shri Jitendra Singh.
Static Points:
Jitendra Singh – Member of Lok Sabha
Political Party – Bharatiya Janata Party
Constituency – Udhampur, J&K
7) which state has announced the Mukhyamantri Awasiya Bhu Adhikar Yojana?
a) Madhya Pradesh
b) Andhra Pradesh
c) Uttar Pradesh
d) Arunachal Pradesh
Answer: A
Explanation: The Madhya Pradesh government has announced a scheme to provide free plots of land to families who don't own one so that they can lead dignified lives. Under the Mukhyamantri Awasiya Bhu-adhikar Yojna, the state government will provide plots to families that don't have land to build their own homes, the official from the public relations department.
Static Points:
Madhya Pradesh CM – Shivraj Singh Chouhan
Madhya Pradesh Capital – Bhopal
Madhya Pradesh Governor – Mangubhai Chhaganbhai Patel
★★ Practice Reasoning Questions & Answers ★★
8) Which state signed MoU with World Bank for Rs.770 crore Loan to promote River Transportation?
a) Kerala
b) Assam
c) Gujarat
d) Punjab
Answer: B
Explanation: Assam Chief Minister Himanta Biswa Sarma said the Inland Water Transport (IWT) department has signed a Memorandum of Understanding (MoU) with the World Bank for an Rs. 770 crore loan to improve river transportation in the state.
Static Points:
Assam CM – Himanta Biswa Sarma
Assam Capital – Dispur
Assam Governor – Jagdish Mukhi
9) Bandhan Bank names Zubeen Garg as brand ambassador for which state?
a) Maharashtra
b) Karnataka
c) Assam
d) Madhya Pradesh
Answer: C
Explanation: Bandhan Bank has announced Popular Assamese & Bollywood singer Zubeen Garg as the brand ambassador for the Bank in Assam. This association is a landmark one for Bandhan Bank as this is the first time ever that the Bank has associated with a brand ambassador since its inception six years back.
Static Points:
Assam National Parks – Dibru-Saikhowa, Kaziranga, Manas, Nameri, and Rajiv Gandhi Orang
Assam Wild Life – Amchang, Chakrashila, Dihing Patkai, East Karbi Anglong, North Karbi Anglong, and Nambor
★★ Practice English Questions & Answers ★★
10) Who is the 72nd Grandmaster from Kolkata?
a) Mitrabha Guha
b) Viswanathan Anand
c) Pentala Harikrishna
d) Santosh Gujrathi Vidit
Answer: A
Explanation: Kolkata-based International Master Mitrabha Guha becomes the 72nd Grandmaster of the country after completing the requirement by securing his third and final GM norm at GM Third Mix 220 Novi Sad, Serbia," the AICF said on its website.
Keep on visiting this site @ Freshersnow.com for the latest daily Current Affairs Quiz. And bookmark our site using Ctrl + D to get all the latest notifications.