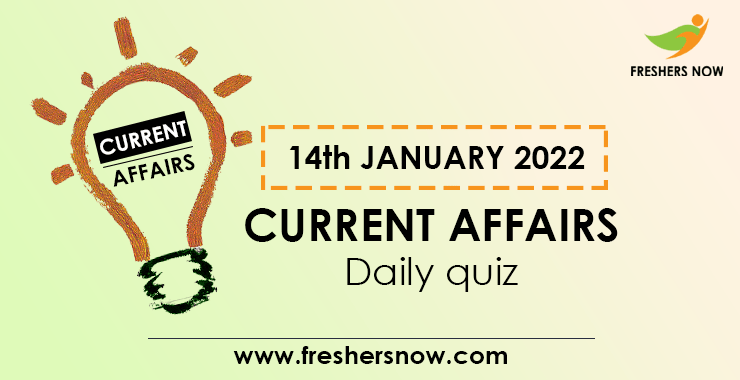 14th January 2022 Current Affairs Quiz: Hey Guys! If you are looking for the 14th January 2022 Current Affairs Quiz, then check this article. For the sake of candidates, we have provided the Current Affairs Quiz with the Explanation and Static Points below. Candidates can go through this page to know more information regarding the 14th Jan 2022 Current Affairs Quiz. Aspirants can get January 14, 2022, GK Bits or Current Events of January from the below sections, and prepare for the State/ Central Government Exams or Competitive Exams. Bookmark this page to visit more often to get Daily Current Affairs Quiz.
★★ Current Affairs Quiz ★★
14th January 2022 Current Affairs Quiz By Freshersnow.com
1) KVIC launches India's 1st Mobile Honey Processing Van in which state?
a) West Bengal
b) Jharkhand
c) Maharashtra
d) Uttar Pradesh
Answer: D
Explanation: Vinai Kumar Saxena, Chairman of Khadi and Village Industries Commission (KVIC), has launched India's first Mobile Honey Processing Van at Sirora village in Ghaziabad, Uttar Pradesh. This mobile honey processing unit can process up to 300 KG of honey in 8 hours. The mobile van is designed by KVIC at its Multi-disciplinary Training Centre, Panjokhra, Uttar Pradesh at a cost of Rs 15 lakh.
Static Points:
Uttar Pradesh CM – Yogi Adithyanath
Uttar Pradesh Capital – Lucknow
Uttar Pradesh Governor – Anandiben Patel
2) UBS decreases GDP forecast for FY22 to ____ per cent and increased projection for FY23 to 8.2%.
a) 9.7%
b) 8.1%
c) 7.1%
d) 9.1%
Answer: D
Explanation: Switzerland based brokerage UBS Securities has revised India's growth forecast for the current financial year (FY22) downwards to 9.1 per cent from 9.5 per cent due to increased cases in Omicron infections, closely equal to the recent NSO forecast to 9.2 per cent.
Static Points:
Forecasts for FY22 World Bank – 8.3 per cent
Reserve Bank of India – 9.5 per cent
UBS Asia Pacific Head – Uday Odedra
UBS Global Chairperson – Colm Kelleher
Headquarters – Zurich, Switzerland
3) Eminent rocket scientist S Somanath was appointed as new Chairman of which organization?
a) DRDO
b) ISRO
c) VSSC
d) None
Answer: B
Explanation: The Appointments Committee of Cabinet (ACC) approved the appointment of rocket scientist S Somanath as the Chairman of the Indian Space Research Organisation (ISRO) and The Space Secretary, Department of Space (DoS). He will succeed K Sivan, who is set to retire on 14th January 2022. Mr Somanath will be the 10th Chairman of ISRO. r Somanath, the senior space scientist is also taking part in the Gaganyaan-India's 1st Human spaceflight mission.
Static Points:
ISRO Administrator & Director – Kailasavadivoo Sivan
Headquarters – Bengaluru
★★ Free Mock Tests ★★
4) Who becomes the World No 1 in Badminton U-19 Girls Singles?
a) Tanisha Crasto
b) Tasnim Mir
c) Gayatri Gopichand
d) Treesa Jolly
Answer: B
Explanation: Tasnim Mir became the first Indian to grab World no 1 in Under-19 (U-19) Girls Singles category with 10,810 points in the latest Badminton World Federation (BWF) Junior rankings. She is followed by Mariia Golubeva from Russia and Lucia Rodriguez from Spain.
Static Points:
Badminton World Federation President – Poul-Erik Hoyer Larsen
Headquarters – Kuala Lumpur, Malaysia
5) Who Addressed 16th India Digital Summit, 2022?
a) Anurag Thakar
b) Amith Shah
c) Piyush Goyal
d) Rajnath Singh
Answer: C
Explanation: Piyush Goyal, Union Minister of Commerce & Industry, addressed the 16th edition of India Digital Summit (IDS), 2022 through a video conference. The 16th IDS organised by the Internet and Mobile Association of India (IAMAI) was held from 11th to 12th January 2022 with the theme "Supercharging Startups". He also unveiled 'LEAP' ("Leverage, Encourage, Access & Promote") as the way forward for Startups.
Static Points:
Piyush Goyal – Minister of Commerce & Industry, Consumer Affairs, Food & Public Distribution, and Minister of Textiles
Constituency – Maharashtra, Rajya Sabha
6) ____ & South Korea's POSCO Partners to Explore Business in Steel & Renewable Energy.
a) Adani Group
b) Tata Group
c) Mahindra Group
d) Bajaj Group
Answer: A
Explanation: Adani Group has signed a non-binding Memorandum of Understanding with POSCO, a South Korean steel-making company, to explore business cooperation opportunities in sectors like Steel, Renewable energy and others. The investment under the MoU is estimated to be up to USD 5 billion (~Rs 37000 crore).
Static Points:
Adani Group Founder – Gautam Adani
Headquarters – Ahmedabad
CEO – Jeong-Woo Choi
Headquarters – Pohang, Gyeongsangbuk, South Korea
★★ English Questions & Answers ★★
7) Oscar, Emmy, Grammy Winning Lyricist Marilyn Bergman Passed Away at the age of ____.
a) 97
b) 83
c) 93
d) 96
Answer: C
Explanation: Oscar, Emmy and Grammy Awardee & Lyricist Marilyn Bergman passed away at the age of 93. She was born in Brooklyn, USA. The Bergmans were honoured with Emmy Awards and Grammy Award for the song of the year.
8) Who launched the Swachh Vidyalaya Puraskar (SVP) 2021-2022?
a) Virendra Kumar
b) Dharmendra Pradhan
c) Anupriya Patel
d) Subhas Sarkar
Answer: D
Explanation: The Minister of State Subhas Sarkar launched the Swachh Vidyalaya Puraskar (SVP) 2021-2022, underlining the importance of water, sanitation and hygiene. The schools will be assessed through an online portal & mobile app in 6 sub-categories: Water, Sanitation, Hand Washing with soap, Operation and Maintenance, Behaviour Change and Capacity Building. The 6 sub-categories will be awarded prize money of Rs. 20,000/- per school.
9) ____ Releases Annual Report of Ombudsman Schemes, 2020-21, that complaints rose by 22.27% in 2021.
a) RBI
b) HDFC Bank
c) ICICI Bank
d) SBI
Answer: A
Explanation: The Reserve Bank of India has released the Annual Report of the Ombudsman Schemes for the year 2020-21 for nine months (July 1, 2020- March 31, 2021). As per the report, the volume of complaints received was increased by 22.27 % on an annualized basis, BOS accounted for the major increase.
Static Points:
RBI Headquarters – Mumbai
RBI Governor – Shaktikanta Das
RBI Deputy Governor – Mahesh Kumar Jain, M. Rajeshwar Rao, Michael Patra and T. Rabi Shankar
★★ GK Questions & Answers ★★
10) Former West Indies Cricketer ____ Receives Knighthood.
a) Andy Roberts
b) Viv Richards
c) Clive Lloyd
d) Rohan Kanhai
Answer: C
Explanation: The Former West Indies Captain Clive Lloyd received Knighthood from Prince William, the Duke of Cambridge at Windsor Castle, for his services towards the game of cricket. Clive Lloyd led the West Indies to victory over Australia at Lords in the final of the inaugural Cricket World Cup tournament in 1975.
About Knighthood: A knighthood is a title that is given to a man by a British king or queen for his achievements or his service to his country. A man who has been given a knighthood can put 'Sir' in front of his name instead of 'Mr'.
Lewis Carl Davidson Hamilton, Formula One Racing Driver won Knighthood in 2021 for service to Motorsports.
11) ISRO Successfully Conducts Qualification Tests of Cryogenic Engine for ____.
a) Gaganyaan
b) Aditya-L1
c) Chandrayaan-1
d) None of the above
Answer: A
Explanation: The Indian Space Research Organisation (ISRO) successfully conducted the qualification test of Cryogenic Engine for Gaganyaan programme for a duration of 720 seconds at ISRO Propulsion Complex (IPRC), Mahendragiri, Tamil Nadu. The Qualification test ensures the reliability and robustness of the cryogenic engine for induction into the human-rated launch vehicle for Gaganyaan.
Static Points:
Gaganyaan Manufacturers – ISRO, HAL
Maiden launch – June 2022 (uncrewed), 2023 (crewed)
★★ Aptitude Questions & Answers ★★
12) India's Retail Inflation in December 2021 Climbs to 5 months high of ____ per cent.
a) 9.57%
b) 7.41%
c) 4.77%
d) 5.59%
Answer: D
Explanation: As per the data released by the Ministry of Statistics and Programme Implementation (MoSPI), India's benchmark inflation rate, measured by the Consumer Price Index (CPI) firmed up to 5.59 per cent year-on-year in December 2021 (highest in 5 months) from 4.91 per cent in November 2021. In December 2020, retail inflation stood at 4.59 per cent.
Static Points:
Ministry of Statistics and Programme Implementation – Rao Inderjit Singh
Constituency – Gurugram, Haryana
13) _____ Mutual Fund Renamed as White Oak Capital Mutual Fund.
a) Yes Mutual Fund
b) SBI Mutual Fund
c) Both a & b
d) None of the above
Answer: A
Explanation: Yes Asset Management has been renamed as the White Oak Capital Asset Management with effect from 12th January 2022. In line with this, Yes Mutual Fund has been renamed as White Oak Capital Mutual Fund. In November 2021, the White Oak Capital group announced the completion of the transaction to acquire the mutual fund business of Yes Bank.
14) Who Signed Joint Development Agreement to Develop Africa's 1st PPP Transmission Project in Kenya?
a) NTPC Limited
b) POWERGRID
c) POSOCO
d) None of the above
Answer: B
Explanation: Power Grid Corporation of India Limited (POWERGRID) has signed a Joint Development Agreement with Africa50, the pan-African infrastructure investment platform, to continue to develop Africa's 1st public-private partnership (PPP) mode transmission project in Kenya, "Kenya Transmission Project". The project involves the development, financing, construction, and operation of the 400kV Lessos – Loosuk and 220kV Kisumu – Musaga transmission lines under a PPP framework.
Static Points:
POWERGRID Chairman and MD – K. Sreekant
Headquarters – Gurgaon, Haryana
★★ Reasoning Questions & Answers ★★
15) ____ Venture Ltd Receives SEBI Approval to Set up Accreditation Agency.
a) CDSL
b) CAMS
c) SEBI
d) NSDL
Answer: A
Explanation: Central Depository Services Limited (CDSL) Ventures Limited, a wholly-owned subsidiary of CDSL has received approval from the Securities and Exchange Board of India's (SEBI) for setting up an Accreditation Agency for a period of 3 years with effect from 1st February 2022 for accreditation of eligible Investors.
Static Points:
CDSL CEO & MD – Nehal Vora
Headquarters – Mumbai, Maharashtra
SEBI Chairperson – Ajay Tyagi
Headquarters – Mumbai, Maharashtra
Hope that candidates have gathered all the specifications regarding the 14th January 2022 Current Affairs Quiz. Keep visiting this site @ freshersnow.com for Daily Current Affairs.