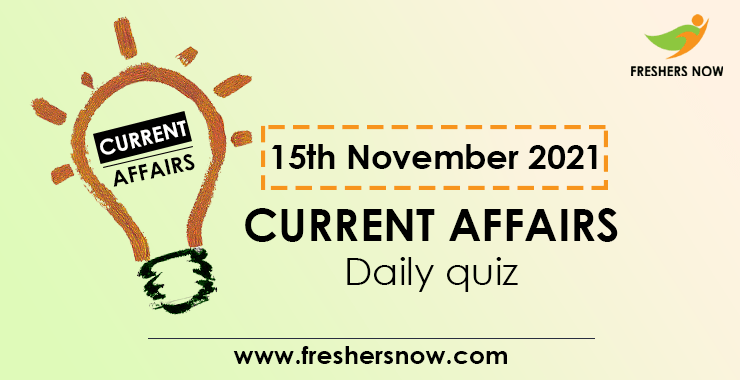 15th November 2021 Current Affairs Quiz: If you are looking for a 15th November 2021 Current Affairs Quiz, then check this article. Candidates can know what type of questions will be asked in the Current Affairs Exam by checking the below session. To gain more marks in Various State Government Exams, SSC, Banking Exams, and any other competitive exams, candidates must verify 4 to 5 months of the latest current affairs quiz. We have provided the Latest Current Affairs along with the Question, Answer, and Explanation in the below sections. Check this page on a regular basis to get daily current affairs.
★★ Current Affairs Quiz ★★
1) West Indies Dwayne Bravo has announced retirement from which sport?
a) Football
b) Swimming
c) Cricket
d) Wrestling
Answer: C
Explanation: Dwayne Bravo has announced his retirement from international cricket, while Chris Gayle looks set to retire when he waved the crowd goodbye. Two top Windies cricketers—Chris Gayle and Dwayne Bravo played their last game together as West Indies took on Australia in their last game at the ICC T20 World Cup.
2) Operation Red Rose' is an anti-illicit liquor campaign, being implemented in which state?
a) Punjab
b) Karnataka
c) Kerala
d) Maharashtra
Answer: A
Explanation: Punjab's Excise Department launched 'Operation Red Rose' in 2020, to curb illicit liquor trading and nail excise-related crimes. The police launched the special drive about 20 days ago to take strict action against all kinds of liquor smuggling, bootlegging and illicit distillation of liquor in Ludhiana as part of the statewide directive from the Punjab director general of police (DGP).
★★ Practice Free Mock Tests ★★
3) How many sportspersons have been selected for the Major Dhyan Chand Khel Ratna Award 2021?
a) 7
b) 12
c) 17
d) 8
Answer: B
Explanation: Major Dhyan Chand Khel Ratna Award will be given to 12 sportspersons including Neeraj Chopra, who won gold for India at the 2020-2021 Tokyo Olympics. National Sports Award will be given in New Delhi on November 13.
★★ Practice GK Questions & Answers ★★
4) RBI has recently appointed _____ bank as an Agency Bank to conduct government business.
a) Federal Bank
b) Indian Overseas Bank
c) Bandhan Bank
d) State Bank of India
Answer: C
Explanation: The Reserve Bank of India has now appointed Bandhan Bank as an Agency Bank of the RBI to conduct government business. Bandhan Bank will now be authorised to handle transactions related to GST, VAT and the collection of state taxes. Aside from that, it can also look after the collection of stamp duty and pension payments on behalf of central and state governments, among others.
5) Which state's CM has launched the 'Uttam Beej portal'?
a) Karnataka
b) Madhya Pradesh
c) Uttar Pradesh
d) Chandigarh
Answer: D
Explanation: Fulfilling the farmer's expectations, Haryana Chief Minister, Sh. Manohar Lal launched "Uttam Beej Portal" in Chandigarh. The portal will benefit lakhs of farmers of the State. This portal will provide transparency in the seed production programme arranged by Government as well as private seed producing agencies and will ensure a better quality of certified seed.
★★ Practice Aptitude Questions & Answers ★★
6) Which university won Maulana Abul Kalam Azad (MAKA) Trophy 2021?
a) Panjab University, Chandigarh
b) Punjabi University, Patiala
c) Guru Nanak Dev University Amritsar
d) None of the above
Answer: A
Explanation: The Maulana Abul Kalam Azad Trophy, abbreviated as MAKA Trophy is a sports honour of the Republic of India. The award is named after Abul Kalam Azad commonly referred to as Maulana Azad, one of the senior leaders of the Indian independence movement. It is awarded annually by the Ministry of Youth Affairs and Sports.
7) Which Indian company has launched the Smart anti-airfield weapon successfully tested?
a) DRDO
b) IOCL
c) ISRO
d) QUARO
Answer: A
Explanation: The Defence Research and Development Organisation (DRDO) and Indian Air Force (IAF) have jointly carried out two flight tests of the indigenously-developed smart anti-airfield weapon. It is designed to be capable of engaging ground targets with high precision up to a range of 100 kilometres.
★★ Practice Reasoning Questions & Answers ★★
8) Which bank to hold its first-ever hackathon, HARBINGER 2021, on the payments system?
a) SBI
b) RBI
c) ICICI
d) HDFC
Answer: B
Explanation: The Reserve Bank of India (RBI) will be organising its first global hackathon on the theme of digital payments. "HARBINGER 2021–Innovation for Transformation" with the theme 'Smarter Digital Payments' will see participants identify and develop solutions "that have the potential to make digital payments.
9) ______ and Aditya Birla Health Insurance tie-up for Bancassurance.
a) Yes Bank
b) Federal Bank
c) SBI
d) RBI
Answer: B
Explanation: Federal Bank and Aditya Birla Health Insurance Co. Limited (ABHICL) have announced their bancassurance partnership. Through this partnership, Federal Bank will be able to provide their customers with innovative health insurance solutions offered by ABHICL.
★★ Practice English Questions & Answers ★★
10) Who launched Citizen' Tele-Law Mobile App?
a) Anurag Singh Thakur
b) Amit Shah
c) Kiren Rijiju
d) Hardeep Singh Puri
Answer: C
Explanation: The government has decided to expand its Tele-Law service to 75,000-gram panchayats covering all states and Union territories this year, according to Union law minister KirenRijiju. While launching a mobile app for citizens that enables online consultation with panel lawyers.
For the sake of candidates, we have provided Daily Current Affairs. For Daily Current Affairs, Keep on checking this site @ Freshersnow.com more often.