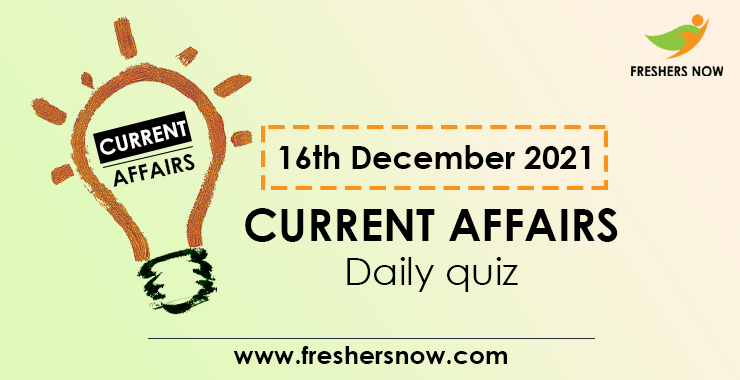 16th December 2021 Current Affairs Quiz: Hey Guy! If you are searching for the 16th December 2021 Current Affairs Quiz, then, you are in the right place. For the sake of candidates, we have provided the Latest Current Affairs of 16th Dec 2021 in the below sections. Grab this chance to gain more marks in the State Government Exams, Bank Exams or any other competitive Exams. To save the time of the candidates, we had given the Latest 16th December 2021 Current Affairs Quiz with Answers along with an Explanation and Static Points. Check the below sections to know more details about the Daily Current Affairs. Bookmark this page to visit more often to get Daily Current Affairs Quiz.
★★ Current Affairs Quiz ★★
16th December 2021 Current Affairs Quiz By Freshersnow.com
1) Which state tops the list of states with a Maximum Number of Beneficiaries assisted under ABRY?
a) Maharashtra
b) Tamil Nadu
c) Gujarat
d) Assam
Answer: A
Explanation: Maharashtra has topped the list of states with a maximum number of beneficiaries under the Atmanirbhar Bharat Rojgar Yojana (ABRY), followed by Tamil Nadu and Gujarat. The list has been topped by Maharashtra with 6,49,560 new employees in 17,524 Beneficiary Establishments (Estts.). The beneficiaries have been provided with a total of Rs 4,09,72,34,366.
Static Points:
Maharashtra Capital – Mumbai
Maharashtra CM – Uddhav Thackeray
Maharashtra Governor – Bhagat Singh Koshyari
2) India's 1st Green Hydrogen Microgrid Projects to be set up by NTPC at which state?
a) Andhra Pradesh
b) Telangana
c) Odisha
d) Kerala
Answer: A
Explanation: National Thermal Power Corporation Limited (NTPC) has awarded a project of "Standalone Fuel-Cell based Micro-grid with hydrogen production using electrolyser in Simhadri, near Visakhapatnam in Andhra Pradesh (AP). It is India's 1st Green Hydrogen based Energy Storage Project and one of the largest in the world. India targets to become carbon neutral by 2070.
Static Points:
Andhra Pradesh Governor – Biswabhusan Harichandan
Largest City in AP – Visakhapatnam
YS Jagan Mohan Reddy (CM) Constituency – Pulivendla
NTPC Chairman & MD – Gurdeep Singh
Headquarters – New Delhi
3) Who handed over 5 DRDO Products to Armed Forces & 6 LAToT?
a) Ram Nath Kovind
b) Rajnath Singh
c) Narendra Modi
d) Aravind Kejriwal
Answer: B
Explanation: Defence Minister Rajnath Singh handed over five products developed by DRDO to the Armed Forces and other security agencies at an event at DRDO Bhawan in New Delhi as part of Azadi Ka Amrit Mahotsav celebrations. He also handed over six Licensing Agreements for Transfer of Technology (LAToT) to seven public and private sector companies.
Static Points:
DRDO Chairman – Dr G. Satheesh Reddy
Headquarter – New Delhi
DRDO work's under the Ministry of Defence of the Government of India (Rajnath Singh)
Rajnath Singh Constituency – Uttar Pradesh
★★ Practice Free Mock Tests ★★
4) Which social media platform expand partnership with CBSE to Enable 1 Crore Students to Embrace Immersive Tech?
a) Meta
b) Instagram
c) Twitter
d) YouTube
Answer: A
Explanation: Meta (formerly Facebook) is set to expand its partnership with the Central Board of Secondary Education (CBSE) to provide a curriculum on digital safety and online well-being and Augmented Reality (AR) for around 1 crore college students and 10 lakh educators across India over the next 3 years. This is in line with the vision of the Indian government to Universalize Education.
Static Points:
CEO of Meta – Mark Zuckerberg
Headquarters – Menlo Park, California, United States
5) To commemorate its victory over Pakistan during the 1971 war, India celebrates Vijay Diwas on which day?
a) 17th December
b) 15th December
c) 14th December
d) 16th December
Answer: D
Explanation: In India, Vijay Diwas is celebrated every year on 16th December. The country is celebrating the 50th Vijay Diwas in 2021. Vijay Diwas is observed to commemorate the service, valour, and sacrifices of the gallant men of the Indian Armed Forces' victory over Pakistan in the 1971 war. The Indo-Pakistan war of 1971 which began on December 3 lasted for 13 days and officially ended on December 16, after which Pakistan surrendered to India.
6) Which bank introduces the PCA framework for Non-Banking Financial Companies (NBFCs)?
a) HDFC Bank
b) Reserve Bank of India
c) Canara Bank
d) State Bank of India
Answer: B
Explanation: The Reserve Bank of India (RBI) issued the Prompt Corrective Action (PCA) Framework for Non-banking Financial Companies (NBFCs) to further strengthen the supervisory tools applicable to NBFCs. The provisions of the PCA framework will be effective from October 2022 based on the financial position of NBFCs on or after March 31, 2022. Capital and Asset Quality would be the key areas for monitoring in PCA Framework.
Static Points:
RBI Headquarters – Mumbai
RBI Governor – Shaktikanta Das
RBI Deputy Governor – Mahesh Kumar Jain, M. Rajeshwar Rao, Michael Patra and T. Rabi Shankar
Top 3 NBFCs in India – Power Finance Corporation Limited, Shriram Transport Finance Company Limited, and Bajaj Finance Limited
★★ Practice GK Questions & Answers ★★
7) SJFI Honoured Former Indian Cricketer ____ with SJFI Medal 2021.
a) Sachin Tendulkar
b) Sunil Gavaskar
c) Sourav Ganguly
d) Anil Kumble
Answer: B
Explanation: The Sports Journalists Federation of India (SJFI) has decided to honour former Indian Cricketer and cricket commentator Sunil Manohar Gavaskar with its prestigious 'SJFI Medal 2021' at SJFI Annual General Meeting (AGM) in Guwahati, Assam. Sports Journalists' Federation of India (SJFI) Medal is the highest honour of SJFI.
Static Points:
SJFI President – A Vinod
8) ____ rolls out 'e-Verification Scheme, 2021' for Taxpayer's info e-verification.
a) Income Tax Department
b) CBDT
c) Both a & b
d) None of the above
Answer: C
Explanation: The Central Board of Direct Taxes (CBDT) has issued new rules namely 'e-Verification Scheme, 2021' for faceless collection of information from taxpayers, where mismatches are detected. The scheme is notified under a provision in Income Tax Act 135A that proposes faceless information gathering aimed at imparting efficiency, transparency and accountability. It eliminates the interface between the income-tax authority and the assessee.
★★ Practice Aptitude Questions & Answers ★★
9) Who Inaugurated 7th India International Science Festival 2021 at Panaji, Goa?
a) Harsh Vardhan
b) Rajnath Singh
c) Dharmendra Pradhan
d) Jitendra Singh
Answer: D
Explanation: Dr Jitendra Singh, Union Minister of State(MoS) (Independent Charge) Science & Technology(S&T), inaugurated the 7th edition of the India International Science festival, IISF at Panaji, Goa. The theme of the 4-day science festival is 'Azadi Ka Amrit Mahotsav' – "Celebrating Creativity, Science, Technology and Innovation for a prosperous India". The Minister exhorted the youth to join the "Vigyan Utsav" and take the lead through Innovative Startups to make India a 5 Trillion Dollar Economy by 2024-25.
Static Points:
Jitendra Singh – Ministry of Science & Technology, Ministry of Earth Science, and Minister of State for Prime Minister's Office
Constituency – Udhampur, Jammu and Kashmir
10) ____ extends USV 112 million loans to establish a skill university in Assam.
a) Asian Development Bank
b) ICICI Bank
c) Axis Bank
d) HSBC Bank
Answer: A
Explanation: The Asian Development Bank (ADB) has approved a $112 million loan to strengthen skills education and training through the establishment of the Assam Skill University (ASU). The project will improve skills and provide greater paying, decent job opportunities for youth and adults (especially women and disadvantaged groups). The Loan will create a path for skill development to enhance the productivity and competitiveness of Assam's economy and industries.
Static Points:
Asian Development Bank (ADB) President – Masatsugu Asakawa
ADB Headquarters – Manila, Philippines
★★ Practice Reasoning Questions & Answers ★★
11) FSS, CSB bank launches ____ banking services to boost financial inclusion.
a) Hyperlocal
b) Smartlife
c) Both a & B
d) None of the above
Answer: A
Explanation: Financial Software and Systems (FSS), a globally leading provider of integrated payment products and a payments processor, and CSB Bank, one of the oldest private sector banks in India, have partnered to deliver hyperlocal banking services to financially underserved segments. CSB Bank and FSS plan to open 1,000 Smart Cash franchisees in semi-urban and rural areas across India to expand financial services adoption among underserved segments.
Static Points:
CSB Bank Managing Director (MD) & CEO – C.VR.Rajendran
Headquarters – Thrissur, Kerala
12) Which state Govt signs MoU with rays power to generate 500 MW from the solar park?
a) Kerala
b) Tamil Nadu
c) Maharashtra
d) Rajasthan
Answer: D
Explanation: Rajasthan government has signed a Memorandum of Understanding (MoU) with Rays Power Infra to build an avant-garde PV Photovoltaic (PV) Power Station (commonly called solar power plant) and to generate 500 MW of green electricity. This MoU is an instrumental step towards an eco-friendly future. The MoU was finalized during the ongoing Dubai Expo, to reduce traditional electricity consumption derived from non-renewable sources.
Static Points:
Rajasthan Capital – Jaipur
Rajasthan CM – Ashok Gehlot
Rajasthan Governor – Kalraj Mishra
13) ____ sets up 7-member ALeRTS Committee headed by Madhabi Puri Buch.
a) SEBI
b) MCX
c) ICEX
d) None of the above
Answer: A
Explanation: The Securities and Exchange Board of India (SEBI) has set up an Advisory Committee for Leveraging Regulatory and Technology Solutions (ALeRTS) to enhance technological capabilities and explore suitable technology solutions for the early detection of market anomalies. It will also guide SEBI in designing and framing requirements for the different in-house systems.
Static Points:
SEBI Chairperson – Ajay Tyagi
Headquarters – Mumbai, Maharashtra
14) PM Modi Inaugurated 1st Phase of Kashi-Vishwanath Corridor Project in which state?
a) Tamil Nadu
b) Gujarat
c) Assam
d) Uttar Pradesh
Answer: D
Explanation: Prime Minister(PM) Narendra Modi inaugurated the 1st phase of the Kashi Vishwanath Corridor project (Kashi Vishwanath Dham project) which connects the Kashi Vishwanath temple and Ganga ghats in Varanasi, Uttar Pradesh. 23 building spread over around 5 lakh square feet area was inaugurated as a part of the 1st phase of the Rs 339 crore Kashi Vishwanath Corridor project.
Static Points:
Uttar Pradesh CM – Yogi Adithyanath
Uttar Pradesh Capital – Lucknow
Uttar Pradesh Governor Anandiben Patel
★★ Practice English Questions & Answers ★★
15) India & which country Pushes Cooperation to Boost Economic Ties?
a) Afghanistan
b) Tajikistan
c) Uzbekistan
d) Kazakhstan
Answer: C
Explanation: India and Uzbekistan push state-to-state cooperation to boost economic ties. India and Uzbekistan have decided to encourage interregional cooperation between their respective states to improve the overall economic partnership. The direct interaction for the implementation of joint projects in the investment, trade and cultural-humanitarian spheres will be established between Uzbekistan's Fergana region and Haryana, the cities of Bukhara and Hyderabad, and also between Tashkent and New Delhi.
Static Points:
Uzbekistan Capital – Tashkent
Currency – Uzbekistani Som
President – Shavkat Mirziyoyev
In the above sections, we had provided the Latest Current Affairs of 16th December 2021. Keep on visiting this site @ Freshersnow.Com on a regular basis to get Daily Current Affairs Quiz.