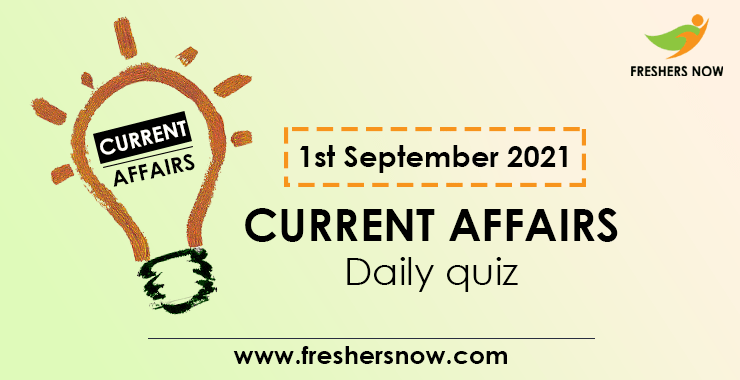 1st September 2021 Current Affairs Quiz: If you are one of the candidates who is looking for the 1st September 2021 Current Affairs Quiz? then you are on the right platform. We are here for the candidates to provide all the latest Current Affairs Quiz on our site Freshers Now. And the Current Affairs Questions will be covered from various topics on both concepts and facts. Latest Current Affairs helps the candidates to score more marks in the Banking, SSC, UPSC, Bank, Railway, Clerk, PO, and all the state government exams. For the sake of the applicants, we have given the Top Current Affairs Quiz with Question And Answers along with the Explanation.
★★ Monthly Current Affairs Quiz ★★
1st September 2021 Current Affairs Quiz
1) Who became the first Indian to win a medal in table tennis at the Tokyo Paralympic Games?
a) Manika Batra
b) Bhavina Patel
c) Sutirtha Mukherjee
d) Ankita Das
Answer: B
Explanation: Bhavina Patel bagged the silver medal in the women's table tennis C4 category. She lost the gold medal (0-3 (7-11, 5-11, 6-11)) to Zhou Ying of China in the gold medal match. And Bhavina Patel belongs to the state of Gujarat.
2) How many athletes compete in the Tokyo 2020 Summer Paralympics?
a) 3,573 Athletes
b) 5,777 Athletes
c) 6,936 Athletes
d) 4,537 Athletes
Answer: D
Explanation: In Tokyo 2020 Summer Paralympics 4,537 athletes from 163 National Paralympic Committee are participating in 539 Events in 22 sports. In the 2016 Summer Paralympics, 4,342 athletes from 159 NPC in 528 Events and 22 sports were held in Rio de Janeiro, Brazil.
3) How many Indian athletes are participating in Tokyo Summer Paralympics 2021?
a) 73
b) 64
c) 54
d) 45
Answer: C
Explanation: There is a total of 54 Indian athletes in Tokyo Paralympics 2021 who will be playing 9 international sports which are badminton, swimming, table tennis, powerlifting, taekwondo, archery, canoeing, shooting, and athletics (running, jumping, throwing, and walking).
★★ Practice GK Questions & Answers ★★
4) India's Devendra Jhajharia and Sundar Singh Gurjar won silver and bronze in the javelin throw in which event?
a) F46 event
b) T38 event
c) T20 event
d) SB9 event
Answer: A
Explanation: The F46 classification is for athletes with arm deficiency, impaired muscle power, or impaired passive range of movement in arms, with athletes competing in a standing position. Jhajharia sealed the podium finish with a new personal best of 64.35m, and Gurjar Singh threw 64.01m.
5) Who won India's first gold in Tokyo Paralympics by winning the women's 10meter Air Rifle Standing SH1 event.
a) Bhavina Patel
b) Avani Lekhara
c) PV Sindhu
d) Deepa Malik
Answer: B
Explanation: Avani Lekhara, the Indian shooter created a Paralympics record and equaled the world record with a score of 249.6 to win the gold medal. Avani Lekhara became the fourth Indian athlete to win a gold medal at the Paralympics after swimmer Murlikant Petkar in 1972, javelin thrower Devendra Jhajharia in 2004 & 2016, and high jumper Thangavelu Mariyappan in 2016.
6) A two-day national conference with States and UT will begin in Gujarat. Which minister organized the conference?
a) Ministry of Women and Child Development
b) Ministry of Drinking Water and Sanitation
c) Ministry of Labour and Employment
d) Ministry of Social Justice and Empowerment
Answer: A
Explanation: This conference will focus on various issues concerning the nutrition of children and mothers. The conference will deliberate on important issues like Mission Poshan 2.0, Mission Vatsalya, and Mission Shakti along with challenges and expectations from the states and union territories.
7) Which mobile payment platform receives an insurance broking license from IRDAI?
a) PhonePe
b) Paytm
c) Google Pay
d) Amazon Pay
Answer: A
Explanation: Last year, PhonePe entered the insurance sector with a limited insurance 'corporate agent' license, which restricted the company to partner with only three insurance companies per category. Now, with this new 'direct broking' license, PhonePe can distribute insurance products from all insurance companies in India.
8) ISRO successfully conducted the first hot test of the System Demonstration Model (SDM) of the ____ Service Module.
a) Cartosat-3
b) Chandrayaan-2
c) Gaganyaan
d) Aryabhata
Answer: C
Explanation: The propulsion system demonstration model was fired for 450 seconds at the ISRO Propulsion Complex in Mahendergiri, Tamil Nadu. The service module propulsion system consists of five main 440 N engines and sixteen 100 N thrusters to create a reaction control system.
★★ Practice Aptitude Questions & Answers ★★
9) RBI enhances limit under Indo-Nepal Remittance Facility to ___.
a) Rs 1 lakh
b) Rs 2 lakh
c) Rs 3 lakh
d) Rs 4 lakh
Answer: B
Explanation: The Reserve Bank of India has increased the limit of fund transfer under the Indo-Nepal Remittance Facility Scheme from Rs 50,000 per transaction to Rs 2 lakh per transaction. The transaction limit of Rs 50,000 will still be present with a 12 maximum number of transfers in a year allowed.
10) What is the rank of India in the Global DeFi (Decentralised Finance) Adoption Index out of 154 countries?
a) 2nd Rank
b) 4th Rank
c) 6th Rank
d) 17th Rank
Answer: C
Explanation: India ranked 6th place out of 154 countries. The United States topped the ranking followed by Vietnam (2nd) & Thailand (3rd) respectively. It is designed to highlight countries with the highest grassroots adoption by individuals, rather than those sending the largest raw values of funds.
★★ Practice English Questions & Answers ★★
11) Who is the author of the book titled 'Accelerating India: 7 Years of Modi Government'?
a) K J Alphons
b) Shashi Tharoor
c) Kiran Desai
d) Amish Tripathi
Answer: A
Explanation: K. J. Alphons is an Indian civil servant, advocate, and politician from Kerala. He is the former Union Minister of State for Culture and Tourism in office from September 2017 to May 2019 under the B.J.P. Government of Narendra Modi.
12) Which state government has launched the "Mera Kaam Mera Maan (MKMM)" scheme to provide skill development to unemployed youths
a) Gujarath
b) Karnataka
c) Kerala
d) Punjab
Answer: D
Explanation: The Mera Kaam Mera Maan scheme provides an employment assistance allowance of Rs. 2,500 per month for a period of 12 months from the start of the training course, which will be conducted at Punjab Skill Development Mission training centers
13) Which organization works on 'Competition Issues in the Pharmaceutical Sector in India'?
a) Indian Council of Agricultural Research
b) Central Pollution Control Board
c) Competition Commission of India
d) Indian Council of Medical Research
Answer: C
Explanation: Competition Commission of India is the competition regulator in India. It is a statutory body of the Government of India responsible for enforcing The Competition Act, 2002 and promoting competition throughout India, and preventing activities that have an appreciable adverse effect on competition in India
★★ Practice Reasoning Questions & Answers ★★
14) Who inaugurated the Ramayana Conclave in Ayodhya?
a) Ram Nath Kovind
b) Venkaiah Naidu
c) Rajnath Singh
d) Narendra Modi
Answer: A
Explanation: President Ram Nath Kovind, on the occasion of the inauguration of Ramayana Conclave and launch/ laying of the foundation stone of various projects of the Department of Culture and Tourism, Government of Uttar Pradesh at Ayodhya.
15) On which day the country celebrates National Small Industry Day?
a) 31st August
b) 30th August
c) 29th August
d) 28th August
Answer: B
Explanation: Every year on August 30, the country celebrates National Small Industry Day. The day is dedicated to encouraging small businesses around the country. National Small Industry Day is an annual celebration that recognizes the value of small businesses in our society.
★★ Practice Mock Tests ★★
We hope all the candidates have satisfied with the given details about the 1st September 2021 Current Affairs Quiz. And to candidates can know all the latest Current Affairs Quiz by following our site Freshers Now. Also, you can bookmark our site using Ctrl + D to get the latest notifications and updates.