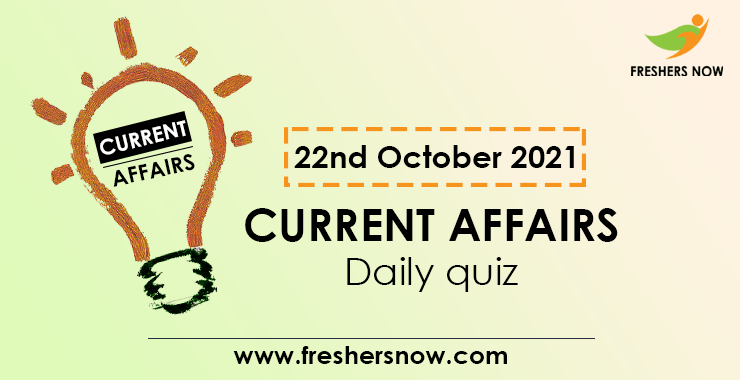 22nd October 2021 Current Affairs Quiz: From this article, all the candidates can get detailed information about the 22nd October 2021 Current Affairs Quiz. Besides, by preparing for the Daily Current Affairs Quiz, applicants can have a chance to score more marks in the exams. Candidates can have an advantage by going through this article which is you can collect the Latest 22nd October 2021 Current Affairs Quiz with Answers along with the Explanation. We advise the candidates to go through this entire article to get complete details about the Current Affairs Quiz.
★★ Monthly Current Affairs Quiz ★★
22nd October 2021 Current Affairs Quiz
1) NPCI launches NTS platform for the tokenization of ___ cards?
a) Token Card
b) RuPay Card
c) Payable Card
d) None of the above
Answer: B
Explanation: National Payments Corporation of India (NPCI) today announced the launch of the NPCI Tokenization System (NTS) that will support tokenization of RuPay cards as an alternative to storing card details with merchants. The NPCI Tokenization System will support the tokenization of RuPay cards to further enhance the safety of customers and provide a seamless shopping experience.
★★ Practice Free Mock Tests ★★
2) How much funds did NABARD sanction to Assams infrastructure projects?
a) Rs. 608 crore
b) Rs. 878 crore
c) Rs. 778 crore
d) Rs. 408 crore
Answer: A
Explanation: NABARD has sanctioned Rs 608 crore to the government of India for different infrastructure projects in rural areas in Assam. The infrastructure projects include 52 rural roads, 21 rural bridges, 19 flood protection projects and 32 soil conservation projects across the state under the Rural Infrastructure Development Fund (RIDF).
3) HDFC Bank, Mastercard, and 2 others launch $100-million credit facility for which enterprises?
a) Trade Enterprises
b) HMUU Enterprises
c) FSIEs
d) MSMEs
Answer: D
Explanation: HDFC Bank, Mastercard, DFC, USAID has launched a $ 100 Million Credit Facility for Micro Small and Medium Enterprises (MSMEs). HDFC Bank will reach beyond its current customer base to make at least 50% of this credit facility available to new small business borrowers and women entrepreneurs, while Mastercard will provide skills training and education on digitisation options, and DFC and USAID will facilitate the extension of the credit facility by de-risking HDFC Bank's lending to small business owners.
★★ Practice GK Questions & Answers ★★
4) UNCTAD awards agencies for promoting investment in ____.
a) Diet
b) Beautycare
c) Healthcare
d) Agriculturecare
Answer: C
Explanation: The United Nations Conference on Trade and Development (UNCTAD) has awarded investment promotion agencies (IPA) from Costa Rica, the Netherlands and South Korea for supporting their respective governments to strengthen healthcare systems in the wake of the novel coronavirus disease (COVID-19) pandemic.
5) Australian player James Pattinson who announces retirement recently, is from which sport?
a) Hockey
b) Cricket
c) Football
d) Basketball
Answer: B
Explanation: James Lee Pattinson is an Australian cricketer who plays for Victoria announces retirement this year. Pattinson is considered an aggressive fast bowler. After making his Test cricket debut in late 2011, he played Test and limited-overs cricket for the Australia national cricket team, although his appearances were limited due to back injuries.
★★ Practice Aptitude Questions & Answers ★★
6) Who attends for Centenary celebrations of the Bihar Legislative Assembly held in Patna?
a) Ram Nath Kovind
b) Aravind Kejriwal
c) PM Modi
d) Nitish Kumar
Answer: A
Explanation: President Ram Nath Kovind attend to three-day visit to Patna to participate in the celebration marking the centenary of the Bihar Legislative Assembly building. All present and former MPs MLAs, MLCs and ministers from the State in the Union Cabinet have been invited to the function for which the building has been decked up in a grand way.
7) G20 Extraordinary Summit 2021 held for which country?
a) China
b) Afghanistan
c) Pakistan
d) Brazil
Answer: B
Explanation: Under Italy's Presidency of the G20 and at the initiative of President of the Council of Ministers Mario Draghi, an extraordinary meeting of G20 leaders on Afghanistan was held. Since the Taliban took over Afghanistan on Aug. 15, the country – already struggling with drought and severe poverty following decades of war – has seen its economy all but collapse, raising the spectre of an exodus of refugees.
★★ Practice Reasoning Questions & Answers ★★
8) Which organization has launched FinTech Hackathon, 'I-Sprint'21?
a) HDFC
b) IFSCA
c) SLAH
d) RBI
Answer: B
Explanation: International Financial Services Centres Authority (IFSCA) and GIFT City launched I-Sprint'21, the global FinTech Hackathon Series of IFSCA. This hackathon is first under the I-Sprint series focussing on the Banking Sector and is one of its kind being backed by a Regulator.
9) In which country did the UN set up a special trust fund policy for the 'people's economy'?
a) Italy
b) Brazil
c) Afghanistan
d) Pakistan
Answer: C
Explanation: The United Nations had set up a special trust fund to provide urgently-needed cash directly to Afghans through a system tapping into donor funds frozen since the Taliban takeover last August. With the local economy "imploding", the aim is to inject liquidity into Afghan households to permit them to survive this winter and remain in their homeland despite the turmoil.
★★ Practice English Questions & Answers ★★
10) The rocket Nuri is launched from the Naro Space Center, from which country?
a) China
b) South Korea
c) Japan
d) North Korea
Answer: B
Explanation: South Korea has launched its first space rocket to be completely developed and built in the country. It was launched from the country's Naro Space Center, which is on a small island off South Korea's southern coast. Nuri is the country's first space launch vehicle developed and built completely with South Korean technology. The three-stage rocket is powered by five rocket engines to complete its first and second stages. Another engine is used during the rocket's final stage.
Stay in touch with us at Freshers Now to get all the latest news and notifications about the Current Affairs Quiz. Candidates can bookmark our site using Ctrl + D to get all the latest notifications.