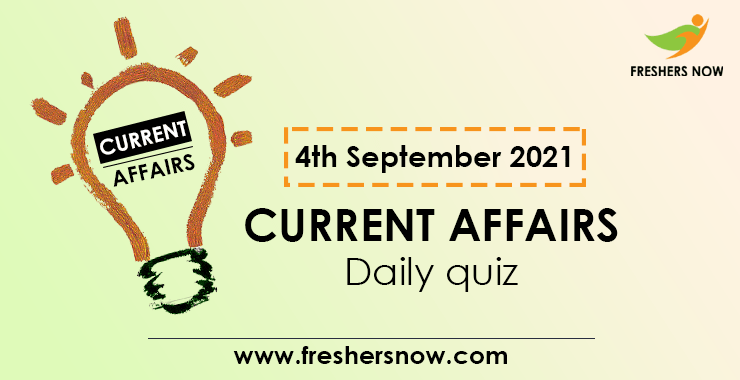 4th September 2021 Current Affairs Quiz: If you are one who is looking for a 4th September 2021 Current Affairs Quiz then check this article. From this article, all the candidates can get to know the Latest 4th September 2021 Current Affairs Quiz. Candidates can know what type of questions will be asked in the Current Affairs Exam by checking the Current Affairs Quiz. Below, our team has provided the Latest Current Affairs along with the Question and Answers. And the Current Affairs Quiz will be asked in the Various State Government Exams, SSC, UPSC, along with the Entrance Exams.
★★ Monthly Current Affairs Quiz ★★
4th September 2021 Current Affairs Quiz
1) Who became the first Indian to win a medal in table tennis at the Paralympic Games?
a) Bhavina Patel
b) Devendra Jhajharia
c) Avani Lekhara
d) None of the above
Answer: A
Explanation: Bhavina Patel ensured a medal for India by reaching the semi-finals of the women's singles table tennis Class 4 category. At the Tokyo Paralympics table tennis events, making it to the semis ensures a bronze medal for the athletes. It is India's first-ever table tennis medal at the Paralympics.
2) Which medal did Avani Lekhara win in women's 50m rifle 3 positions shooting SH1?
a) Gold Medal
b) Silver Medal
c) Bronze Medal
d) None of the above
Answer: C
Explanation: After becoming the first Indian woman to win Paralympic gold, Avani Lekhara made more history at the Tokyo Paralympics with her bronze medal in the women's 50m rifle 3 positions SH1 category. It made her the first Indian woman to win two Paralympics medals. Gold medal in Women's 10m air rifle shooting and a bronze medal in Women's 50m air rifle shooting.
3) Who Won the 10th Italian open title 2021?
a) Stefanos Tsitsipas
b) Rafael Nadal
c) Novak Djokovic
d) Dominic Thiem
Answer: B
Explanation: Rafael Nadal defeated defending champion Novak Djokovic in the final, 7–5, 1–6, 6–3 to win his 10th Men's Singles tennis title at the 2021 Italian Open. This was the fourth time that Rafael Nadal had won a tournament on 10 or more occasions, with his victory in the final making him the only tennis player to do so.
4) Where did the 7th BRICS Environment Ministers Meeting be held virtually?
a) Ashoka Bhavan
b) Bharatiya Vidya Bhavan
c) Sushma Swaraj Bhawan
d) Mangal Bhawan
Answer: C
Explanation: The 7th BRICS Environment Ministerial Meet 2021 was held virtually at the Sushma Swaraj Bhawan, New Delhi, under India's chairmanship. The key takeaway of this year's BRICS Ministerial Meet is the adoption of the Delhi Statement on Environment. In addition, discussions and deliberations were held on key environmental issues.
5) Where has the mental health helpline 'SUKOON' been inaugurated?
a) Jammu and Kashmir
b) Haryana
c) Rajasthan
d) Assam
Answer: A
Explanation: According to Haseeb Rehman, Commandant of the First Battalion, the program has been initiated in the coordination and consultation with doctors and mental health experts (ANI). To improve the mental well being of the people of
Jammu and Kashmir amid COVID-19, the State Disaster Response Force (SDRF) inaugurated the 'Sukoon', the counseling helpline center.
6) Russia's NSCMB signs MoU with CSIR-NIO for research in ___.
a) Marine Electrical Technology
b) Seamanship
c) Marine Science
d) Naval architect
Answer: C
Explanation: A.V. Zhirmunsky National Scientific Center of Marine Biology, Far Eastern Branch, Russian Academy of Sciences (NSCMB FEB RAS), Russia and Council of Scientific and Industrial Research – National Institute of Oceanography (CSIR-NIO), Goa have signed a Memorandum of Understanding in the field of marine biology, marine ecology and blue economy, in the Indian Ocean region (beyond the EEZ of India), Pacific and Polar (Arctic) regions, which will be of mutual advantage/interest as an international component of their research activity/activities.
7) What is the name of the military exercise which is held between India and Kazakhstan?
a) SITMEX
b) KAZIND-21
c) ZAPAD-21
d) TSENTR
Answer: B
Explanation: The India – Kazakhstan joint military exercise "KAZIND-21" commenced at Training Node Aisha Bibi, Kazakhstan. This is the 5th Edition of the Annual bilateral joint exercise of both Armies and will continue till 10th September 2021. The fourth edition of the exercise was held at Pithoragarh, India in September 2019.
8) Who has inaugurated renovated the Jallianwala Bagh Memorial complex to the nation?
a) Yogi Adityanath
b) Narendra Modi
c) Aditi Ashok
d) None of the above
Answer: B
Explanation: PM Narendra Modi inaugurates the Jallianwala Bagh Memorial complex virtually. Global developments remind us of the importance of self-reliance and self-confidence. At a time when we are celebrating Amrut Mahotsav, we should strengthen our nation's foundation and take pride in it.
9) G20 Ministerial Conference on Women's Empowerment held in which country?
a) Italy
b) India
c) Canada
d) South Korea
Answer: A
Explanation: The Minister conveyed India's solidarity with the G20 for promoting gender equality and women's empowerment amongst partner countries, while addressing the first G20 Ministerial Conference on Women's Empowerment held at Santa Margherita Ligure, Italy.
10) Who attends the 11th UK-India Economic and Financial Dialogue?
a) Harsh Vardhan
b) Bharatsinh Solanki
c) Dharmendra Pradhan
d) Nirmala Sitharaman
Answer: D
Explanation: The 11th India-United Kingdom Economic and Financial Dialogue was held virtually. Finance Minister Nirmala Sitharaman and the UK Treasury Chancellor Rishi Sunak co-chaired the meeting. The Dialogue covered discussions on economic cooperation on multilateral issues, including G-20 and COP-26.
11) Indian Navy hands over two Mobile Oxygen Plants to ___.
a) Bhutan
b) Bangladesh
c) Myanmar
d) Nepal
Answer: B
Explanation: India has gifted two mobile medical oxygen plants to Bangladesh to support the country's fight against COVID-19. The Indian Navy Ship Savitri carrying two plants arrived at Chattogram harbor in Bangladesh. INS Savitri is an indigenously built Offshore Patrol Vessel of the Indian Navy under the Eastern Naval Command based at Visakhapatnam.
12) Which minister develops the 5-minute yoga app 'Y-Break' for professionals to de-stress, refocus?
a) Ministry of Ayush
b) Ministry of Education
c) Ministry of Health & Family Welfare
d) Ministry of Youth Affairs and Sports
Answer: A
Explanation: Union Minister of AYUSH Sarbanand Sonowal while launching the mobile application said it has been developed to give solace to employees experiencing physical issues due to their jobs. The five-minute protocol encompassing Asanas, Pranayama, and Dhyana will be available through the mobile app.
13) The Breathe Life is a living-plant-based air purifier, developed by which institute?
a) IIT Ropar
b) IIT Bombay
c) IIT Madras
d) IIT Kharagpur
Answer: A
Explanation: Budding scientists of the Indian Institute of Technology in Ropar and Kanpur and Delhi University Management Studies faculty have developed a living-plant-based air purifier "Ubreathe Life" that amplifies the air purification process in indoor spaces, including hospitals, schools, and offices.
14) Who has been appointed as the Chairman of the Central Board of Direct Taxes (CBDT)?
a) Pramod Chandra Mody
b) K.M. Prasad
c) Anuja Sarangi
d) J.B. Mohapatra
Answer: D
Explanation: Mr. J.B. Mohapatra, a 1985-batch Indian Revenue Service (Income Tax) officer, is currently the member of the board that frames the policy for the Income Tax department. The order has issued by the Department of Revenue, which is under the Union Finance Ministry, said, "Jagannath Bidyadhar Mohapatra, member CBDT
15) Which country has declared a state of emergency as the food crisis worsened?
a) Afghanistan
b) Sri Lanka
c) Nepal
d) Bangladesh
Answer: B
Explanation: Sri Lanka declared a state of emergency over food shortages as private banks ran out of foreign exchange to finance imports. With the country suffering a hard-hitting economic crisis, President Gotabaya Rajapaksa said he ordered emergency regulations to counter the hoarding of sugar, rice, and other essential foods.
All the candidates are suggested to keep checking our site Freshers Now for all the latest news about the Current Affairs.