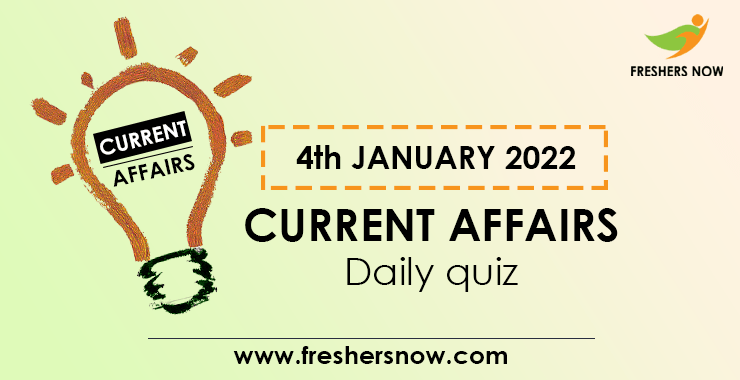 4th January 2022 Current Affairs Quiz: Hey Guys! Are you looking for the 4th January 2022 Current Affairs Quiz? If so, check this article. In the below sections, we had given detailed information regarding the 4th Jan 2022 Current Affairs Quiz. To save the time of the aspirants, we have provided the 4th January 2022 Current Affairs Quiz with Answers along with an Explanation and Static Points. Grab this chance to gain more marks in the IBPS, RRB, SBI, SSC Exams or any other competitive Exams. Refer to the below sections to know more details about the Daily Current Affairs. Follow this page to visit more often to get Daily Current Affairs Bits.
★★ Current Affairs Quiz ★★
4th January 2022 Current Affairs Quiz By Freshersnow.com
1) Which Corporation Celebrates the First Anniversary of One Nation-One Grid-One Frequency?
a) PGCIL
b) NTPC
c) NHPC
d) ONGC
Answer: A
Explanation: State-owned Power Grid Corporation of India Ltd (PGCIL) celebrated the first anniversary of 'One Nation-One Grid-One Frequency'. On behalf of the occasion, 70 Sub-stations across India along with Regional Headquarters have been lit up in tricolour to mark this momentous achievement. As a part of the 'Azadi Ka Amrit Mahotsav', Powergrid, NR-I, commemorated the completion of one year of 'One Nation-One Grid-One Frequency' with enthusiasm on December 31.
Static Points:
PGCIL Chairman & MD – K Sreekant
Headquarters – Gurugram, Haryana
2) Government Retains the Interest Rate of Small Savings Schemes for ___ of FY22.
a) Q1
b) Q2
c) Q3
d) Q4
Answer: D
Explanation: Ministry of Finance, Department of Economic Affairs (Budget Division), has maintained the status quo and retained the Interest Rate of Small Savings Scheme unchanged for the 4th Quarter (Q4) for the Financial Year 2021-22 (FY22) (i.e. from January 2022 to March 2022) same as Q3 FY22, due to the rising cases of COVID-19 variant Omicron and elevated level of inflation.
Static Points:
Ministry of Finance – Nirmala Sitharaman
Constituency – RajyaSabha, Karnataka
3) Which Company acquires the 100% stake in Allyis India & Green Investments LLC?
a) Cognizant
b) Wipro
c) Infosys
d) Tech Mahindra
Answer: D
Explanation: IT major Tech Mahindra has announced that the company and its wholly-owned subsidiary viz., Tech Mahindra (Americas) Inc. has approved the proposal to acquire 100 per cent equity shares in Allyis India Pvt Ltd and Green Investments LLC, holding company for Allyis Group, respectively.
Static Points:
Tech Mahindra CEO & MD – C. P. Gurnani
Headquarters – Pune
Founded – 1986
★★ Free Mock Tests ★★
4) All-rounder Mohammad Hafeez announces retirement from International Cricket, he is from which country?
a) Pakistan
b) Australia
c) South Africa
d) England
Answer: A
Explanation: Veteran Pakistan all-rounder Mohammad Hafeez (41), who captained his national team in every format of the game, has announced his retirement from international cricket. He represented Pakistan in 392 international matches in which he scored 12,789 runs and took 253 wickets. He has played 55 Tests, 218 ODIs (One Day International) and 119 T20Is (Twenty20 International) including three ICC (International Cricket Council) ODI World Cups and six T20 World Cups.
5) PM Narendra Modi laid the foundation stone of Major Dhyan Chand Sports University in which state?
a) Tamil Nadu
b) Uttar Pradesh
c) Maharashtra
d) Odisha
Answer: B
Explanation: Prime Minister Narendra Modi laid the foundation stone of approx Rs.700 Crores Major Dhyan Chand Sports University in Meerut, Uttar Pradesh. It will be established in the Salawa and Kaili villages of Sardhana town in Meerut. The Governor of UP Anandiben Patel and its Chief Minister Yogi Adityanath were also present at the event. Dedicated to Major Dhyan Chand, an Indian field hockey player, the university will graduate 1,080 students annually.
Static Points:
Uttar Pradesh Capital – Lucknow
Uttar Pradesh Governor – Anandiben Patel
Uttar Pradesh Thermal power station – Singrauli, Feroze Gandhi, Dadri, and Tanda
6) Which Country Opened 2 Driverless Metro Lines and Becomes Longest Metro Line in the World?
a) Russia
b) South Korea
c) China
d) Japan
Answer: C
Explanation: The biggest city in China has opened 2 new driverless metro lines (Line 14 and Phase One of Line 18) and retained its titles as the World's longest Metro line. With the inclusion of the 2 new driverless lines, the total length of Shanghai's metro network is extended to 831 km. The 2 new fully driverless metro lines take the total number of automatic lines in Shanghai to 5. At present Shanghai operates 167 km of fully automated metro lines, which makes the city the first in the World.
Static Points:
China Capital – Beijing
President – Xi Jinping
Currency – Renminbi
★★ English Questions & Answers ★★
7) Who has been appointed as Managing Director and CEO of Jammu & Kashmir Bank?
a) Baldev Prakash
b) Navin Agarwal
c) Suneet Sharma
d) Subhash Kumar
Answer: A
Explanation: Baldev Prakash has been appointed as the Managing Director & Chief Executive Officer (MD & CEO) of Jammu & Kashmir Bank for three years. His appointment will be effective from the date of taking charge or April 10, 2022, whichever is earlier. Apart from him, R K Chhibber has been appointed as an additional director on the board of the bank.
Static Points:
J & K Bank Headquarters – Srinagar
Founded – 1 October 1938
8) Which bank Approves Fino Payments Bank for Cross Border Remittances?
a) RBI
b) ICICI Bank
c) HDFC Bank
d) SBI
Answer: A
Explanation: The Reserve Bank of India has given approval for offering international money transfer services to Fino Payments Bank, which will enable its customers to receive funds sent from foreign countries. The money remitted by family members abroad can be directly withdrawn at the nearest micro-ATM or Aadhaar-Enabled Payment Services (AEPS) enabled Fino Bank's neighbourhood merchant point.
Static Points:
RBI Headquarters – Mumbai
RBI Governor – Shaktikanta Das
RBI Deputy Governor – Mahesh Kumar Jain, M. Rajeshwar Rao, Michael Patra and T. Rabi Shankar
★★ GK Questions & Answers ★★
9) Ladakh Celebrates ____ Festival, the traditional new year of Tibetan Buddhist.
a) Sindhu Darshan
b) Hemis
c) Losar
d) Saka Dawa
Answer: C
Explanation: The Losar Festival in Ladakh is celebrated at the onset of the New Year in the traditional schedule of Tibetan Buddhism. It is celebrated by the Buddhist Community in the Ladakh region. The Losar is a 15 days festival, from the start of the Tibetan Lunar calendar, marking the 1st day of the 11 months in the Tibetan Calendar. Losar is a Tibetan word that means 'New Year'.
Static Points:
Ladakh Capitals – Leh, Kargil
Dispute Between – India, Pakistan, and China
Union Territory Formed on – 31 October 2019
10) Who Appointed as New Chairman and CEO of Railway Board?
a) Rajni Hasija
b) Suneet Sharma
c) VK Tripathi
d) None of the above
Answer: C
Explanation: The Appointments Committee of the Cabinet (ACC) has approved the appointment of Vinay Kumar Tripathi as a Chairman and Chief Executive Officer of Railway Board, New Delhi. Tripathi is currently working as the General Manager of North-Eastern Railway, Gorakhpur, Uttar Pradesh and has been appointed in place of outgoing Chairman and CEO Suneet Sharma
Static Points:
Railway Board CEO – Suneet Sharma
Headquarters – New Delhi
11) When was World Braille Day is observed?
a) 3rd January
b) 4th January
c) 5th January
d) 2nd January
Answer: B
Explanation: Commemorating the birth anniversary of the inventor of the Braille system, Louis Braille, and remembering his contribution towards the welfare of visually impaired people, January 4 is observed as World Braille Day.
★★ Aptitude Questions & Answers ★★
12) Which state has become the first state in the country to launch a Digital Life Certificate system for pensioners?
a) Kerala
b) Assam
c) Odisha
d) Gujarat
Answer: C
Explanation: The chief minister virtually launched the new initiative while attending the orientation programme for newly recruited 153 officers of Odisha Civil Services. Claiming that Odisha is the first state in the country to implement such a digital service for pensioners, Patnaik expressed happiness over the initiative.
Static Points:
Odisha Capital – Bhubaneswar
Odisha CM – Naveen Patnaik
Odisha Governor – Ganeshi Lal
13) Who launched a 100-day Reading Campaign 'Padhe Bharat'?
a) Dharmendra Pradhan
b) Bhupender Yadav
c) Virendra Kumar
d) Nitin Gadkari
Answer: A
Explanation: Union Education Minister, Dharmendra Pradhan has launched the 'Padhe Bharat', a 100-day reading campaign that will focus on promoting a joyful reading experience amongst students. To encourage the reading habit among students and to improve the learning levels of the students with a focus on children studying in Balvatika to Grade 8. The 100 days (14 weeks) reading campaign will be organised from January 2022 to April 2022.
Static Points:
Dharmendra Pradhan Constituency – Madhya Pradesh (Rajya Sabha)
14) Who among the following took over as the 24th Director General of Indian Coast Guard?
a) P S Ranipse
b) VS Pathania
c) Surjeet Singh Deswal
d) Udayan Banerjee
Answer: B
Explanation: Director General V S Pathania took over as the 24th Chief of Indian Coast Guard with effect from 31st December 2021. The Flag Officer is an alumnus of the Defence Services Staff College, Wellington, and the National Defence College, New Delhi. He is a qualified helicopter pilot and holds a master's degree in defence & strategic studies from the University of Madras. He has also undergone specialisation in search and rescue and port operations with U.S. Coast Guard.
★★ Reasoning Questions & Answers ★★
15) India's April-November 2021 Fiscal Deficit narrows to _____ percent of full FY22 target.
a) 40.4%
b) 46.2%
c) 36.1%
d) 27.7%
Answer: B
Explanation: In accordance with the official data by India's Controller General of Accounts (CGA), the Central Government's fiscal deficit at the end of November 2021 (April-November) decreased to 46.2% due to revenues and a rise in tax collections. It was 135.1% in November 2020.
For the sake of candidates, we have provided the 4th January 2022 Current Affairs Quiz in the above section. Follow this site @ freshersnow.com for Daily Current Affairs Quiz.