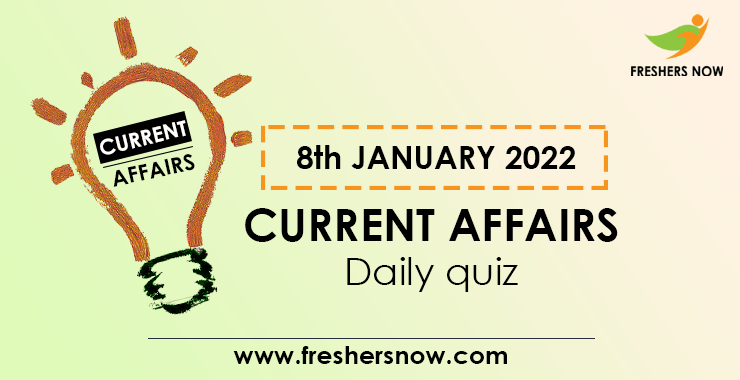 8th January 2022 Current Affairs Quiz: Hello Guys! Are you looking for the 8th January 2022 Current Affairs Quiz, then can take a look at this article. Candidates can go through this page to know more information about the 8th Jan 2022 Current Affairs Quiz. Also, applicants can get the Latest Current Affairs Quiz of 8th January 2022, for preparing the State/ Central Government Exams or any other Competitive Exams. For the sake of candidates, we have provided the Current Affairs Quiz with the Answers along with the Explanation and Static Points in the below sessions. Bookmark this page to visit more often to get Daily Current Affairs Quiz.
★★ Current Affairs Quiz ★★
8th January 2022 Current Affairs Quiz By Freshersnow.com
1) India and 5 Other Nations Begin Anti-Submarine Exercise 'Sea Dragon 22' with ____.
a) French Navy
b) US Navy
c) Israeli Navy
d) Russian Navy
Answer: B
Explanation: The US Navy Seventh Fleet announced the beginning of the multilateral anti-submarine warfare (ASW) exercise, 'Sea Dragon 22' in Andersen Air Force Base, Guam, in the western Pacific. The six nations that are participating in the exercise are the US, Australia, Canada, India, Japan and South Korea.
Static Points:
United States President – Joe Biden
Capital – Washington DC
Currency – US Dollar
2) ____ won the Silver SKOCH Award for Governance during 78th SKOCH Summit.
a) BMC
b) FSL
c) E&IT
d) None of the above
Answer: B
Explanation: The Forensic Science Laboratory (FSL), Forensic Service Delhi, has won the SKOCH Award 2021(Silver) in the Governance category for its work towards combating Crime and Violence against Children. The award was presented during the 78th SKOCH Summit held on 6th January 2022.
3) Japan & Australia Signed Defence Agreement to counter which country?
a) China
b) India
c) Korea
d) Thailand
Answer: A
Explanation: Japan and Australia signed a 'landmark' defence treaty named the Reciprocal Access Agreement (RAA) to counter China's expansionary military and economic policies. The treaty was signed between Australian Prime Minister Scott Morrison and Japanese PM Fumio Kishida in a virtual conference organized in Tokyo, Japan.
Static Points:
Japan Currency – Japanese Yen
Capital – Tokyo
Prime minister – Fumio Kishida
China Capital – Beijing
Currency – Renminbi
President – Xi Jinping
Australia Capital – Canberra
Currency – Australian Dollar
★★ Free Mock Tests ★★
4) RBI Increased Banks' LCR maintenance on Funds Received from Non-Financial Small Business Customers to ____ Crore.
a) 5.7 Crore
b) 7.8 Crore
c) 7.5 Crore
d) 8.7 Crore
Answer: C
Explanation: The Reserve Bank of India (RBI) has increased the threshold limit for Banks to maintain the Liquidity Coverage Ratio (LCR) on deposits and other 'extension of funds' received from non-financial small businesses customers from Rs 5 crore to Rs 7.5 crore.
Static Points:
RBI Established on – 1st April 1935
Headquarters – Mumbai
Governor – Shaktikanta Das
Deputy Governors – Mahesh Kumar Jain, Michael Debabrata Patra, M. Rajeshwar Rao, T. Rabi Sankar
5) India Inks Deal With Which Country to Redevelop Strategic Trincomalee Oil Tank Complex?
a) China
b) Sri Lanka
c) Nepal
d) Bangladesh
Answer: B
Explanation: Sri Lanka signed an agreement with India to jointly redevelop the strategic World War II-era Trincomalee Oil Tank Complex, commonly known as the Trinco Oil Tank Farm in Srilanka's eastern port district of Trincomalee for a lease period of 50 years. The 85 tanks out of the 99 tanks will now be under the Sri Lankan control which was previously under the control of India.
Static Points:
Sri Lanka President – Gotabaya Rajapaksa
Capital(s) – Colombo (Legislative capital), Sri Jayawardenepura Kotte (Executive & Judicial Capital)
Currency – Sri Lankan Rupee
★★ English Questions & Answers ★★
6) Who was appointed as a new Secretary-General of SCO?
a) Zhang Ming
b) Zhang Yiming
c) Lei Jun
d) Paul Fang
Answer: A
Explanation: The senior Chinese diplomat, Zhang Ming was appointed as the new secretary-general of the Shanghai Cooperation Organization (SCO). Zhang Ming succeeded the former diplomat from Uzbekistan, Vladimir Norov, who completed his term on 31st December 2021. Zhang Ming will hold the post of SG of the SCO for a term of 3 years.
Static Points:
Shanghai Cooperation Organization Founded – 15 June 2001
Member Countries – Kazakhstan, China, Kyrgyzstan, Pakistan, Russia, Tajikistan, Uzbekistan, India
7) LLC announces All-women Referee team & appoints ____ as Ambassador.
a) Mithali Raj
b) Lauren Agenbag
c) Shubhda Bhosle Gaikwad
d) Jhulan Goswami
Answer: D
Explanation: Legends League Cricket (LLC) appointed Jhulan Goswami as an Ambassador to its All Women Match Official Team to promote Women's Empowerment initiatives of the LLC and to increase participation of women in cricket. The LLC set up an All Women Match Official Team for the League. This is the first of its all-women official teams that would officiate an entire men's league.
Static Points:
Legends League Cricket – Cricket League for Retired Cricketers
Stadium Located – Muscat, Oman
★★ GK Questions & Answers ★★
8) Who won the 2021 World Rapid Chess Champion?
a) Magnus Carlsen
b) Daniil Dubov
c) Nodirbek Abdusattorov
d) None of the above
Answer: C
Explanation: Nodirbek Abdusattorov, from Uzbekistan, won the World Rapid Chess Champion of 2021 by defeating Ian Nepomniachtchi (Russia) in a tiebreaker and dethroning Magnus Carlsen, the current World Number 1. 2020 FIDE Champion was won by Magnus Carlsen. The Uzbeki Grand Master (GM), received the Mard Uglon ("Brave Son") Presidential medal.
Static Points:
FIDE Headquarters – Lausanne, Switzerland
Motto – "Gens una Sumus" ("We are one Family")
President – Arkady Dvorkovich (Russia)
9) Which state Celebrated Losoong/ Namsoong Festival?
a) Punjab
b) Assam
c) Sikkim
d) Odisha
Answer: C
Explanation: Losoong/ Namsoong is annually celebrated across the Indian State of Sikkim on the 18th day of the 10th month of the Tibetan Lunar Calendar, which also marks the beginning of the harvest season. The Namsoong festival begins on the 1st day of the new moon phase Kurneet Lovo, as per the Lepcha lunisolar Calendar known as Dungkit Karchu. The festivities of Losoong continue for ~5 to 7 days.
Static Points:
Sikkim Capital – Gangtok
CM – Prem Singh Tamang
Governor – Ganga Prasad
10) The Artificial Sun Achieved Continuous High-Temperature Plasma Operation, in which country?
a) south Korea
b) Japan
c) Thailand
d) China
Answer: D
Explanation: The experimental advanced superconducting tokamak (EAST), which is known as the Chinese 'Artificial Sun' has achieved a continuous high-temperature plasma operation for 1056 seconds at a stunning 70 million degrees Celsius. This sets a new world record for the longest time of operation of its kind in the world.
★★ Aptitude Questions & Answers ★★
11) Which Payments Bank & Park+ partner on FASTag-based Parking Solutions?
a) Airtel
b) Paytm
c) Jio
d) Both a & b
Answer: A
Explanation: Airtel Payments Bank and Park+ have collaborated to offer FASTag-based smart parking solutions to marquee commercial and residential properties across India. This partnership will utilize the reach of Airtel Payments Bank to digitise the parking ecosystem using FASTag associated with the vehicle.
Static Points:
Airtel Payments Bank CEO & MD – Anubrata Biswas
Headquarters – New Delhi
12) When was 75th BIS Foundation Day is observed?
a) 7th January
b) 6th January
c) 5th January
d) 8th January
Answer: B
Explanation: The Bureau of Indian Standards (BIS), the National Standard Body of India, annually celebrates the BIS Foundation Day on 6th January. The BIS foundation day commemorates the day on which BIS came into existence as the Indian Standards Institution (ISI) (6th January 1947).
13) Ministry of Food Processing Industries Pashupati Kumar Paras, Launches ____ Brands of Food products for ODOP Brands?
a) 6
b) 7
c) 8
d) 9
Answer: A
Explanation: Union Minister for Ministry of Food Processing Industries Shri Pashupati Kumar Paras and Minister of State, MoFPI Shri Prahlad Singh Patel and senior officials of NAFED launched six food products of One District One Product (ODOP) brands under the Pradhan Mantri Formalisation of Micro food processing Enterprises (PMFME) Scheme at Panchsheel Bhawan, New Delhi.
Static Points:
PMFME Scheme outlay – Rs.10,000 Crore
Over a Period – 5 years (2020-21 to 2024-25)
Ministry of Food Processing Industries – Pashupati Kumar Paras
Constituency – Hajipur, Bihar
Minister of State – Prahlad Singh Patel
Constituency – Damoh, Madhya Pradesh
★★ Reasoning Questions & Answers ★★
14) ____ to Set up Hubs on Motor, Property Insurances, and Sets Norms for Surety Cover.
a) PRDA
b) SEBI
c) IRDAI
d) TRAI
Answer: C
Explanation: Insurance Regulatory and Development Authority of India (IRDAI) has decided to set up two hubs, one on motor insurance at 'Institute of Insurance and Risk Management (IIRM), the other on property insurance at 'National Insurance Academy (NIA)' to promote loss prevention measures in the general insurance industry.
Static Points:
IRDAI Headquarters – Hyderabad
Chairperson – Subhash Chandra Khuntia
15) Who Inaugurated India's First 'Open Rock Museum' at Hyderabad?
a) Nitin Gadkari
b) Piyush Goyal
c) Anurag Thakur
d) Jitendra Singh
Answer: D
Explanation: Minister of State (Independent Charge) of Ministry of Science and Technology Dr Jitendra Singh, inaugurated India's first & unique 'Open Rock Museum' at the campus of Council of Scientific & Industrial Research – National Geophysical Research Institute (CSIR-NGRI), Hyderabad, Telangana & later addressed the Hyderabad Scientists at CSIR-NGRI.
Static Points:
CSIR-NGRI Director – V M Tiwari
Headquarters – Hyderabad, Telangana
In the above sections, we had provided 8th January 2022 Current Affairs in the above sections. Do follow this site @ freshersnow.com regularly for Daily Current Affairs.