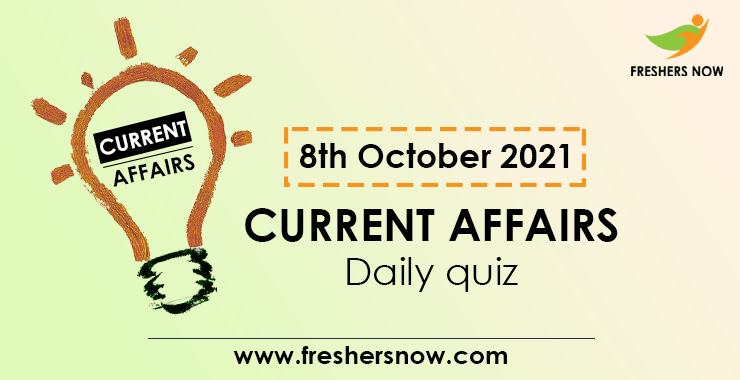 8th October 2021 Current Affairs Quiz: All the candidates can gather the latest 8th October 2021 Current Affairs Quiz from this article. For the sake of the candidates, we had given the Current Affairs Quiz with Answers along with the Explanation. Applicants can have a chance to score more marks in the exams like Government Exams, Entrance Exams, Bank Exams. Candidates are advised to go through this complete article to get the Daily Current Affairs Quiz.
★★ Monthly Current Affairs Quiz ★★
8th October 2021 Current Affairs Quiz
1) Who won the 2021 Nobel Prize in Chemistry?
a) Syukuro Manabe and Klaus Hasselmann
b) Benjamin List & David MacMillan
c) Abdulrazak Gurnah
d) Klaus Hasselmann
Answer: B
Explanation: German Benjamin List and Scottish-born David MacMillan won the 2021 Nobel Prize in Chemistry for their development of asymmetric organocatalysis, a "new and ingenious tool for molecule building".
★★ Practice Free Mock Tests ★★
2) PM MITRA scheme to set up 7 integrated textile parks, to cost ____ cr.
a) Rs. 444/-
b) Rs. 555/-
c) Rs. 3,345/-
d) Rs. 4,445/-
Answer: D
Explanation: Under the scheme, MITRA parks will be developed by a special purpose vehicle, owned by the state government and Centre, in a public-private partnership mode. The scheme will have a total outlay of Rs 4,445 crore over a period of five years.
3) What is the name of the vaccine that has the capability of significantly reducing malaria?
a) Mosquirix
b) MosqVac
c) MAVAC-21
d) None of the above
Answer: A
Explanation: The Mosquirix vaccine acts against P. falciparum, the most deadly malaria parasite globally, and the most prevalent in Africa. Among children who received 4 doses in largescale clinical trials, the vaccine was able to prevent approximately 4 in 10 cases of malaria over a 4-year period. It is also the first malaria vaccine to be introduced by three national ministries of health.
★★ Practice GK Questions & Answers ★★
4) On which day the Indian Air Force Day was observed?
a) 7th October
b) 11th October
c) 8th October
d) 6th October
Answer: C
Explanation: Every year on 8 October, the country observes Indian Air Force Day (IAF). The day is celebrated to raise awareness around the world about IAF as an organisation that works towards strengthening national security. On 8 October 1932, the Indian Air Force came into being and on 1st April 1954 Air Marshal Subroto Mukherjee, one of the founding members of the Air Force took over as the first Indian Chief of Air Staff.
5) Which bank tie-up with CredAvenue for Securitization platform?
a) HDFC Bank
b) Federal Bank
c) Yes Bank
d) ICICI Bank
Answer: B
Explanation: Private sector lender Federal Bank said it has tied up with CredAvenue for the portfolio management of its securitization book and implemented CredPool, an institutional debt platform of CredAvenue. It will help digitally monitor its asset-backed securities (ABS) and mortgage-backed securities (MBS) pool assets more efficiently through the technology platform.
★★ Practice Aptitude Questions & Answers ★★
6) Who were named the FIH (International Hockey Federation) Player of the Year?
a) Hassan Sardar and Ric charlesworth
b) Stephan Veen and Jay Stacy
c) Harmanpreet Singh and Gurjit Kaur
d) Sohail Abbas and Dhyan Chand
Answer: C
Explanation: Harmanpreet Singh and Gurjit Kaur were named the FIH Player of the Year in the men's and women's categories, respectively. Indian hockey players swept the 2020-21 edition of the FIH Stars Awards, the international hockey federation (FIH) has announced.
7) Centre releases ____ crore to states/ UTs to meet GST compensation shortfall?
a) Rs 30,000
b) Rs 10,000
c) Rs 4,000
d) Rs 40,000
Answer: D
Explanation: The Ministry of Finance released an amount of Rs. 40,000 crore to the states and union territories under its back-to-back loan facility. The amount has been released under the view of shortfall in GST compensation within the states and UTs. This amount has been released in addition to regular GST compensation which is released every month out of actual cess collection.
★★ Practice Reasoning Questions & Answers ★★
8) Who tops the Forbes India rich list with a $92 billion net worth?
a) Mukesh Ambani
b) Gautam Advani
c) Shiv Nadar
d) Radhakishan Damani
Answer: A
Explanation: With a total wealth of $92 billion, Mukesh Ambani, Chairman of Reliance Industries, topped the rich list for the 14th year in a row — adding $4 billion to his net worth in 2021, as per Forbes Rich List.
9) The 6th edition of the "Ajeya Warrior" exercise between the UK and ____.
a) India
b) France
c) Russia
d) Sudan
Answer: A
Explanation: The 6th edition of the "Ajeya Warrior" exercise is part of an initiative to develop interoperability and sharing of expertise with friendly foreign nations. The exercise will culminate on October 20. An Infantry Company from the Indian Army and an equivalent strength from the UK Army would be sharing their experiences gained during the conduct of various military operations
★★ Practice English Questions & Answers ★★
10) Anshu Malik becomes the First Indian woman to win World Championships Silver in which sport?
a) Ice Racing
b) Wrestler
c) Boxing
d) Weightlifing
Answer: B
Explanation: Wrestler Anshu Malik became the first Indian woman to win silver in World Championships as she went down fighting against Helen Maroulis in the women's 57kg final in Oslo. The 20-year-old lost her final bout 1-4 to two-time Olympic medallist Helen Maroulis at the World Championships in Oslo, Norway.
Stay in touch with us at Freshers Now for all the latest news about the Current Affairs Quiz.