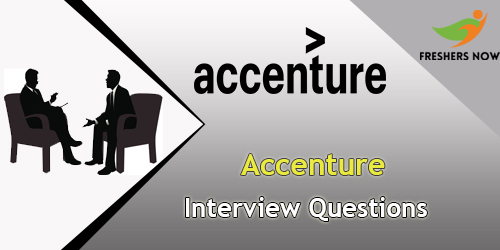 Accenture Interview Questions 2018 are equipped in this post. The candidates who had applied for the Accenture Recruitment 2018 are preparing for the interview rounds conducting by the Accenture Company. Those candidates should have a glance at this article. We are providing the valuable information on this page about the Accenture Interview Questions. Preparation is a key component to get success in the Interview. Candidates who are preparing according to the Accenture Interview Questions and answers can definitely achieve success in the Accenture Interview Process. Usually, we are providing the both technical and HR Interview Questions in an understandable manner. So all the aspirants who had completed Graduation, as well as Postgraduation, can refer this post without any trouble.
★★ Free Accenture Mock Tests ★★
Accenture Interview Questions 2018
Aspirants who are eagerly looking for the Accenture Interview Questions 2018 can stop searching. In the following section, we are providing the complete Accenture Interview Questions For Freshers and Experienced candidates clearly. So the aspirants who are applying for the Accenture Off Campus 2018 Drive can refer this post. Of course many of the candidates are clearing the written test simply but failing to clear the Interview process. At the time of the interview, the aspirant is not able to answer correctly for the questions being asked by the member of the Interview Panel. To avoid all these issues we are providing the Accenture Technical Interview Questions and Answers for freshers, HR Interview Questions for experienced and freshers.
Overview Of Accenture Interview Questions 2018
| | |
| --- | --- |
| Name of the Company | Accenture |
| Qualification | Any Graduates/ Post Graduates |
| Job Location | Across India |
| Category | Interview Questions |
| Official Website | www.accenture.com |
Accenture Interview Questions For Freshers and Experienced Candidates
Securing the job in the IT Sector is not an easy task. The officials of the certain company will conduct the selection process to hire the aspirants. To perform well in the rounds the candidates have to prepare in an effective manner. The candidates check the Accenture Interview Questions 2018 from this page and try to clear the interview round easily. As there is high competition for the jobs in these days. To overcome that competition applicants have to prepare efficiently by using the interview questions and answers furnished on this page.
Accenture Interview Questions For Freshers
Freshers can check the recently asked Accenture Interview Questions from our website.
Accenture Technical Interview Questions
Data Structures Interview Question For Freshers:
What are linear and nonlinear data Structures?
What are Infix, prefix, Postfix notations?
Which data structures are used for BFS and DFS of a graph?
How to implement a stack using the queue?
Translate infix expression into its equivalent postfix expression: (A-B)*(D/E)
What is Brute Force algorithm?
What does node consist of?
Explain Binary Search Tree
How does dynamic memory allocation help in managing data?
What is merge sort?
What is the advantage of the heap over a stack?
In what data structures are pointers applied?
Which sorting algorithm is considered the fastest?
What is a linear search?
Differentiate STACK from ARRAY.
How does selection sort work?
What is a graph?
You Can Also Check: ★ Accenture Syllabus & Accenture Placement Papers
Operating System Interview Questions For Freshers:
What is an operating system?
What is a deadlock?
Briefly, explain FCFS.
What is pre-emptive and non-preemptive scheduling?
What is process migration?
Difference between Primary storage and secondary storage?
What is fragmentation? Tell about different types of fragmentation?
Explain the difference between microkernel and macro kernel?
What is page cannibalizing?
What is Memory-Management Unit (MMU)?
Explain the concept of the Distributed systems?
What is Throughput, Turnaround time, waiting time and Response time?
What is RR scheduling algorithm?
Accenture HR Interview Questions For Freshers
Will you be willing to work night-shift?
What is 'MAKE IN INDIA' initiative? What are your views about it?
Why does the Indian flag have 24 spokes?
Tell us about yourself & your family background.
How will you manage a team under pressure?
Are you comfortable working late nights, if project demands?
Do you know anyone who works for Accenture?
How much salary do you expect?
What qualities would you like to see in your boss?
Would you like to ask us anything?
Accenture Interview Questions For Experienced Candidates
Accenture Technical Interview Questions
Database Administrator Interview Questions For Experienced:
What authority should a user have to QUIESCE a DB2 database?
Can memory information be obtained by the GET DB CFG FOR mydb SHOW DETAIL command?
What command disables roll-forward recovery?
Which command starts an instance?
What is the purpose of using COMMIT?
List out the buffer pools in DB2
Explain in detail about buffer manager and its functionalities?
Mention a credible reason why SELECT* is never given preference in an SQL program that has been embedded.
Mention the length of physical storage of the given data types of DB2 – DATE, TIMESTAMP, TIME
Explain DCLGEN.
Comment whether DCLGEN is mandatorily used?
Mention the different locking levels that are available in DB2.
Mention the downsides of PAGE level lock.
Software Testing Engineer Interview Questions For Experienced:
What is the Software Testing?
What's the beta testing??
What is the difference between verification and validation?
What are the different Ways of doing Black Box testing?
Which testing method is used to check the software in abnormal condition?
What is the difference between interoperability and compatibility testing with some examples?
What's the Traceability Matrix?
Describe Glass Box Testing
What is Functional Decomposition?
Explain about Quality Assurance?
What is Race Condition?
What is Scalability Testing?
Define Software Requirements Specification?
What is Binary Portability Testing?
What is Application Binary Interface (ABI)?
Accenture HR Interview Questions For Experienced
What makes you interested in this job?
Why do you think should we take you for this job?
Why do you want to leave your present job?
If your boss was present here, what do you think he would tell us about you?
Did you face any problems in your last role?
If you face a problem with your own performance, what would you do?
How was your performance measured?
How would you classify your style of management?
Would you like to work in a team or on your own?
What is your greatest achievement?
What will you do if you are offered a job with a salary higher than this?
Keep visiting our website www.freshersnow.com for the latest Accenture Interview Question.