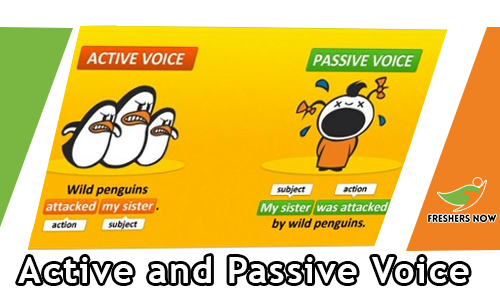 Get Active and Passive Voice English Quiz from this post. Are you confusing for Active and Passive voice? No problem we have an Active and Passive Voice English Quiz for you. As, this topic is significant for entrance exams like SSC, UPSC, CGL, Bank clerks, Bank PO's, GATE, GRE, TOEFL we promote an article on this page. Furthermore, you can practice this Active and Passive Voice Quiz and get a bright idea about it. In the same way, we provide an interactive Active and Passive Voice questions for the benefit of students preparing for those exams.
Active and Passive Voice Quiz Details
This Quiz delivers 25 questions to you and 30 minutes of time for the whole 25 questions. Therefore, this half an hour time will give you hundred percent clarity on this topic as well as confidence. Of course, verbal Ability is the main topic of this Quiz. And, this Quiz will not allow you to see the correct answer without responding to the answer to the question. Here in this table, we provide details.
| | |
| --- | --- |
| Quiz Name | Active and Passive Voice |
| Category | Verbal Ability Questions |
| Number of Questions | 25 |
| Time | 30 Minutes |
| Exam Type | MCQ (Multiple Choice Questions) |
And, in addition to these, we are also offering Active and passive Voice Questions and Answers to you as a guide. Moreover, this Active and Passive Voice Quiz will give you how to change a sentence in Active Voice to Passive Voice. Don't be nervous practice it and produce good results. Meanwhile, let's see the details of the Quiz.
Active and Passive Voice Online Test
About the Active and Passive Voice
Active Voice means the sentence in its direct form. Correspondingly, it is a sentence where the subject is the doer of action and the verb represents it. To the better readability of the sentence or word, it must be in Active Voice. As well as, Passive Voice means the sentence is in the indirect form.
Moreover, when the focus is on the action and not on the doer we use this. In these sentences, the subject acts on a verb. The structures of the Active and Passive voice are Subject + Verb + Object and Object + Verb + Subject respectively.
Rules for converting Active to Passive Voice
Make Subject as  Object.
Add preposition " by".
And then, add auxiliary verb to the main verb.
To convert passive to Active Voice
In the same way, to change passive to active. You follow these rules.
Make Subject as Object.
Then, add the finite form "to."
Change the form of the Verb to Past Participle.
Benefits of Practicing the Active and Passive voice Quiz
 Through this Quiz, you will master the concept.
By the way, you can know how to change the sentence to its other form.
Improves the readability of the statement too.
No need to search for corrections, our Quiz guide will correct your mistakes for free of cost.
Results of Active and Passive Voice English Quiz
This Quiz results in the excellent performance in the competitive exams. The results appear in grades, points, and marks. Constant practice gives you good results and helps you to solve any question. A detailed description of the questions of the Quiz helps you to ace the concept quickly. For more information keep visiting our website Freshers Now.
Practice More English Questions and Answers