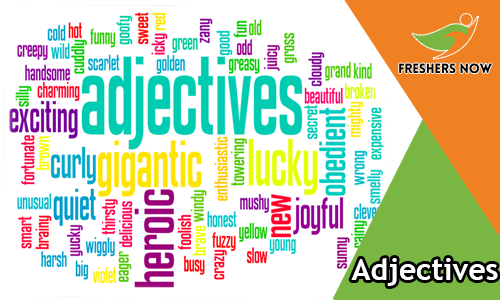 Take Adjectives English Quiz Online Test Available in this post. That is going to guide you all to clear the Verbal sections of many Entrance and Competetive Exams. Well, by Practising the Adjectives Online Test you can get a complete grip on the complete concept. Therefore, take the Test. And it is for free of Cost. Well, you can even take it for multiple times. And the Quiz we included in this post, is going to help the Contenders, to crack Exams like Civil Services, UPSC, PSC, SSC, GRE, GMAT, MAT, CAT, and other top companies Recruitment drives. Not aware of Adjectives? We are here to provide Adjectives Questions. Meanwhile, have look over the article. This article provides Adjectives concept and also provides the Online Test.
As it is very important to learn about this concept uniquely. So, here in this section, we have given the overview of the concept of Adjectives English Questions. And aspirants who want to know about the depth details can take the Adjectives Quiz. For the ease of students, we have tried our best and collected commonly asked Adjectives Questions and Answers in various competitive exams and interviews.
Adjectives English Quiz Details
| | |
| --- | --- |
| Quiz Name | Adjectives |
| Category | Verbal Ability Questions |
| Number of Questions | 25 |
| Time | 30 Minutes |
| Exam Type | MCQ (Multiple Choice Questions) |
Adjectives Quiz Online Test
Just spend your 30 minutes of time and gain the knowledge better than you have before. And most of the students say that there are weak in Adjectives English Questions test. For those people, this page might be very useful. Aspirants should remember, we said you need to be careful to work out if a word is related to the concept or not, look at its location in the sentence whether it is before or after the noun. Then you can workout and can identify easily. Learning the concept is very easy, but the implementation of the concept is somewhat difficult so you should be perfect whatever you are learning. Thereby, we provide you the best way to learn this concept.
About Adjectives English Questions
The simplest definition of an adjective, a word that defines or clarifies a noun in a sentence. Whenever a number of adjectives are used together, then the other depends on the function of the concept. Within the sentence, the adjective use is very much important to learn. Learning about the adjectives one can easily describe the nouns within the sentence. So candidates should keep a keen concentration on the concept. The order of the adjective in a sentence must be initiated with the Quantity, Value, and opinion, size, temperature, shape, color, origin and the material used. These words can also modify the nouns and pronouns as well. While writing the sentences, we can use many adjectives end with -y, -ate, -ed, and -ing to the sentence. However, we know that nouns and adverbs can end with -y. In fact, nouns end with nouns, and verbs also end with -ate. And also verbs also end in -ed and -ing.
They are three kinds:
Attributive
Predicative
Nominal
Benefits of practicing Adjectives English Quiz
You can be careful while writing any competitive exams and also any entrance test by reading this article.
Candidates can crack the competitive exams in a simple manner.
Everyone can learn this concept as we given a summary of the concept.
Results of Adjectives English Quiz
After the submission of your exam, you can know your score.
Within the results given, you can improve them better by attempting this test again by practicing.
Have a look for updates in this page.
By the way, for further details and updates follow us on Freshers Now site.
Practice More English Questions and Answers