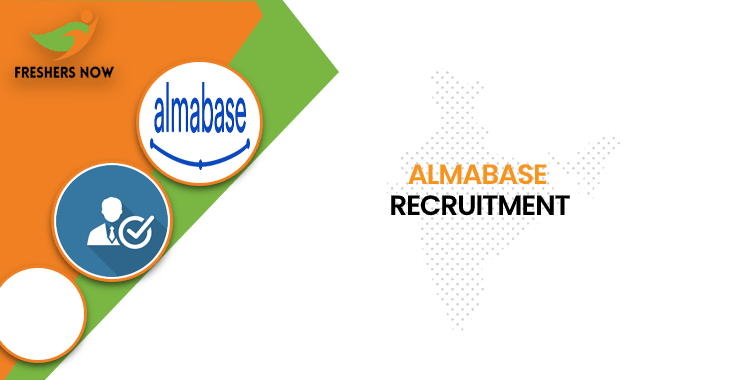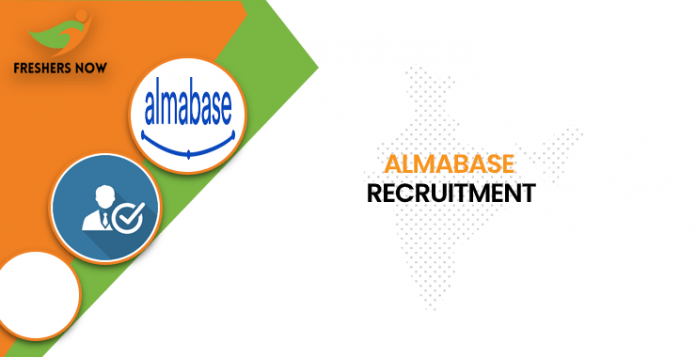 Almabase Recruitment 2020 For Inside Sales Account Executive in Bangalore: Candidate who wants to work as Inside Sales Account Executive can attend for Almabase Recruitment 2020. For Almabase Recruitment 2020 Drive, graduates with 0 – 3 Years of experience can apply by going through this page. On this page, we have provided the direct application link for Almabase Recruitment For Inside Sales Account Executive Role. So, interested and eligible candidates can apply for Almabase Recruitment in Bangalore. We suggest you go through this page to know more about the Almabase Recruitment 2020 Drive.
You Can Also Check: Interview Questions
Almabase Recruitment 2020 – Overview
| | |
| --- | --- |
| Company Name | Almabase |
| Qualification | Any Graduate |
| Experience | 0 – 3 Years |
| Job Location | Bangalore |
| Job Role | Inside Sales Account Executive |
| Category | IT Jobs |
| Official Website | almabase.com |
Job Opportunity
Almabase is looking to hire an Account Executive to close new sales. In this role, your goal is to help US universities & schools understand how to improve their alumni program using Almabase. You will be handed marketing qualified leads that are generated through various inbound & outbound channels, and you will be responsible for handling that relationship until they sign a contract. Once they sign a contract, customer success will take over and help them succeed. While most of the sales are over zoom, you will also have plenty of opportunities to represent the company at various conferences around the US along with meeting potential customers and selling in-person (in the post COVID world). Their ideal candidate is early into their career (< 3 years experience), is confident, can communicate clearly, and has a passion for sales.
Compensation
Total Salary: Rs. 10 to 12 lakhs per annum (base plus commissions)
They prefer that every employee also holds equity in the company. In this role, you will be awarded equity after 12 months, based on the impact you have created.
Please be aware that the only market you will be selling into in this position currently will be the US. So you are expected to work during US hours – 4 PM to 2:30 AM IST (approximately).
Job Responsibilities
KPIs – Number of new deals closed, $ revenue added, the opportunity to closed-won conversion rate.
You will be supported by the rest of the team whenever you need assistance. Eg: if there are deep technical questions, an engineer can join the call with you. If there are questions about the product roadmap, a product manager will join the call. If you need help with negotiating a contract, the CEO will join the call with you.
Handle qualification calls for new marketing qualified leads – Identify if the prospect's BANT (Budget, Authority, Need, & Timing) are in line with their expectations. It's critical to empathize with the prospect and make sure their goals are aligned with their service.
Handle all further conversations from product questions to contract negotiations after an opportunity is created to eventually close the deal and handover to the customer success team.
Prioritize and consistently nurture all the leads in your pipeline with high-quality follow-ups.
Handle product demos for sales qualified leads – Show them how Almabase can solve their challenges and achieve their goals. You'll also present pricing, according to their requirements.
Identify insights and pain points from conversations with prospects, and contribute to the product roadmap by providing active feedback to the product team.
You Can Also Check: Freshers Jobs
Job Requirements
Skills & Experience
Experience in SaaS sales, to US geography, is a bonus.
Early into your career ( < 3 years work experience)
Ability to learn quickly. Eg: learn the product, learn solution selling methodology, etc.
Excellent written and verbal business communication skills.
Personality traits
Pays great attention to detail, loves taking notes, and maintains discipline with CRM.
Fun & confident personality. Loves to meet new people and build relationships.
Highly motivated to work at a scaling startup.
What will a typical quarter look like?
Based on the targets, you will prioritize the right leads to maximize your pipeline and close more revenue.
By the beginning of the quarter we'll come up with the targets for the quarter, in terms of the number of new deals closed, and $ revenue added.
In the last two weeks of the quarter, we'll start working on goals for the next quarter.
You will participate in weekly deal reviews along with the CEO & Director of Sales to discuss and get tactical advice to drive closure.
What will make you successful in this role?
First and foremost, you need to be good at building rapport with prospects. Relationship building is very critical to be successful as a salesperson in this market. They need to first trust you before buying anything from you.
You need to be resilient, be ready to face rejection, and still keep going. Without an intrinsic motivation to perform well and constantly improve, this is a hard job. It will take time to succeed.
Educational institutions are not the fastest moving organizations. You need patience but you need to be proactive in nurturing the prospect to succeed in this role.
You need to be disciplined and good at multi-tasking. When you have many leads in your pipeline at any time, prioritization & context switching become critical skills. Otherwise, it's easy to get overwhelmed.
You need to get really good at solution selling. The product is not a commodity with simple features. You need to be able to connect the customer's needs, don the consultant's hat, and provide the right solution to them. That's half the sale. You need to develop a good enough understanding of the product and the market to be effective at this.
How will we set you up for success in this role?
Almabase will provide you with detailed training to give you a head start into the world of alumni relations and educational fundraising. We'll also talk about the competitive landscape, provide you access to hundreds of recorded conversations, and existing marketing materials.
Almabase will provide you an in-depth training into their product along with sandbox access to let you play around. The focus is for you to figure out how each piece helps toward solving the puzzle for customers.
Almabase will walk you through our current sales playbook and sales enablement materials. We'll also do a deep dive into competitors and handling other objections, along with role plays to get you prepared.
Most importantly, we will help you set up a one-on-one casual chat with every member of the Almabase team so you get to know everyone well.
During the first 4 weeks, you will be invited to shadow plenty of sales calls just to listen in and understand how they go about sales currently. Almabase believes everybody will learn different things from this process but it has worked very effectively in the past.
They have a daily 30 min standup for marketing, SDRs, and AEs to sync up along with the CEO. It ensures they are all aligned and understand the priorities. You will have a quarterly 1:1 review with the CEO to discuss your career goals and overall success, apart from regular mentoring.
They will provide you access to the best SaaS sales resources and add you to a few SaaS sales communities so you can discuss with other people in similar roles – learn and teach at the same time. We've found that this is the fastest way to improve your skills.
Why should you join Almabase?
SaaS is set to explode in India and Inside Sales is one of the most critical functions for any growing SaaS company. Over the years we have developed some of the best practices in inside sales. In this role, you will get to learn a lot and become a highly skilled salesperson. At the same time, the team is still small enough for you to change how things are done and have an outsized impact. Knowing that the work you do every day improves accessibility to education for millions of students is highly motivating – it's what keeps us going too.
You Can Also Check: Placement Papers
Benefits
This is what our team members enjoy the most about Almabase
Freedom & Responsibility: If you are a person who wants to take up challenging work & push your personal boundaries, then this is the right place for you. This article does a fantastic job of articulating the growth mindset we're trying to develop.
Great Salary & Equity: For our top performers and leaders, we grant stock options. As Almabase continues to grow, you'll have a real opportunity to create wealth for yourself and your family. We'll ensure you are financially well-off in the end.
Holistic Growth: Building a career doesn't have to be at the cost of missing out on your personal front. We believe that professional success is worthwhile when personal goals are nurtured with equal importance. We will support you on that journey of yours.
Transparency: If you ever wanted to know what it's like to be on an entrepreneurial journey, then working with Almabase gives you that opportunity to experience it all first hand.
Food & Snacks: You'll never have to worry about your hunger pangs. We provide tasty home cooked food & snacks at all times of the day. Obviously, this is applicable when you are in office only 🙂
Health insurance: We offer health insurance coverage for you & your dependents.
Unlimited leaves & work-from-home: There is no ceiling to the leaves or work from home days. Our only policy is that you use your good judgment. We only care about the work being effective and on-time. Do it from wherever you want to do it.
The comfort of home: On a tiring day, if you want to take a break on a bed or if you want to jog & take a shower at work or play your heart out on PS4.
Remote-work friendly: Allowances to setup workspace at home and recurring allowances to make you happier and more productive. Subscription to an emotional wellness coach, team bonding activities like quizzes, games, and more.
About Almabase Company
They are on a mission to make education affordable to everyone by helping universities & schools build better relationships with their alumni, which leads to increased donations.
Building a large profitable business: We envision building a capital-efficient, large, profitable business to achieve our mission of democratizing quality education. This means less dependence on investors & more ownership with the team. We are one of the few profitable Indian SaaS startups building Value SaaS.
Employee Wellness <> Customer Success: We give as much importance to each team member's personal & professional success as much as we care about our customer's success. We believe it's all about balance. Our recent WFH policies reflect this belief.
Democratizing quality education: Quality education is a great equalizer. When many students receive scholarships to access education because of alumni generosity they pay-it-forward when they have the capacity to do so. Almabase derive their inspiration from actions like this
Almabase impact so far
3 million alumni connected, 450,000 students impacted
$3 million donations raised, 54 million engagement opportunities created
32 months since profitability
Achieved with a nimble team of 24
How To Apply For Almabase Recruitment 2020?
Click on the link given below
Note all the instructions mentioned in the link
Then, click on the Apply For This Job Button
Fill all the details in the application form
Then, click on the Submit Application Button
Click Here To Apply For Almabase Recruitment 2020 For Inside Sales Account Executive in Bangalore
If you want any clarification, drop your query in the comment section below. For more details, visit our website FreshersNow.Com. Bookmark our website and get daily notifications.