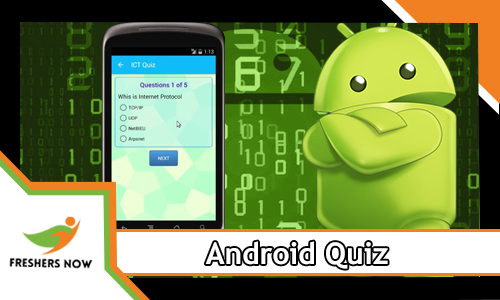 This Android Quiz is comprised of various questions from different levels. So facing that Android Multiple Choice Questions will help to know the language from the primary level. And to be active in any programming language, basic concepts are mandatory. Moreover, to cope up with the computational world, proper knowledge of Android is compulsory. From this web page, aspirants can know about the Android Programming, Benefits of Android Online Test and Results. As a part of this candidates need to face the Android Online Test. So we advise the individuals to take this Android MCQ and learn the Android language. This Android Quiz will also help the candidates who are facing the interviews.
Android Quiz Details
| | |
| --- | --- |
| Quiz Name | Android |
| Category | Technical Quiz |
| Number of Questions | 25 |
| Time | No Time Limit |
| Exam Type | MCQ (Multiple Choice Questions) |
Android MCQ Quiz Instructions
The total number of Questions in the Android Quiz is 25.
Each correct answer is awarded one mark. Also, there is no negative marking.
And, click on the 'Submit Test' button mentioned at the bottom of this post to get your answers submitted.
Do not refresh the Page and wait until results are displayed.
Android Online Test
About Android
Android is Mobile Operating System developed by Google. Moreover, the world is in the path of Mobile Technology. So, one of the widely used Technology in Mobile is Andriod. Android is the software bunch consisting of not only the operating system but also included with middleware and critical applications. Android is the powerful Operating System supporting a large number of applications in Smart Phones. These applications make life more flexible and advanced for the users.
Hardware which supports Android mainly depends on ARM architecture platform. And Android is an open source operating system which means it is free and anybody can use it. Furthermore, Android development is done with Java programming language. Also, learning the Andriod Programming is not an easy task. This Andriod is combined with the bundle of languages. And to learn the Android, we must be sound in the bunch of languages like Java, C/C++, C#, BASIC, Corona/LUA, HTML, CSS, and JavaScript. Now get the features of Andriod.
Multilanguage support
Multi-touch
Optimized graphics
Screen capture
Video calling
External storage
Streaming media support
Benefits Of Practicing Android Quiz
This Android Quiz is useful for the candidates who are facing the interviews.
And also it helps in knowing the concepts from basic.
Moreover, this will be like an Online Mock Test.
Also, this Android MCQ Online Test will help to learn the coding from initial.
How To Check Android Programming Online Test Results
As soon as the candidates submit the test, results are displayed. And we mention the results after submitting. Additionally, we also provide the Android Questions and Answers so that candidates do not repeat the mistakes in future. We request the aspirants look at the results so that you can rectify the mistakes.
We hope the mentioned information about Android Quiz is informative and useful. So aspirants keep visiting our web portal Freshers Now on a regular basis. And we will frequently update our page with more relevant information about Android.