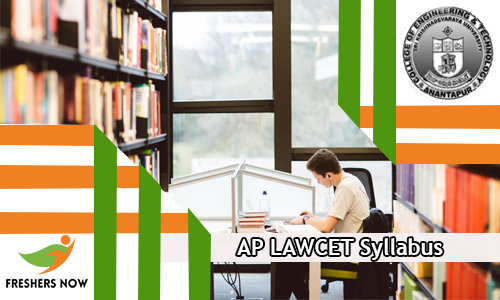 AP LAWCET Syllabus 2021 PDF Download & Exam Pattern: Now all the applicants of AP LAWCET Notification are eagerly searching for AP LAWCET Syllabus 2021. So, we suggest the candidates note the subject wise AP Law Common Entrance Test Syllabus 2021 from the below sections of this page. Because you can get the entire APLAWCET Exam Syllabus 2021 along with AP LAWCET Exam Pattern 2021 from this page. So, check this page to download the AP LAWCET Exam Syllabus 2021 PDF from the direct link provided below.
AP LAWCET Syllabus 2021 Overview
| | |
| --- | --- |
| Name Of The Organization | Sri Krishnadevaraya University, Anantapur |
| Name Of The Exam | Andhra Pradesh Law Common Entrance Test (AP LAWCET) |
| Category | Law Entrance Exams |
| Official Website | sche.ap.gov.in |
So, the Sri Krishnadevaraya University, Anantapur is ready to conduct the Andhra Pradesh Common Law Entrance Test 2021 for all the enrolled candidates. A huge number of candidates are participating in the AP LAWCET for taking 3 years and 5 years of LL.B course. Therefore, to avoid the last-minute disappointment it is better to apply as soon as possible. Meanwhile, all the applicants of AP LAWCET Notification 2021 can come to this post for better preparation.
★ You Can Also Check ★
Andhra Pradesh LAWCET Exam Pattern 2021
Subjects
Number Of Questions
Number Of Marks
Part A: General Knowledge & Mental Ability
30 Questions
30 Marks
Part B: Current Affairs
30 Questions
30 Marks
Part C: Aptitude For the Study Of Law
60 Questions
60 Marks
Total
120 Questions
120 Marks
Time Duration: 90 Minutes
The Medium of AP LAWCET will be conducted in both English and Telugu Languages. Also, the Question Paper will be only in English.
Part – A: So, Part A consists of 30 questions. And the total marks should be 30 marks. Moreover, each question consists of ONE Mark. The General Knowledge and Mental Ability are the subjects.
Part – B: Coming to Part B it consists of 30 questions from 30 marks. Therefore, Current Affairs is a major topic in Part B.
Part – C: It consists of 60 marks. So, the total questions should be 60. Aptitude for the Study of Law is the subject. In Part C the questions will be asked from Aptitude for the study of Law, elementary knowledge of the basic principles of the Law and Constitution of India on the part of the Student is assumed.
Total Number of Questions 120, Total Marks should be 120, The time duration of the test is 120 Minutes.
AP LAWCET Qualifying Marks 2021
The qualifying marks in the Andhra Pradesh Law Common Entrance Test 2021 is 35%. So, you have to secure a minimum of 42 marks out of 120 marks. Good news for the SC, ST candidates. Because there will be no minimum qualifying marks.
Download AP LAWCET Syllabus 2021 PDF
From this section, all the competitors can download the AP LAWCET Syllabus 2021 in a PDF Format. we have bundled a lot of information regarding Andhra Pradesh Law Common Entrance Test 2021 and equipped in this post. Therefore, click on the below link and download the Syllabus without facing any difficulty level.
AP LAWCET General Knowledge Syllabus
Geography
Indian Polity
Indian Constitution
Economy
Indian History
Indian Culture & Heritage etc
AP LAWCET Mental Ability Syllabus
Verbal Series
Non-Verbal Series
Analytical Reasoning
Direction and Distances
Linear Arrangements
Complex Arrangements
Analogies
Classification
Coding & Decoding
Blood Relationships
Symbols and Notations
Alphabet Test
Data Sufficiency Test
Data Interpretation Test
Syllogism
Problems Based on Symmetry
Problems Based on Visual Ability
Ordering & Sequencing
Routes & Networks.
AP LAWCET Current Affairs Syllabus
Polity
Economics
Awards and Achievements
Scientific Discoveries and Inventions
And further topics of relevance.
AP LAWCET Aptitude For the Study Of Law
Law and Constitution of India – Law and constitution section will include questions from:
Public International Law: 
International Law and Municipal Law
Subjects, State Territory, Air, Sea, and outer space
Nationality and Statelessness
State Jurisdiction
United Nations
Mercantile Law: 
General Principles of Contract
1-75
Indian Contract Act-1872
Labour Law: 
Trade Union Act 1926
Industrial Disputes Act 1947
Crimes and Torts:
Indian Penal Code -General Principles & General Exceptions
TORTS: General Principles of Tort
Joint liability
State liability for torts; Consumer Protection Act,1986
Intellectual Property Rights (IPR) & Other Law:
Copyright Act, 1957; Patents Act, 1970
Environmental Protection Act, 1986
Human Rights, The Protection of Human Rights Act, 1993
Salient features of the Information Technology Act, 2000
The Right to Information Act 2005
AP LAWCET Syllabus – Important Link
To Download AP LAWCET Syllabus 2021 & Exam Pattern PDF
Click Here
So, we are sure that you can get whole material related to AP LAWCET Syllabus 2021 from the above sections. Keep visiting our website Freshers Now on a daily basis. To get the Entrance Exams Syllabus just bookmark our website.
Frequently Asked Questions
What are the qualifying marks in AP LAWCET Exam?
The qualifying percentage of marks in the Entrance Test is 35% (i.e. 42 marks out of total 120 marks). There will be no minimum qualifying marks for S.Cs & S.Ts for ranking.
How much time will be provided in the AP LAWCET Exam?
Only 90 Minutes of time will be given.
How many sections will be there in the AP LAWCET Exam?
There will be 3 sections, Part A – GK & Mental Ability, Part B – Current Affairs, Part C – Aptitude For The Study Of Law.