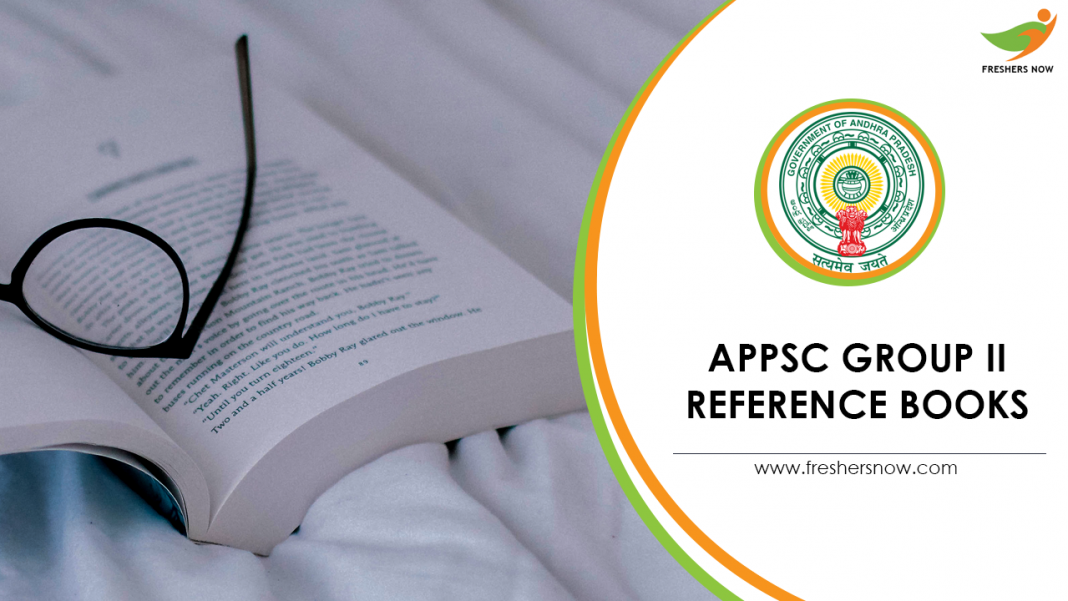 APPSC Group 2 Books | Best Books For APPSC Group 2 Exam (Prelims, Mains) – English & Telugu Medium: In this article, we had given information is about APPSC Group 2 Reference Books. Andhra Pradesh Public Service Commission will organize the Group 2 Exam for candidates to fill the Executive & Non- Executive roles as per requirement. APPSC Group 2 Prelims & Mains exam are the two initial levels for the candidate to work on with books. To qualify for any level of exam initially, candidates should know the Best Books For APPSC Group 2 Exam (Prelims, Mains) to initiate preparation.
★★ Best Reference Books for All Competitive Exams ★★
About APPSC Group 2 Exam – Prelims, Mains
APPSC Group 2 Prelims Exam will be conducted 150 marks and all these questions are multiple-choice and no section is divided into the exam. Candidates who qualify for the Prelims exam are eligible to attempt the Mains exam. APPSC Group 2 Mains Exam was conducted in 3 papers and every paper covers a different syllabus. Prelims & Mains exams have the choice to write in English or Telugu medium depending on the candidate.
APPSC Group 2 Syllabus
Paper
Syllabus
I
Mental Ability & General Studies
II

Social and Cultural History of Andhra Pradesh
General Overview of the Indian Constitution

III
Indian Economy, Planning in India, Contemporary problems and Developments in Rural Society with special reference to Andhra Pradesh
Best Books For APPSC Group 2 Exam (Prelims, Mains) In English Medium
The below-listed books are reference books for APPSC Group 2 Prelims and Mains Exams. These books are suggested by many competitive experts to include these books in the initial preparation process to make preparation smoother and successful way. Group 2 APPSC Reference Books for preparation are listed because these books include vast concepts needed for the attempt of the exam, previous exam questions with solutions, all concepts included in these books are clearly explained to helpful for all levels of candidates.
As these books are in the English Language, students who are flexible in preparing in English can include these books for preparation. All listed books are always updated with new editions by including the latest concepts and books are from top publishers of Competitive exams.
Hindu & Indian Express, GK Today Monthly Current Affairs Compilation
Indian Polity – M LaxmiKanth
Mrunal Economy Archive, Indian Economy (Edition 9)- Ramesh Singh
Modern Indian History -Bipin Chandra or Spectrums Modern Indian History
Lucent's General Science & Science and Technology by tata Mcgraw hill & Newspaper
Geography Of India by Majid Husain, Andhra Pradesh Geography- Paperback-2018
AP Reorganisation Act 2014 Official Document
Environment – Shankar IAS
History of Andhra Pradesh- P.R. Rao
APPSC GROUP-II Paper-III Section-II AP Economy (Contemporary Problems and Development of ANDHRA PRADESH) – Vijeta Competitions Editorial Board
Accountancy for CA-IPC (Group-II) – With Quick Revision Book – P C Tulsian & Bharat Tulsian
Reference Books For APPSC Group 2 Exam (Prelims, Mains) In Telugu Medium
As all the students are not comfortable in preparing and learning the English language for the sake of those candidates, we had listed all the books are in the Telugu Language. These books include all necessary information and topics needed to attempt APPSC Group 2 Prelims and Mains Exams in Telugu. All these books are suggested by experts for aspirants to follow for all types of concepts. Group 2 APPSC Reference Telugu Books are always updated with the latest edition by including the latest concepts.
Eenadu & Sakshi Saeed's Shine India Monthly Current Affairs
Indian Economy – Chiranjeevi
Indian Polity – Telugu Academy Textbooks and AOU Books
Saeed's Modern Indian History or Modern History(Telegu) – Bipin Chandra
Science & Technology, Life Science, Environment – Hari Krishna
AP Bifurcation – Saeed.
Andhra Pradesh History and Culture – Saeed
AP History – B.S.L. Hanumantha Rao
Geography(world, India & AP)Telegu- Raman Raju
Group 2 screening test – Vijeta Competitions Editorial Board
Preparation Tips For APPSC Group 2 Prelims & Mains
Initially, collect all information about APPSC Group 2 exams like date of exam, weightage of concepts, syllabus, best reference book.
Make a Time table according to the syllabus and time period for the day exam.
Bring all the reference books together and choose a book and start preparation with the chosen book completely.
Note down all the main concepts with shortcuts to refer to before the exam.
After completion of one concept take a test on the concept and observe your levels day by day.
Note down all the weak areas of performance and spend some time to be perfect on weak concepts.
Spend some time daily with newspapers parallelly with preparation to get awareness on the latest current affairs.
Make sure to practice previous year's papers which help you to attempt them if they appear again and you can get an idea of the exam and the level of your performance.
Always boost your confidence levels which results in a positive way of preparation and can attempt an exam without fear.
We believe that the above-listed Reference Books In English and Telugu Languages and some tips for APPSC Group 2 Prelims And Mains Exams preparation. We hope that our information makes your preparation process faster, practice more, and score high. For other competitive exams of APPSC and more exam reference books reach to Freshersnow.com website. And make a bookmark for more educational information and the latest updates.