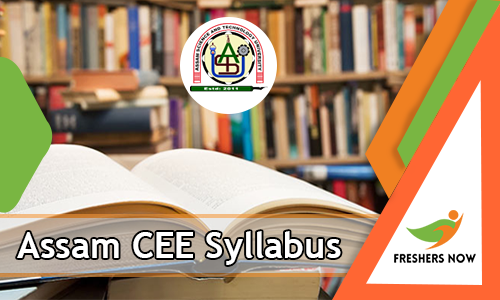 Assam CEE Syllabus 2020 & Exam Pattern PDF Download: To prepare well for the Assam Combined Entrance Examination 2020, candidates must check the latest Assam CEE Syllabus 2020 from this page. All the candidates must and should have to know the detailed Assam CEE Exam Syllabus and test pattern before appearing for the test. Accordingly, the officials of the Assam Science and Technology University are soon going to conduct the Assam CEE 2020. From the below sections, we have provided the latest Assam CEE Exam Pattern 2020 in detail. Therefore, all those 12th Grade Students have to start their preparation for the Exam, as the competition will be pretty high. And we are giving the Syllabus in the PDF Format. You can download it freely.
Assam CEE Syllabus 2020 PDF Overview
Before going any further, first of all, try to check the table we placed here. It has all most of the details about the Assam CEE Syllabus 2020. Well, that table consists of information such as the Name of the Exam, Name of the Institute or the Organization that is arranging the Examination. Along with that, an individual will also find the proper mention of the Assam CEE Date 2020 and the official site of the Assam Science and Technology University too. Remember that we will present to you the exact date of the Assam CEE 2020, once the officials of the ASTU make it official. Also, you can always head towards the official site to clarify their doubts.
★ You Can Also Check ★
Assam CEE Exam Pattern 2020
With the Help of the Assam Combined Entrance Examination Pattern 2020 and the Assam CEE Syllabus 2020, an individual can easily prepare for the Assam CEE 2020. Remember after checking them all, you have to make your own planner. Through which you are flexible enough to cover all the topics. Then only you will be able to get good marks. And also remember that having the Exam Pattern handy is going to do a lot of good for the applicants. So, please check the Assam CEE Exam Pattern 2020 we are providing in this post.
Subjects
Questions
Time & Total Marks
Mathematics
40 Questions
3 Hours & 480 Marks
Physics
40 Questions
Chemistry
40 Questions
Question Papers consist of a total of three subjects namely, Mathematics, Physics, and Chemistry.
From each subject, you will get a total of 40 questions.
Therefore, in the Assam CEE 2020, you will get a total of 120 Questions.
And the Exam is of Multiple Choice Questions.
There is a negative marking. So, try to answer the question which you are very sure.
You will total 3 hours, to complete the Exam. No Extra time is given for you to complete the exam.
The maximum Marks you can achieve is 480.
For every correct answer, you will get 4 marks. And for every Incorrect answer, 1 mark is deducted.
Download Assam CEE 2020 Syllabus PDF
Here in this section, you will find the Syllabus for each and every subject. Therefore, check that out. And you can even download the Assam CEE Syllabus 2020 too. As we have given it in the PDF Format.
Assam CEE Maths Syllabus
Differential equations
Sequences and series
Permutations and combinations
Three-dimensional geometry
Vector algebra
Binomial theorem and its simple applications
Statistics and probability
Trigonometry
Limit, continuity, and differentiability
Mathematical reasoning
Integral calculus
Mathematical induction
Sets, relations, and functions
Complex numbers and quadratic equations
Matrices and determinants
Coordinate geometry
Assam CEE Physics Syllabus
communication systems
electromagnetic induction and alternating currents
rotational motion
physics and measurement
kinematics
current electricity
laws of motion
dual nature of matter and radiation
thermodynamics
work, energy, and power
atoms and nuclei
electromagnetic waves
gravitation
optics
properties of solids and liquids
kinetic theory of gases
electronic devices
oscillations and waves
magnetic effects of current and magnetism
electrostatics
Assam CEE Chemistry Syllabus
chemical kinetics
general principles and processes of isolation of metals
d – and f – block elements
some basic concepts in chemistry
redox reactions and electrochemistry
chemical bonding and molecular structure
purification and characterization of organic compounds
organic compounds containing nitrogen
some basic principles of organic chemistry
solutions
chemical thermodynamics
surface chemistry
biomolecules
organic compounds containing halogens
chemistry in everyday life
organic compounds containing oxygen
principles related to practical chemistry
equilibrium
atomic structure
coordination compounds
s – block elements (alkali and alkaline earth metals)
environmental chemistry
organic chemistry
classification of elements and periodicity in properties
p – block elements
states of matter
hydrogen
polymers
hydrocarbons
Assam CEE Syllabus 2020 & Exam Pattern PDF: Click Here
Hope the complete source about the Assam CEE Syllabus 2020 we provided on this page is useful for an individual. Get similar interesting yet helpful, information by checking our site freshersnow.com often.
Frequently Asked Questions
What is the marking scheme of the Assam CEE Exam?
4 (Four) marks will be awarded for every right answer and 1 (one) mark will be deducted for every wrong answer.
How many questions will be given in Assam CEE Entrance Exam?
120 Questions will be given in Assam CEE Entrance Exam.
How much time will be provided to complete the Assam CEE Exam?
3 Hours