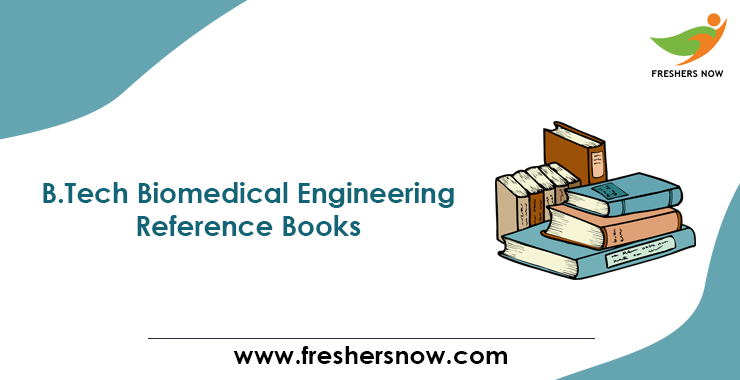 B.Tech Biomedical Engineering Reference books | Best Biomedical B.Tech Books: Most of the students will be searching for the B.Tech Biomedical Engineering Reference Books. All of them can have a look here to grab the details regarding the Best B.Tech Biomedical Engineering Reference Books. We have also given the author names of the B.Tech Biomedical Engineering Books so that it will be easier to know the syllabus for the B.Tech Biomedical Engineering Sem exam.
You Can Also Check: Best Reference Books For All Competitive Exams
B.Tech Biomedical Engineering Subjects
Applied Electronic Circuits
Biomedical Sensors and Measurement Devices
Biomaterials and Artificial organs
Basic Civil Engineering
Biochemistry
Biomedical Control Systems
Basic Mechanical Engineering
Basic Electrical and Electronics Engineering
Biomedical Signal Processing
Basics of Human Anatomy and Physiology
Biomedical Circuits and Networks
Chemistry
Digital Electronic System Design
Engineering Graphics
Electronics Engineering Practices
Environmental Science
Fundamentals of Signals and Systems
Mathematics
Material Science
Medical electronic devices
Mathematics for Biomedical Engineering
Medical Instrumentation
Medical Imaging Systems
Medical Image Processing and Analysis
Physics
Rehabilitation Engineering
B.tech Biomedical Engineering Electives:
Assist Devices
Bio-Chemistry
Hospital Engineering and Informatics Systems
Soft Computing Techniques
Transportation in Living Systems
B.tech Biomedical Engineering Reference Books and its Authors name
| | |
| --- | --- |
| Book Title | Authors Name |
| Foundations of Biomedical Ultrasound (Biomedical Engineering Series) | Richard S. C. Cobbold |
| Biomedical Signal Processing | N. Vyas and S. Khalid |
| Biomedical Engineering and Design Handbook, Volume 2: Volume 2: Biomedical Engineering Applications | Myer Kutz |
| Optically Induced Nanostructures: Biomedical and Technical Applications | Karsten König and Andreas Ostendorf |
| Intro to Biomedical Engineering | Domach |
| Biomedical Electronics and Instrumentation Made Easy | G. S. Sawhney |
| Deformable Models: Biomedical and Clinical Applications (Topics in Biomedical Engineering. International Book Series) | Aly Farag |
| Biomedical Engineering | Krishnamurthi and Murthi |
| Biopacemaking (Series in Biomedical Engineering) | J.A.E Spaan and Ruben Coronel |
| Fundamentals of Biomedical Engineering | G.S. Sawhney |
'Do Visit Again' our website www.freshersnow.com for more regular updates and never miss further updates. Bookmark our website (ctrl+d).