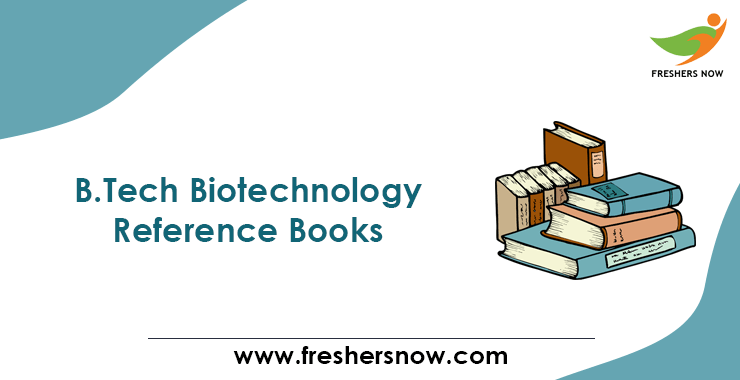 B.Tech Biotechnology Reference Books | Best Biotechnology B.Tech Books: In this article, We are providing information regarding eligibility criteria for B.tech Biotechnology, Biotechnology syllabus, and reference Books for Biotechnology Engineering. Biotechnology Engineering students learn the concepts of Animal biotechnology, Cell biology, Developmental biology, Chemical engineering, Life sciences Bioenergetics, Inorganic chemistry, Electric sciences, Microbiology, Enzyme technology, etc., In detailed information about the Author Names and Best Books for B.Tech Biotechnology are given below.
You Can Also Check: Best Reference Books For All Competitive Exams
B.Tech Biotechnology Engineering Subjects
Animal biotechnology
Bioenergetics
Cell biology
Chemical engineering
Concepts in biotechnology
Developmental biology
Electric sciences
Enzyme technology
Essential in mathematics
Foundation course in organic chemistry
Foundation course in physics
Introduction to computers
Life sciences
Microbiology
Molecular biology
Plant tissue culture
Biotechnology Reference Books and recommended Authors
Book Title
Author Name
Basic Biotechnology
Ratledge Colin
Biopatent Law: Patent Strategies and Patent Management (SpringerBriefs in Biotech Patents)
Andreas Hübel and Thilo Schmelcher
The Biotech Business Handbook: How to Organize and Operate a Biotechnology Business, Including the Most Promising Applications for the 1990s
Michael G. Pappas
High-Tech and Micropropagation V: 5 (Biotechnology in Agriculture and Forestry)
Y.P.S. Bajaj
Practical Biotechnology: Principles and Protocols
Supriya Dash & Swagat Kumar Das H N Thatoi
Biotechnology and Its Applications in Science
P.B. Bansal
High-Tech and Micropropagation II (Biotechnology in Agriculture and Forestry
Y. P. S. Bajaj
Gene Cartels: Biotech Patents in the Age of Free Trade
Luigi Palombi
Nanotechnology for Biology and Medicine: At the Building Block Level (Fundamental Biomedical Technologies)
Gabriel A. Silva and
Vladimir Parpura
Biotech Innovations and Fundamental Rights
Roberto Bin and Sara Lorenzon
Stay tuned to our website www.freshersnow.com for more regular updates and never miss educational updates from freshersnow.