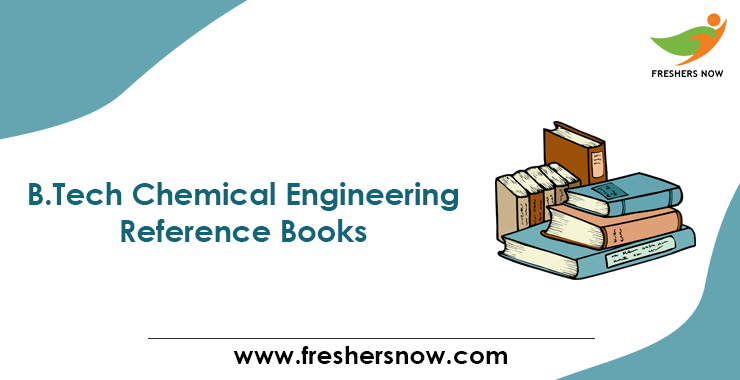 B.Tech Chemical Engineering Reference Books | Best Chemical Engineering Books: On this page, we have furnished the details about the B.Tech Chemical Engineering Eligibility Criteria, B.Tech Chemical Engineering Subjects for 4 Years, and Best Chemical Engineering Books and Top Colleges in India for Chemical Engineering Course which will be useful for you. Students can refer to the information at their convenience through the below parts of this page.
What is B.Tech Chemical Engineering Course?
B.tech in Chemical Engineering is a Professional Undergraduate degree that is awarded after finishing 4 academic years in the field of chemical engineering from the universities or affiliated Colleges or Institutions Recognised by the Government. Chemical Engineering is the branch of engineering that deals with the production and manufacture of chemical products through chemical processes. It involves designing equipment and processes for refining raw materials, and for processing, mixing chemicals for various products by applying principles relating to chemistry, physics, and mathematics which undergo various changes in the Physical and chemical state of a product.
B.Tech Chemical Engineering Subjects for 1st, 2nd, 3rd, 4th Year
1st Year
Communicative English
Calculus and Matrix Algebra
Computational Thinking and Problem Solving
Computer Programming Lab.
Chemistry/Physics
Computer Programming
Cultural Education I & II
Chemistry Lab. / Physics Lab
Engg.Drawing- CAD
Introduction to Chemical Engineering
Material Balances
Physics/Chemistry
Physics Lab / Chemistry Lab
Vector Calculus and Ordinary Differential Equations
Workshop
Workshop A/Workshop B
2nd Year
Amrita Values Program I & II
Chemical Technology
Chemical Engineering Instrumentation Lab
Chemical Technology Lab
Energy Balance and Thermodynamics
Fluid Mechanics
Fluid Mechanics Lab
Humanities Elective I & II
Instrumental Methods of Analysis
Mechanical Operations
Mechanical Operations Lab
Science Elective
SOFT SKILLS I
Transforms & Partial Differential Equations
3rd Year
Chemical Reaction Engineering I & II
Environmental Studies
Equilibrium Staged Operations
Diffusional Mass transfer Operations
Heat Transfer Lab
Materials Technology
Numerical Methods
Project-Based Learning – Phase I & II
Probability and Statistics
Process Dynamics and Control
Statics and Strength of Materials
Strength of Materials Lab
4th Year
Computer-aided Design Lab
Chemical Process Control Lab
Management Elective
Process Design and Integration
Process Equipment Design and Drawing
Project Phase I & II
Transport Phenomena
Best B.Tech Chemical Engineering Books & Recommended Authors
| | |
| --- | --- |
| Book Titles | Author Names |
| Chemical Engineering Thermodynamics | Y.V.C. Rao |
| Chemical Reaction Engineering, 3ed (WSE) | Octave Levenspiel |
| Dryden's Outlines Of Chemical Technology | Rao and M Gopala |
| Elementary Principles of Chemical Processes | Richard M. Felder and Ronald W. Rousseau |
| Handbook On Chemical Industries (Alcohol Based) | H. Panda |
| Introduction to Chemical Engineering | Pushpavanam S |
| Introduction to Chemical Engineering Thermodynamics: Special Indian Edition | J. M. Smith and H.C. Ness |
| Objective Type Questions and Answers in Chemical Engineering | O. P. Gupta |
| Objective Type Questions and Answers in Chemical Engineering | Prasad Ram |
| Unit Operations of Chemical Engineering | Julian Smith and Peter Harriott |
Top Colleges in India for B.Tech Chemical Engineering
National Institute of Technology (NITs)
Indian Institutes of Technology (All IITs)
SRM University, Chennai
Indian School of Mines, Dhanbad
Manipal Institute of Technology
Birla Institute of Technology, Mesra
We hope that you guys have got clear information regarding the B.Tech Chemical Engineering Reference Books. We are putting our consistent efforts with the intention to assist the students in their learning process. So, make your path with us on the Freshers Now portal to get regular updates.