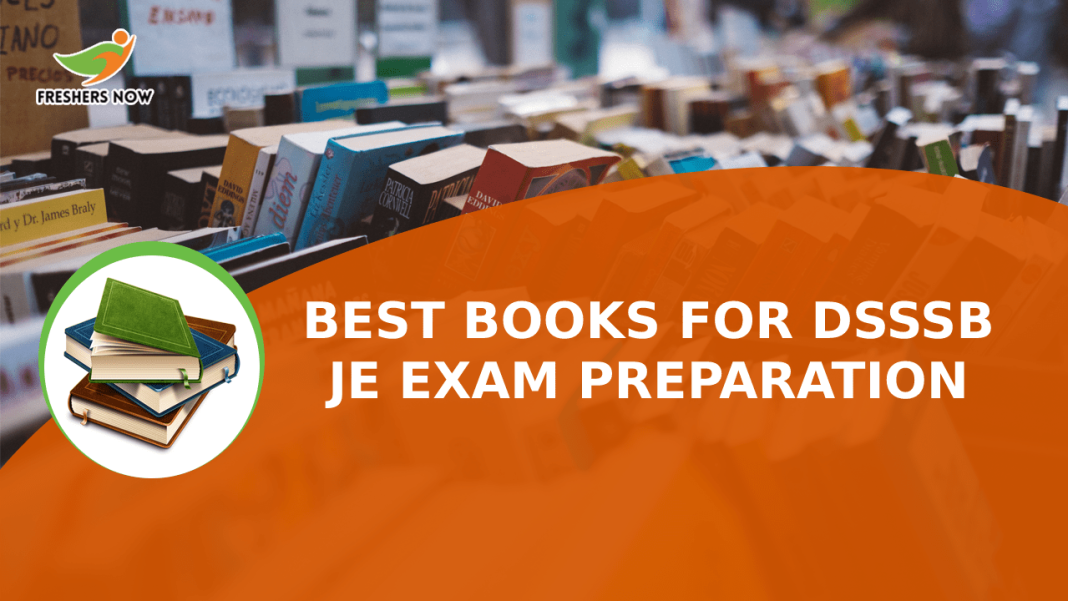 Best Books for DSSSB JE Exam Preparation: Searching for Best Books for DSSSB JE right. This article will guide you through Best Books for DSSSB JE Exam Preparation. Read through the article and you will get all the Best Books for DSSSB JE. Why would miss out on the list of books that will help you ace your preparation? Consequently, make sure that you are following along through your preparation lines so that it will be helpful to pick out the best books that are adaptable to your preparation criteria. Follow along and do takes on the list of Best Books for DSSSB Junior Engineer.
★★ Best Reference Books ★★
DSSSB JE General Awareness Books
General Knowledge by Lucent
Best Book of General Knowledge by Subhash C Sonie
The Usborne Internet-Linked Book of Knowledge by Various
Mega Current Affairs Combo for Competitive Exams by Disha Publications
The Yearly Current Affairs 2020 with Rapid General Knowledge 2021 Combo for UPSC/
RRB by Disha Publications
Gradeup's Daily Current Affairs
General Knowledge 2021-22 by Manohar Pandey
General Knowledge Manual by Pearson
DSSSB JE General Intelligence & Reasoning Ability Books
Verbal and Non-Verbal Reasoning by R.S. Aggarwal
A New Approach to Reasoning Verbal and Non-Verbal by Arihant Publication
Verbal and Non-Verbal Reasoning by Dr. RS Aggarwal
Analytical Reasoning Books by M.K Pandey
Reasoning Books for Competitive Examinations by Pearson
Lucents Verbal Reasoning
Master Reasoning Book Verbal, Non-Verbal & Analytical – Hindi Edition – Arihant Experts
DSSSB JE Arithmetical & Numerical Ability Books
Quantitative Aptitude by Dr R.S. Aggarwal
Teach Yourself Quantitative Aptitude – Arun Sharma
The Pearson Guide To Quantitative Aptitude For Competitive Examination
Wiley's Quantitative Aptitude Book
Quantitative Aptitude for all Competitive Exam – Abhijit Gupta
DSSSB JE Test of Hindi Language and Comprehension
Samanya Hindi Book
NCERT Hindi Grammar Textbook
Bharat Ki Rajvayvastha by M. Laxmikanth
Bharat Ka Bhugol: Civil Seva/Rajya Seva Ki Prarambhik Evam Mukhya Pariksha (Hindi) by Majid Hussain
DSSSB JE Test of English Language and Comprehension
High School English Grammar by Wren and Martin
Objective General English by SP Bakshi
Competitive General English by Kiran Prakashan
Word Power Made Easy by Norman Lewis
Previous Year Papers by MB Publications
Corrective English by A.K. Singh
DSSSB JE Electrical Books
Electrical Power Systems (Edition 6) – C. L. Wadhwa
Power System Engineering (Edition 2) – I Nagrath, D Kothari
Electrical Machinery (Edition 7) – P. S. Bimbhra
Control Systems Engineering (Edition 5) – I.J.Nagrath, M. Gopal
Integrated Electronics: Analog And Digital Circuits And Systems (Edition 2) – Christos C. Halkias, Chetan D. Parikh Jacob Millman
Digital Logic and Computer Design (Edition 1) – M Morris Mano
Circuit Theory: Analysis & Synthesis (Edition 6) – Abhijit Chakrabarti
Fundamentals of Electric Circuits (Edition 5) – Charles K. Alexander, Matthew N. O. Sadiku
Power Electronics (Edition 5) – P.S.Bimbhra
Signals and Systems (Edition 2) – Oppenheim Alan V, Willsky Alan S, Nawab S. Hamid
Engineering Electromagnetics (Edition 8) – William H Hayt, John A Buck
A Course In Electrical And Electronic Measurements And Instrumentation (Edition 7) – A K Sawhney
Higher Engineering Mathematics (Edition 43) – B. S. Grewal
A Modern Approach to Verbal & Non-Verbal Reasoning (Edition: Revised) – R.S. Aggarwal
Quantitative Aptitude For Competitive Examinations (Edition 7) – R.S. Aggarwal
DSSSB JE Civil Books
Theory of Structure by CK Wang, S. Rammamrutham, L.S. Negi & Jangit
Strength of Materials/Mechanics of Structure by Gere & Timoshenko,
Theory of Elasticity by Timoshenko & Gere
Theory of Structure by Wilbur & Norris
E. Popove, L. Singer,
B.C. Punamia, Rammamrutham
Soil Mechanics by Gopal Ranjan & Rao, Venkat Ramaiah,S. K. Garg,
B.C. Punamia, V N S Murthy
Water Resources by S K Garg
Water and Waste Water by SK Garg 1 and 2
Fluid Mechanics- RK Bansal and Fox and Richard
Transportation by Justo Khanna
Environmental Engineering by S. K. Garg Part I & Part II
Waste Water Engineering by B. C. Punmia Part I & Part II
Geomatics Engineering – Surveying (vol. 1,2,3) by B.C.Punmia, Ashok Jain, Arun Jain
DSSSB JE Mechanical Books
Thermodynamics: An Engineering Approach – Yunus A Cengel; Michael A Boles
Engineering Thermodynamics – PK Nag
A Textbook of Fluid Mechanics and Hydraulic Machines – Dr R.K. Bansal
Fundamentals of Compressible Flow – S. M. Yahya
Internal Combustion Engines – Ganesan
Refrigeration and Air Conditioning – C P Arora
Heat Transfer (In SI Units) – JP Hollman
Introduction to Renewable Energy – Vaughn C. Nelson
Theory of Machines – RS Khurmi and GK Gupta
Manufacturing Science – Amitabha Ghosh
Mechanical Vibrations – G K Grover
Mechatronics: Principles and Applications – Godfrey Onwubolu
To conclude, the article has guided you with all the Best Books for DSSSB JE Exam Preparation. Follow freshersnow.com for more informative articles.