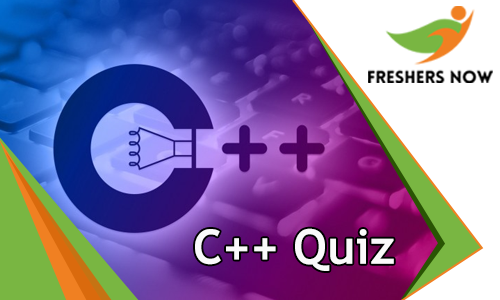 Aspirants come and face the challenging questions relevant to C++ Quiz. To enter into a professional field candidate has to attend such tricky questions on the C++ topic. Contenders, who want to take C++ Quiz can stick to this article. We are providing you with the complete info regarding the test and instructions to follow. So, candidates can check the details like C++ MCQ, C++ Online Test, C++ Multiple Choice Questions, Benefits of C++ Quiz, etc. To crack the C++ online test, candidates have to learn and practice as much as you can.
Details About C++ Quiz
| | |
| --- | --- |
| Quiz Name | C++ |
| Category | Technical Quiz |
| Number of Questions | 25 |
| Time | No Time Limit |
| Exam Type | MCQ (Multiple Choice Questions) |
First, of attempting the C++ Quiz, contenders should practice the test to focus on the interview test. So, in this online test, we provide you the leading interview questions and the quiz that attain the knowledge at the moment. Every single unit of time is precious. So, better know the below necessary information and then make forward of your step.
Instructions Of C++ MCQ Quiz
In this C++ MCQ, there are 25 Questions
Programmers should note that each question carries one mark.
After the successful attempt, hit on submit button.
Now, do not refresh the Page and wait for the result.
C++ Online Test
About C++
Let's learn about the topic. C++ is an intermediate level language and also comprises the features of both the high level as well as the low-level language. Also, the language C++ is a statically typed, multiparadigm, free-form, compiled general-purpose language. Moreover, this language is an object-oriented language. Also, it has some features like Virtual and Friend, violate some of the essential elements that render the language unworthy of being completely called the OOPS. Moreover, the primary purpose of the language is to make the programmers good at writing together with the individual programming skill and logical thinking.
Features of C++ or OOPS language.
Encapsulation
Data Hiding
Polymorphism
Inheritance
The low memory manipulation features.
The language is efficient having less compiled time.
Benefits Of Practicing The C++ Quiz
Programmers can improve their logical ability as well as capable of programming.
Moreover, you can know how to write and trace the programme.
Enhance your coding skills.
Also, you can implement the inline functions while coding.
How To Check C++ Programming Online Test Results
Thus, as fast as possible answer the question in the perspective time. Also, one can know their performance level. Moreover, one thing you need to note is that we provide you the appropriate answers and the explanation for every question. Therefore, it reduces the errors happen in future. So, after the successful submission of the exam or the C++ MCQ Online Test, we advise intenders to stay on this page without refreshing the article.
Hope all the contenders satisfied with the concept C++. So, for more such type of questions and answers stay tuned to our Freshers Now site.