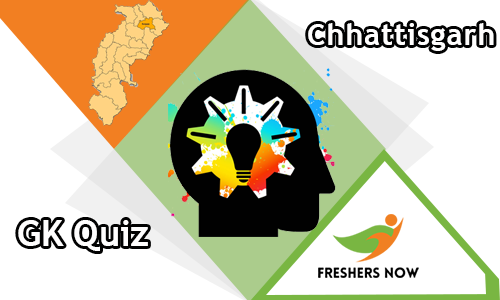 Through this post, all the people who are preparing for different competitive exams can find the Chhattisgarh GK Quiz Questions and Answers. Attempt the Chhattisgarh General Knowledge Quiz Questions which are provided by our team. This website provides you the Chhattisgarh Quiz Questions through which you can estimate your knowledge. This post provides the Chhattisgarh GK Questions through which the aspirants can undergo the Quiz to check their performance. Moreover, this post not only provides Chhattisgarh GK Questions and Answers but also gives you the details of the state customs and traditions, etc..
By taking the Chhattisgarh General Knowledge Questions the aspirants can check their performance and know the areas in which they are poor. This post not only provides you the Chhattisgarh GK Quiz, it also gives you the details of customs and traditions. If you are Looking for Chhattisgarh General Knowledge Questions and Answers go through this article.
Chhattisgarh GK Quiz Complete Overview
| | |
| --- | --- |
| Quiz Name | Chhattisgarh General Knowledge |
| Category | GK Questions |
| Number of Questions | 25 |
| Time | 30 Minutes |
| Exam Type | MCQ (Multiple Choice Questions) |
Chhattisgarh Questions and Answers
About Chhattisgarh GK Quiz Questions
Chhattisgarh is located in the Chhattisgarh Plain, which forms the higher Mahanadi River basin. About 100 miles wide, the Chhattisgarh Plain is bounded by the Chota Nagpur plateau. Earthquakes are infrequent in Chhattisgarh. Various types of soils are found throughout the state like black clayey soils and the red-to-yellow soils. Tourist Attractions in Chhattisgarh are like Chitrakote Falls, Kanker, Bhoramdeo, Hot spring Known as Tata Pani. Traveling to Chhattisgarh by rail is relatively easy.
The road Transport of Chhattisgarh has developed a lot in the last few years. Some of the critical National Highways that pass through Chhattisgarh are National Highway 6, National Highway 43, National and Highway National Highway 78. There are 11 National Highways in the state. Since Chhattisgarh is relatively new, it does not have a well-defined air network.
Interesting facts about Chhattisgarh – CG GK Quiz
This place is an amazing treasure house of age-old tribal culture and history.
It shares a frontier with seven states. UP in North, Jharkhand in Northeast, Odisha in East, AP in South, Telangana in Southwest, Maharashtra in West and MP in Northwest.
It is known as "Dhan Ka Katora" means "Rice Bowl" of Nation.
India's biggest waterfall is situated in Bastar, Chhattisgarh.
Benefits Of Practicing Chhattisgarh GK Quiz
Chhattisgarh GK Quiz helps in Learning at all levels and provides a test to rate ourselves.
Test results and feedback are immediately available.
Aspirants can complete online tests in less time than to complete written tests.
Candidates can take a test from anywhere and at any time convenient to them.
Chhattisgarh GK Quiz Results
Candidates can easily master among various areas according to the results obtained.
By the results obtained, they can rank individually and can know their global positions.
For Furthermore details and updates, keep on visiting our website Freshersnow.com.
You Can Also Check:
| | |
| --- | --- |
| ★ Join Freshers Now Social Media Channels: | Click Here |