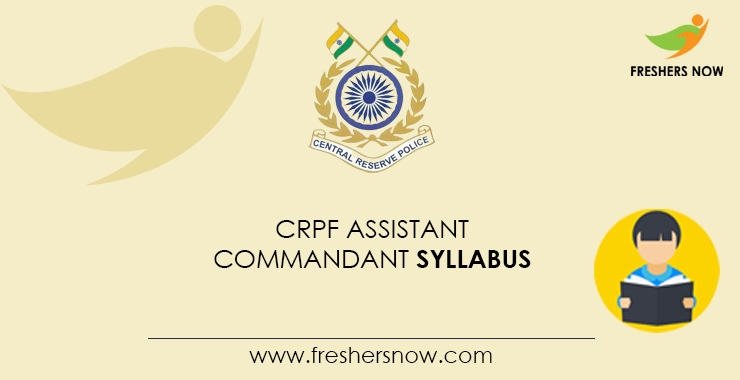 CRPF Assistant Commandant Syllabus 2022 & Exam Pattern PDF Download: Download the CRPF Assistant Commandant Syllabus 2022 PDF from this page for free of cost.  Along with the CRPF Assistant Commandant Civil/ Engineer Syllabus 2022 candidates can check out the details about the CRPF Assistant Commandant Exam Pattern 2022. In addition to the details, we have also attached the direct link to download the Central Reserve Police Force Assistant Commandant Syllabus 2022 PDF at the end of the page. Therefore, all the applicants can make use of the link to get the CRPF Assistant Commandant Exam Syllabus 2022.
The Exam will be conducted for 300 Marks. And there will be 3 Papers. Each Paper will be scored for 100 Marks. And in Paper I, 100 questions will be asked from General awareness, General lntelligence, reasoning, numerical ability, current events, matters of every day observation and experience. Paper II has 100 questions based on the professional skill. Paper III has 100 Questions on English Essay, Precis writing and comprehension. The time duration for each paper will be 2 Hours. And, the questions asked are of multiple choice questions.
CRPF Assistant Commandant Syllabus 2022 – Overview
CRPF Assistant Commandant Syllabus 2022 & Exam Pattern PDF Download
Organization Name
Central Reserve Police Force
Post Names
Assistant Commandant (Civil/ Engineer)
Total Vacancies
25
Category
Syllabus
Job Location
Candidates selected for appointment are liable to serve anywhere in the Indian Territory and abroad.
Official Site
davp.nic.in or crpf.gov.in
CRPF Assistant Commandant Exam Pattern 2022
As you all know by referring to the CRPF Assistant Commandant Exam Pattern 2022, candidates will gain complete knowledge on the scheme of the exam. And, also how to attempt all the topics in given time. Using the CRPF Assistant Commandant Civil/ Engineer Syllabus 2022, candidates can proceed for preparation. Also, candidates can download the Central Reserve Police Force Assistant Commandant Syllabus 2022 PDF which is attached at the end section of the page.
Name of the Subject
Number of Questions
Number of Marks
Paper I
Intelligence Test and General Knowledge

General Intelligence
General Awareness
Reasoning
Numerical Ability
Current events
Matters of every day observation and experience

100
100
Paper II
Professional Skill
100
100
Paper II
Essay, Precis Writing and Comprehension
100
100
Total
300 Questions
300 Marks
Time Duration: 2 Hours (For Each Paper)
Type of Exam: Multiple Choice Questions in English & Hindi
Physical Standard Test & Physical Efficiency Test
| | | |
| --- | --- | --- |
| Name of the Event | Male Candidates | Female Candidates |
| 100 Meters Race | In 16 Seconds | In 18 Seconds |
| 800 Meters Race | In 3 Minutes 45 Seconds | In 4 Minutes 45 Seconds |
| Long Jump | 3.5 Meters (3 Chances) | 3.0 Meters (3 Chances) |
| Shot Put (7.26 Kgs) | 4.5 Meters (3 Chances) | Not applicable |
Interview and Personality Test
| | |
| --- | --- |
| Test Items | Maximum Marks |
| Physical Make up | 10 |
| General Intelligence Aptitude, interest and professional skill | 30 |
| Behavioral aspects and psychological | 30 |
| Any conspicuous achievements during service | 5 |
| International/ national sports/ All india police Games | 5 |
| Overall Assesment | 20 |
| Total | 100 Marks |
Download CRPF Assistant Commandant Syllabus 2022 PDF
Aspirants can make use of the below given link to download the CRPF Assistant Commandant Syllabus 2022 from the official website very easily. After downloading the CRPF Assistant Commandant Exam Pattern 2022 and the CRPF Assistant Commandant Exam Syllabus 2022, we suggest all the applicants to start their preparation immediately. A good practice will help the aspirants in making good scores in the exam. In the same way they can gain their desired post in the organization of the Central Reserve Police Force.
General Intelligence
Number Ranking
Figurative Classification
Classification
Blood Relations
Arrangements
Arithmetical Reasoning
Mathematical Operations
Venn diagrams
Number Series
Figural Pattern
Cubes and Dice
Analogies
Non-Verbal Series
Coding-Decoding
Logical Venn Diagrams
Directions
Number, Ranking & Time Sequence
General Awareness
Functions of Banks
Types of Banks
Indian Banking Industry History
RBI and its Monetary Policy
Inflation
National Income
Public Finance
Bills
Finance Commissions
Revenue of Central Government
Economic Planning
Taxes on Income and Expenditure
Capital market in India
Financial and Railway Budget
Concept of Budget
Schemes and Policies implemented by Government
Money Market in India
Role of Banking.
Numerical Ability
Trigonometry
Profit and Loss
Simple and Compound Interest
Surface area
Data Sufficiency
Pipes and Cisterns
Number System – Fractions
Decimals
Permutation and Combinations
Tabular Form
Caselet Form
Partnerships
Quadratic Equations
Speed, Distance, and Time
Linear Equations
Number theory
LCM and HCF
Sets and Venn Diagrams
Simplification and Approximation
Ratio and Proportions
Percentage
Data Interpretation
Surds, Indices, Exponents, and Powers
Missing Data Interpretation
Probability
Radar/ Web
Line Chart
Pie Chart
Stocks and shares
Volumes
Reasoning
Alphabet Series
Venn Diagram
Number Ranking
Mirror Images
Decision Making
Grouping Identical Figures
Problem on Age Calculation
Figure Matrix Questions
Inference
Arithmetical Reasoning
Analogy
Non-Verbal Series
Blood Relations
Coding and Decoding
Number Series
Test of Direction Sense
Arguments
English Language
Transformation
Joining Sentences
Spotting Errors
Error Correction
Passage Completion
Active and Passive Voice
Substitution
Prepositions
Idioms and Phrases
Synonyms and Antonyms
Sentence Arrangement
Sentence Improvement
Fill in the blanks
Substitution
Spelling Test
Para Completion
Civil Engineering
(a) Building Materials – (Timber, Brick, Cement, Cement Mortar, Concrete)- Stone, Lime, Glass, Plastics, Steel, FRP, Ceramics, Aluminum, Fly Ash, Basic Admixtures, Timber, Bricks, and Aggregates: Classification, properties, and selection criteria; Cement: Types, Composition, Properties, Uses, Specifications, and various Tests; Lime & Cement Mortars and Concrete: Properties and various Tests; Design of Concrete Mixes: Proportioning of aggregates and methods of mix design.
(b) Solid Mechanics – Elastic constants, Stress, Plane stress, Strains, plane strain, Mohr's circle of stress and strain, Elastic theories of failure, Principal Stresses, Bending, Shear and Torsion.
(c) Structural Analysis – Basics of the strength of materials, Types of stresses and strains, Bending moments and shear force, concepts of bending and shear stresses; Analysis of determinate and indeterminate structures; Trusses, beans, plane frames; Rolling loads, Influence Lines, Unit load method & other methods; Free and Forced vibrations of single degree and multi-degree freedom system; Suspended Cables; Concepts and use of Computer-Aided Design.
(d) Design of Steel Structures – Principles of Working Stress methods, Design of tension and compression members, Design of beams and beam-column connections, built-up sections, Girders, Industrial roofs, Principles of Ultimate load design.
(e) Design of Concrete and Masonry Structures – Limit state design for bending, shear, axial compression, and combined forces; Design of beams, Slabs, Lintels, Foundations, Retaining walls, Tanks, Staircases: Principles of prestressed concrete design including materials and methods; Earthquake resistant design of structures; Design of Masonry Structure.
(f) Construction practice, planning, and management – Planning, Equipment, Site investigation and Management including Estimation with latest project management tools and network analysis for different Types of works; Analysis of Rates of various types of works; Tendering Process and Contract Management, Quality Control, Productivity, Operation Cost; Land acquisition; Labour safety and welfare.
(g) Fluid Mechanics, Open Channel Flow, Pipe Flow – Fluid properties; Dimensional Analysis and Modeling; Fluid dynamics including flow kinematics and measurements; Flow net; Viscosity, Boundary layer, and control, Drag, Lift, Principles in open channel flow, Flow controls, Hydraulic jump; Surges; Pipe networks.
(h) Hydraulic Machines and Hydropower – Various pumps, Air vessels, Hydraulic turbines – types, classifications & performance parameters; Powerhouse – classification and layout, storage, pondage, control of supply.
(i) Hydrology and design of hydraulic structure – Hydrological cycle, Ground Water Hydrology, Well hydrology and related data analysis; Streams and their gauging; River morphology; Flood, drought and their management; Capacity of Reservoirs.
(j) Water Resource Engineering – Ground and surface water resource, single and multipurpose projects, the storage capacity of reservoirs, reservoir losses, reservoir sedimentation.
(k) Water Supply Engineering – Sources, Estimation, quality standards and testing of water and their treatment, Rural, Institutional and industrial water supply; Physical, chemical and biological characteristics and sources of water, Pollutants in water and its effects, Estimation of water demand; Drinking water Standards, Water Treatment Plants, Water distribution networks.
(l) Wastewater Engineering – Planning & design of domestic wastewater, sewage collection, and disposal; Plumbing Systems. Components and layout of sewerage system; Planning & design of Domestic Waste-water disposal system; Sludge management including treatment, disposal, and re-use of treated effluents; Industrial waste waters and Effluent Treatment Plants including institutional and industrial sewage management.
(M) Solid waste management – Sources & classification of solid wastes along with planning & design of its management system, Disposal system, Beneficial aspects of wastes, and Utilization by Civil Engineers.
(N) Environmental Engineering and Green Building – Concepts & general methodology.
(O) Soil Mechanics – Soil exploration – planning & methods, Properties of soil, classification, various tests, and inter-relationships; Permeability & Seepage, Compressibility, consolidation and Shearing resistance, Earth pressure theories and stress distribution in soil; Properties and uses of Geo-synthetics.
(P) Foundation Engineering – Type of foundations & selection criteria, bearing capacity, settlement analysis, design and testing of shallow & deep foundations; Slope stability analysis, Rathen embankments, Dams and Earth retaining structure: types, analysis, and design, Principles of ground modifications.
(Q) Surveying – Classification of surveys, various methodologies, instruments & analysis of measurement of distances, elevation, and directions; Field astronomy, Global Positioning System; Map preparation; Photogrammetry; Remote sensing concepts; Survey Layout for culverts, canals, bridges, road/railway alignment, and buildings, Setting out of Curves.
(R) Transportation Engineering – Highways – Planning & construction methodology, Alignment, and geometric design; Traffic Surveys and Controls; Principles of Flexible and Rigid pavements design. Tunneling – Alignment, methods of construction, disposal of muck, drainage, lighting, and ventilation. Railways Systems – Terminology, Planning, designs, and maintenance practices; track modernization. Harbors – Terminology, layouts, and planning. Airports – Layout, planning & design.
(S) Solar Energy and other types of renewable energy – Concepts & general methodology.
(T) Preparation of Layout plans & building drawings – (Plan, elevation, section)
Important Link
To Download CRPF Assistant Commandant Syllabus 2022 & Exam Pattern PDF
Click Here 
Hope the information provided about the CRPF Assistant Commandant Syllabus 2022 is useful for all the applied candidates. Keep visiting our website @ Freshersnow.com for more updates.