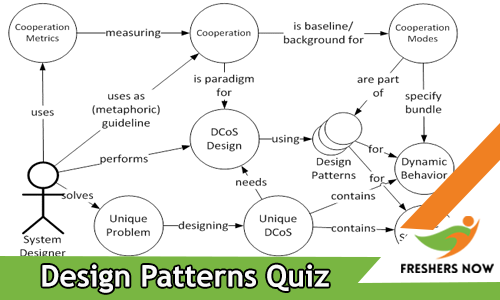 Following Design Patterns Quiz provides the Multiple Choice Questions (MCQ'S). Candidates can practice the Design Patterns Online Test from this article. You have to pick one correct option from multiple choice questions which are in the below section. Thus, students can learn the new design pattern questions with the help of this post. Contenders can check and practice the quiz to learn the design pattern exam questions and answers. Refer to the below sections to get the benefits of the Design Pattern Quiz and instructions to practice the quiz.
Design Patterns Quiz Details
| | |
| --- | --- |
| Quiz Name | Design Pattern |
| Category | Technical Quiz |
| Number of Questions | 10 |
| Time | No Time Limit |
| Exam Type | MCQ (Multiple Choice Questions) |
Design Patterns MCQ Quiz Instructions
Here are some basic instructions that every aspirant has to follow to get good marks in the quiz. Also, the Design Patterns Quiz helps the aspirants to get a grip on the subject. And also, we are providing the questions from all the concepts and languages that are involved in decoding the design patterns. So, this type of preparation leads to success. And, aspirants those who are worrying about the correct questions need not worry, as the experts prepare these questions. Moreover, check the below points that you need to practice during the test.
The number of questions in the quiz is 10
No time duration
Each question carries one mark
Also, there is no negative marking
Click the " Submit Test " button given at the bottom of this page to Submit your answers
And, do not refresh the Page
Design Patterns Online Test
About Design Patterns
In Software field the Design Pattern is a general repeatable solution for a commonly occurring problem in the software design. And, these design pattern can be directly transformed into code. A software design problem may have more than one solution. Thus, the designers need to pick the best among all solutions. Hence, the Design Patterns came into the picture.
Benefits of Practicing Design Patterns Quiz
Also, improves your coding skills.
Ability to solve a problem with the general solution.
Helps in reducing time complexity.
Helps to crack the interview process more comfortable.
Learn time management skills.
Can know how to answer tricky questions.
How To Check Design Patterns Programming Online Test Results
So, many of the aspirants are worrying about how to check their result. It is more critical that aspirants need to wait for few more time after completing their test. Hence, the students can know their marks after checking the results. So, candidates who are dreaming of attending the interview in the first Software Industries through Software Design Patterns can check out this article. Therefore, aspirants who are interested in taking Design Patterns MCQ Online Test can practice the quiz. After completing the test, the students can hit the submit test button to view the results.
We think the given post on Design Patterns Quiz is helpful to all the applicants. Regarding any other queries or similar quiz practices and online tests keep visiting our website Freshersnow.com