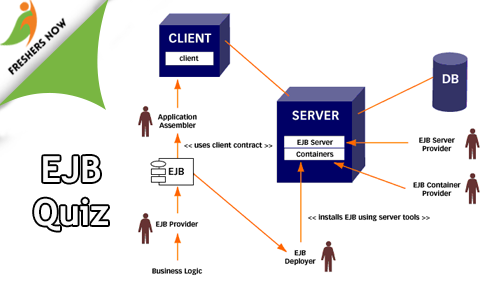 The purpose of the EJB Quiz is to evaluate your knowledge. The provided Java EJB Multiple Choice Questions and Answers will help to prepare for the interviews. So, practice the EJB MCQ Online Test and learn the new topics. Applicants will see the EJB Interview Questions in this article. Candidates will observe that each question contains four options and one option is the correct answer. Refer to the below sections and practice the EJB Quiz.
EJB Quiz Details
| | |
| --- | --- |
| Quiz Name | EJB Quiz |
| Category | Technical Quiz |
| Number of Questions | 25 |
| Time | No Time Limit |
| Exam Type | MCQ (Multiple Choice Questions) |
Here in this block, we are providing you with the vital information regarding EJB Quiz Details. So, by referring to the below table, candidates can get an overview of the EJB MCQ Online Test. Our table shares the details about the number of questions, the number of marks, time limit, etc. So, let's take abroad look at the below-given table.
Java EJB MCQ Quiz Instructions
Before going to attend the exam, every candidate has to know the purpose of the quiz as well as instructions to take while visiting the test. So, here in this section, we are providing the contenders with complete details regarding EJB MCQ Quiz Instructions. Aspirants have to follow some primary points while attending the quiz. They are, you should not refresh the page until the exam is completed.
However, you can change the option for the answer but cannot completely remove it. Also, there are 25 questions present in the quiz for 30 marks. And, one mark is awarded for each correct answer. Moreover, many candidates are worried about the negative scores. Let us let you know that, there are no negative marks in the online test. So, aspirants who are ready to practice the test move to the next section.
JAVA EJB Online Test
About Enterprise Java Bean
Enterprise Java Bean is a server-side software component that encapsulates business logic of an application. Also, it provides a runtime environment for web related software components like computer security, Java servlet lifecycle management, transaction processing, and other web services.
Benefits of Practicing Java EJB Quiz
There are several benefits in practicing the EJB Quiz. EJB Quiz builds up your confidence levels which are essential to crack the interview. Also, it helps you to learn and memorize the concepts and topics involved in Enterprise Java Beans. Also, improves time management skills, as well as enhances coding skills.
How To Check JAVA EJB Programming Online Test Results
After completing your online test, candidates need to check your results. Check your result and also an explanation and try to reduce your mistakes by practicing more tests. Not only the theory skills help the aspirants to crack the exam. But also, aspirants must have practical knowledge. So, to improve your time management skills, we are providing you with the Java EJB MCQ Online Test in this post.
So, we hope that this article was helpful. For more queries, keep browsing our website Freshersnow.com