Are you searching for Engineering Entrance Exams in India 2019? then check out this whole post. Our main is to provide you with the important stuff regarding the Engineering Entrance Exams conducted in India. Moreover, we also provide you with the Admit Cards, Results, Important Dates, Answer Keys, etc. So, we suggest the candidates to closely follow our website in order to gain important information about Engineering Entrance Exams. Here we help you with the competitive exams for engineering graduates, engineering entrance exams 2019, Engineering Entrance Exams List 2019 forms to date, list of entrance exams after 12th, engineering entrance forms available now, engineering entrance exams 2019 calendar, Engineering Entrance Examinations 2019 dates. So, keeping this in mind we are fetching a lot more information from various sources for providing it on our website. Moreover, we are here to help the aspirants with some more details in the upcoming sections of this page.
Engineering Entrance Exams in India 2019
India has now put an open tab for all the contenders who are willing to apply for the Engineering Entrance Exams at various Universities. Mostly many contenders are showing interest in Organizations like IIT's, BITS PILANI, GITAM, MU, IISC, KIIT, NIIT, NIT, IIIT etc. Firstly, the candidates have to gain the minimum knowledge of the Engineering Exams that are conducted every year in India. Nextly, they have to create an overview of the Syllabus and Test Patterns that are being updated day by day. Moreover, candidates should know the previous papers and the level of conducting these Engineering Entrance Exams in India 2019. Furthermore, you can easily crack this job by practicing in a clear way and getting a grip on the exams. Engineering Entrance Exams are attracting many contenders who have completed their 12th standard. Moreover, the aspirants can gain the minimum basic knowledge through our website.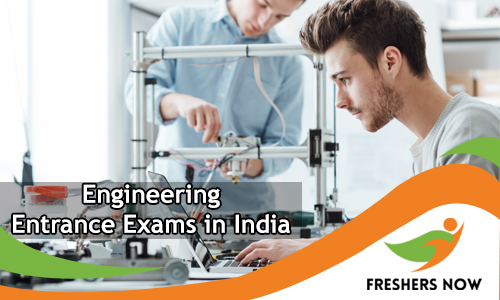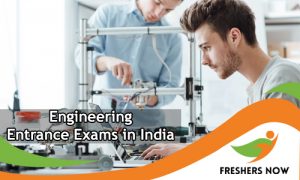 List of Engineering Entrance Exams in India 2019
Upcoming Engineering Entrance Exams in India
Moreover, from the above table, you can see the sample Engineering Entrance Exams in India. Furthermore, we also provide you with the admit cards, results, previous papers, syllabus, answer key, application form etc. Therefore, the candidates can apply for these Engineering Entrance Exams by applying through the registration links provided by our website. Hence, we help you in creating an overview of the application process, registration process, selection process, important dates, eligibility criteria etc. And you can register for the Entrance Exam with free of cost by checking the above provided Engineering Entrance Exams List. For more relevant updates and latest notifications about the Engineering Entrance Examinations 2019 keep following our website which is Freshersnow.com
★You Can Also Check Other Entrance Exams In India★