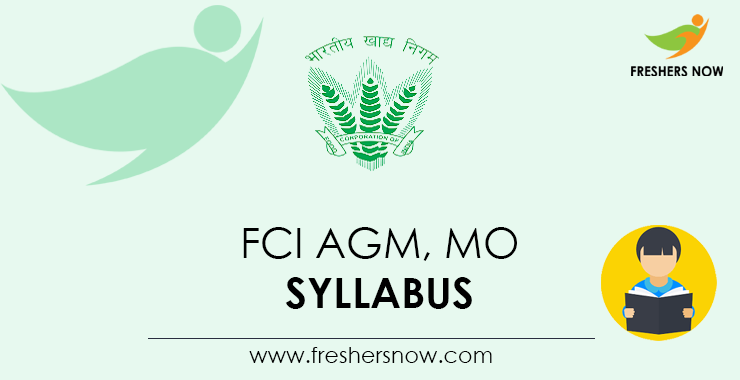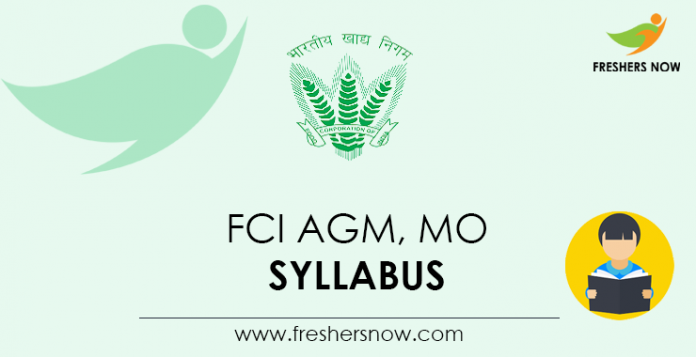 FCI AGM, MO Syllabus 2021 & Exam Pattern PDF Download: In this article, we have provided detailed FCI AGM & MO Syllabus 2021 along with Exam Pattern. Candidates who are looking for downloading FCI AGM, MO Syllabus PDF can make use of this article. All the applicants who have applied for FCI Assistant General Manager (General Administration), Assistant General Manager (Technical), Assistant General Manager(Accounts), Assistant General Manager (Law), Medical Officer Exam must visit this page to download FCI Exam Syllabus and Exam Pattern.
Moreover, to help the candidates we have provided the direct link to download FCI MO, AGM Syllabus, and FCI AGM & MO Exam Pattern 2021 at the end of this page. This FCI Exam Syllabus will help the applicants to score better marks in the FCI AGM, MO Exam. Therefore, candidates can prepare for the FCI AGM & MO exam according to the syllabus provided on this page.

FCI AGM & MO Syllabus 2021 – Overview
| | |
| --- | --- |
| Organization Name | Food Corporation of India (FCI) |
| Post Name | Assistant General Manager (General Administration), Assistant General Manager (Technical), Assistant General Manager(Accounts), Assistant General Manager (Law), Medical Officer |
| Category | Syllabus |
| Selection Process | Online Test, Interview |
| Location | Across India |
| Official Site | fci.gov.in |
FCI AGM & MO Exam Pattern 2021
The following is the complete FCI AGM & MO Exam Pattern 2021. Moreover, AGM general assistant Exam will be conducted for 180 marks and the time allotted for this exam is 2 &1/2 hours (150 minutes). And for the medical officer exam, 120 questions will be asked and each question will carry 0.5 marks. And the time duration of this exam is 2 &1/2 hours (150 minutes).
Post Name
Syllabus
  No. of Questions
 Time Duration
Assistant General  Manager (General
Administration)

Reasoning
Data Analysis
Numerical Ability

        45
  2 ½
hours (150 minutes)
General Awareness
        45
Management and Ethics
        45

Agriculture
Agriculture Economy and
Computer awareness

        45
Assistant General Manager (Technical, Accounts, Law) and Medical Officer.

Reasoning
Data Analysis
NumericalAbility

        30
    2 ½
hours (150 minutes)
General Awareness
        30
Management and Ethics
         30

Agriculture
Agriculture Economy
Computer awareness

         30
Relevant Discipline
          60
FCI AGM & MO Syllabus 2021 PDF Download
Here we are providing FCI AGM & MO Syllabus 2021 in detail. Therefore, after downloading the FCI AGM & MO Exam Syllabus 2021 & Exam Pattern PDF from this page, candidates can make an effective schedule for the preparation to score high marks in the FCI AGM, MO Exam. Here candidates will come to know all the subtopics to be prepared for the FCI AGM, MO Exam 2021.
Management And Ethics
The topics of Management and Ethics are mentioned below.
Fundamentals of Management & Organizational Behavior.
Meaning & concept of  Organizational Behavior.
Personality
Motivation.
Leadership.
Organizational Change.
Ethics at the workplace and Corporate Governance.
Theories of Ethics.
Moral issues in business.
Ethical Principles in business.
Corporate Governance.
Agriculture
Agriculture: definition, meaning, and its branches.
Agronomy: definition, meaning, and scope of agronomy.
Classification of field crops.
Factors affecting crop production.
Agro Climatic Zones.
Cropping Systems: Definition and types of cropping systems.
Problems of dry land – Seed production, seed processing, seed village.
Meteorology: weather parameters, crop-weather advisory.
Precision Farming.
System of Crop Intensification.
organic farming.
Soil and Water Conservation: Major soil types, soil fertility, fertilizers, soil erosion, soil conservation, watershed management.
Water Resource.
Irrigation Management: types of irrigation, sources of irrigation, crop-water requirement, command area development, water conservation techniques, micro-irrigation, irrigation pumps, major, medium, and minor irrigation.
Farm and Agri Engineering
Farm Machinery and Power, Sources of power on the farm- human, animal, mechanical, electrical, wind, solar and biomass, biofuels, water harvesting structures, farm ponds, watershed management, Agro-Processing, Controlled and modified storage, perishable food storage, godowns, bins, and grain silos.
Plantation & Horticulture: Definition, meaning, and its branches.
Agronomic practices and production technology of various plantation and horticulture crops.
Post-harvest management, value and supply chain management of Plantation and Horticulture crops.
Animal Husbandry: Farm animals and their role in the Indian economy, Animal husbandry methods in India, common terms pertaining to different species of livestock, Utility classification of breeds of cattle.
Introduction to common feeds and fodders, their classification, and utility.
Introduction to the poultry industry in India (past, present, and future status), Common terms pertaining to poultry production and management.
Concept of mixed farming and its relevance to socio-economic conditions of farmers in India.
Complimentary and obligatory nature of livestock and poultry production with that of agricultural farming.
Fisheries: Fisheries resources, management, and exploitation.
freshwater, brackish water, and marine ecosystems.
Aquaculture- Inland and marine.
Biotechnology.
post-harvest technology.
Importance of fisheries in India.
Common terms pertaining to fish production.
Forestry: Basic concepts of Forest and Forestry.
Principles of silviculture, forest mensuration, forest management, and forest economics.
Concepts of social forestry, agroforestry, joint forest management.
Forest policy and legislation in India, India State of Forest Report 2015.
Recent developments under the Ministry of Environment, Forest and Climate Change.
Agriculture Extensions: Its importance and role, methods of evaluation of extension programs, Role of Krishi Vigyan Kendra's (KVK) in the dissemination of Agricultural technologies.
Ecology and Climate Change: Ecology and its relevance to man, natural resources, their sustainable management, and conservation.
Present Scenario of Indian Agriculture and Allied activities.
Recent trends
Major challenges in agriculture measures to enhance the viability of agriculture.
Factors of Production in agriculture.
Agricultural Finance and Marketing.
Impact of Globalization on Indian Agriculture and issues of Food Security.
Concept and Types of Farm Management.
Rural Development: Concept of Rural Area, Structure of the Indian Rural Economy.
Importance and role of the rural sector in India- Economic, Social and Demographic Characteristics of the Indian rural economy, causes of Rural Backwardness.
FCI Assistant General Manager (Technical) Syllabus 2021
The detailed FCI AGM (Technical) syllabus 2021 is given below.
Agriculture
Basic principles of Crop (Cereals & Pulses) production.
Statistics of Indian Agriculture (Cereals & Pulses).
Introductory Genetics, Crop Protection.
Basics of Plant Pathology.
Food & Agriculture Microbiology, Nutrition (Animal & Plant).
Post-harvest care of cereals& Pulses.
Basic Principle of Preservation of Food grains.
Agriculture Extension.
Photosynthesis and Respiration.
Biotechnology
 Microbes: Beneficial & Harmful.
Genetic Engineering, Biotechnological Principles. Economic Biotechnology, Pathogens & Control, recent trends.
Entomology
Basic Entomology, Economic Entomology.
Beneficial and harmful insects.
Integrated Pest Management (IPM).
Storage Grain Insect pest, Vertebrate Pests.
Classification of Insecticides and their Mode of Action.
Chemistry
Physical Chemistry: Structure of Atoms, Chemical Bonding, Radioactivity.
Inorganic Chemistry: Periodic table, Basics Metals & Non-metals.
Organic Chemistry: Basics of alkanes, alkenes, alkynes, alcohols, aldehydes, and acids.
Biochemistry (Carbohydrates, Proteins & fats).
PFA Act, 1964, Food Safety and Standards Act,2006/Food Safety and Standards Regulations
2011, Right to Information Act,2005 and National Food Security Act, 2013.
Assistant General Manager (Accounts)
The detailed FCI AGM syllabus 2021 is given below.
Basic Accounting concept including preparation of books of accounts and Accounting Standards.
 Financial Management:
Analysis of Financial statement.
Budgeting & Budgetary control
Working Capital management.
Capital Budgeting & Ratio Analysis.
Taxation: Income Tax including filing of return, TDS, Advance Tax etc; Goods& Services Tax.
Auditing: Auditing Concepts and Methods; Internal & External Audit of Companies.
Commercial Laws:
Contract Act; Companies Act; Sales of Goods Act; Negotiable Instrument Act; Consumer Protection Act; RTI Act.
Basic of Computers:
Operating System; Browsers; Email; Memory (Internal, External, portable); Chats; Office (Word, PowerPoint, Excel); Networks.
FCI Assistant General Manager (Law) Syllabus 2021
Constitution of India (with emphasis on service law and writ jurisdiction of High Court & Supreme Court, Fundamental Rights).
Procedural Law (Civil Procedural Code 1908, Indian Evidence Act 1872, and Limitation Act 1963).
Indian Contract Act 1872 including the Specific Relief Act 1963.
Commercial Law (Company Law 2013, Indian Partnership Act 1932, Limited Liability Partnership Act 2008, The Competition Act 2002).
 Labour Law ( Industrial Dispute Act 1947, Employees Provident Fund & Miscellaneous Provision Act 1952, Contract Labor (Regulation & Abolition) Act 1970, Minimum Wages Act 1948, Payment of Gratuity Act 1972, Payment of Wages Act 1936, The Employees Compensation Act 1923. Industrial Employment ( Standing Orders) Act 1946).
Arbitration and Conciliation Act of 1996.
National Food Security Act 2013.
The Food safety and standards Act 2006.
Prevention of Corruption Act 1988.
Information Technology Act 2000.
Right to Information Act 2005.
Goods and Services Tax 2017.
FCI  Medical Officer Syllabus 2021
GENERAL MEDICINE:
Cardiology, Respiratory diseases, Gastro‐intestinal, Genito‐Urinary, Neurology, Hematology,
Endocrinology, Metabolic disorders, Infections/Communicable Diseases( Virus, Rickets, Bacterial, Spirochetal, Protozoan, Metazoan, Fungus), Nutrition/Growth, Diseases of the skin (Dermatology), Musculoskeletal System, Psychiatry, General, Emergency Medicine, Common Poisoning, Snakebite, Tropical Medicine, Critical Care Medicine, Emphasis on medical procedures, Pathophysiological basis of diseases, Vaccines preventable diseases and Non-vaccines preventable diseases, Vitamin deficiency diseases, In psychiatry, include – Depression, psychosis, anxiety, bipolar diseases, and Schizophrenia.
PAEDIATRICS:
Common childhood emergencies, Basic newborn care, Normal developmental milestones, Accidents and poisonings in children, Birth defects and counseling including autism, Immunization in children, Recognizing children with special needs and management, and National programs related to child health.
GENERAL SURGERY:
Wounds, Infections, Tumours, Lymphatic, Blood vessels, Cysts/sinuses, Head and Neck, Breast, Alimentary tract (Esophagus, Stomach, Intestines, Anus, Developmental), Liver, Bile, Pancreas, Spleen, Peritoneum, Abdominal wall, Abdominal injuries, Urological Surgery, Neurosurgery, Otorhinolaryngology, E.N.T., Thoracic surgery, Orthopaedic surgery, Ophthalmology, Anaesthesiology, Traumatology, Diagnosis and management of common surgical ailments, Pre‐operative and post-operative care of surgical patients, Medico-legal and ethical issues of surgery, Wound healing, Fluid and electrolyte management in surgery, Shock pathophysiology and management.
GYNAECOLOGY& OBSTETRICS
OBSTETRICS:
Ante‐natal conditions, Intra‐natal conditions, Post‐natal conditions, Management of normal labors or complicated labor.
GYNAECOLOGY:
Questions on applied anatomy, Questions on applied physiology of menstruation and fertilization, Questions on infections in the genital tract, Questions on neoplasms in the genital tract, Questions on the displacement of the uterus, Normal delivery and safe delivery practices, High-risk pregnancy, and management, Abortions, Intra-Uterine growth retardation, Medico-legal examination in body and Gynae including Rape.
FAMILY PLANNING:
Conventional contraceptives, U.D. and oral pills, Operative procedure, sterilization, and organization of programs in the urban and rural surroundings, Medical Termination of Pregnancy.
PREVENTIVE SOCIAL AND COMMUNITY MEDICINE
Social and Community Medicine, Concept of Health, Disease and Preventive Medicine, Health Administration and Planning, General Epidemiology, Demography and Health Statistics, Communicable Diseases, Environmental Health, Nutrition and Health, Non‐communicable diseases, Occupational Health, Genetics and Health, International Health, Medical Sociology, and Health Education, Maternal and Child Health, National Programmes, Management of common health problems, Ability to monitor national health programs, Knowledge of maternal and child wellness, Ability to recognize, investigate, report, plan and manage community health problems including malnutrition and emergencies.
FCI AGM & MO Syllabus 2021 & Exam Pattern Download – Important Link
To Download FCI AGM & MO Syllabus 2021 & Exam Pattern
Click Here
Hope that the provided article on the FCI AGM & MO Syllabus 2021 is helpful to your search. For more day-to-day educational updates keep following our page freshersnow.com.