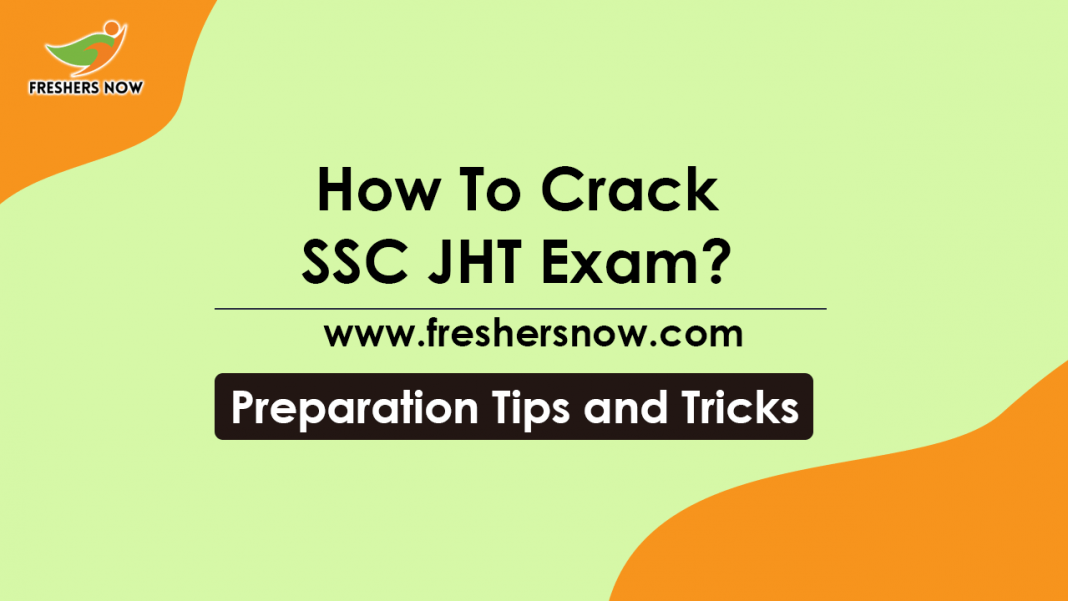 How To Crack SSC JHT Exam? Preparation Tips & Tricks, Study Plan: This article is for candidates who are planning to take the SSC Junior Hindi Translator Exam. We hope that you all are eagerly in search of where and How To Prepare SSC JHT Exam. So, to clear that view in your mind, we have designed this article by providing the strategies like Preparation Tips for SSC JHT Exam 2022, New SSC JHT Study Plan, and more. All of your questions will be answered on this page. Simply scroll down and look at the information we've provided for each section. This page may be useful in preparing for your target score.
SSC JHT Preparation Tips 2022
SSC Junior Hindi Translator Exam
Organization Name
Staff Selection Commission (SSC)
Post Name
Junior Translator (JT), Junior Hindi Translator (JHT), Senior Hindi Translator (SHT), and Hindi Pradhyapak
Category
Preparation Tips
Selection Process
Computer Based Examination
Job Location
Across India
Official Site
ssc.nic.in
SSC JHT Exam Pattern
Number of Parts
Name of the Subject
Number of Marks
Paper I (Objective Type) (Computer Based Mode)

General Hindi
General English

200 (100 Each Subject)
Paper II (Descriptive Type)
Translation and Essay
200
Total
400 Marks
Time Duration (each Paper): 2 Hours (2 hours and 40 minutes for the candidates eligible for use of scribe)
SSC Junior Hindi Translator Exam Syllabus
SSC Junior Hindi Translator Paper I Syllabus
General Hindi

Antonyms
Synonyms
Phrases/ Muhavare
proverbs
Comprehension
Knowledge of Hindi

General English

Grammar
Comprehension
Sentence Completion and Structure
Vocabulary
Articles
Tenses
Spelling Test
Unseen Passages
Synonyms

SSC Junior Hindi Translator Paper II Syllabus
Translation and Essay

Translations

1 passage for translation from Hindi to English
1 passage for translation from English to Hindi.

Essay Writing

1 Hindi essay writing question
1 English essay writing question
How To Prepare for SSC JHT Exam?
Candidates who want to pass this exam in one sitting should use some strategies and preparation tips to help them achieve their goals. A good study plan is also required. Begin your preparation early to ensure that you cover each and every topic, which will support in improving your Hindi and English language skills.
A well-organized study table will assist you in planning and keeping track of all the topics you've covered. Creating a study plan is all about time management, which will help you perform better in the exam also. Check below-arranged Staff Selection Commission  Junior Hindi Translator Preparation Tips & Tricks.
Perfect SSC JHT Study Plan
Work On Hindi & English Grammar Rules and Vocabulary: To attempt questions like "spotting the errors," a thorough understanding of grammar usage is required. It's a step-by-step process to find a mistake in a sentence. When answering these types of questions, students must follow Hindi and English grammar rules.
Reading Newspapers: Reading is essential for gaining knowledge and mastering both languages' speech patterns. As a result, it is necessary to develop the habit of reading both Hindi and English newspapers, magazines, articles, and business articles. This can also aid in the development of reading and comprehension abilities.
Brush- Up Grammar: A candidate who is strong in one language but weak in the other is a common occurrence. Candidates should concentrate on the language in which they are strongest during the last few days. While candidates should concentrate on their strongest language, it is not recommended that they ignore the other language entirely.
Ensure that candidates focus on the highest scoring section of the language paper, namely grammar. For both papers, this must be completed. It is recommended that candidates brush up on their grammar fundamentals.
Work On Translation Skills: Working on improving your translation skills is required to pass Paper-II of the SSC Junior Hindi Translator (JHT) Exam. Every day, try to read two to three Hindi-English passages and two to three English-Hindi passages. This will speed up and improve the accuracy of your translations. It's important to remember that command of both Hindi and English is required to crack SSC JHT Exam, as it involves both Hindi to English and English to Hindi translation.
Previous Question Papers: To be well prepared for the exam, candidates should practice SSC JHT Question Paper. SSC JHT Previous Question Papers will assist in understanding the various types of questions that may appear in the exam, as well as the exam's pattern and difficulty level. Candidates who practice these papers on a daily basis will be able to see results easily. Make an effort to solve as many previous year's papers as you can.
Time Management: Candidates are required to answer questions in a limited amount of time in all competitive exams, so time management is critical. The person who attempts the most questions has a better chance of scoring higher. By taking the mock tests, you can improve your time management skills. Also, keep in mind the exam's negative marking criteria.
SSC JHT Preparation Tips & Tricks
Make a detailed timetable for how you plan to prepare and stick to it.
Set a goal of finishing the entire syllabus on targetted time.
Know the syllabus inside and out. While preparing, do not skip any topics.
Work on your weaker areas to strengthen them. However, do not make the mistake of ignoring a topic during preparation because you believe you are well-versed in it. This could end up costing you the exam.
 During your preparation, take as many practice mock tests and online mock tests as possible.
Solve at least ten years of the previous year's question papers.
Because this is a language-based exam, extensive reading is required.
Guidelines To Follow for SSC JHT Exam
SSC Junior Hindi Translator Paper I Exam
English-Language: The only way to do well in this section is to read a lot of English-language time management. This will be the scoring section.
Sentence completion, error recognition, antonyms and synonyms, idioms and phrases, and reading comprehension are the most important topics in English.
These are the areas where you should concentrate your efforts in order to pass the important SSC exams. To pass this section, you'll need a lot of practice. Continue to take the SSC mock online exams to improve your knowledge of the questions and your speed.
Hindi Language: To crack this section, you'll need to have good quality Hindi. Grammatical topics, Hindi synonyms and antonyms, Hindi proverbs, and Hindi spellings are the most important topics in this area.
SSC Junior Hindi Translator Paper II Exam
This section does not have a prescribed syllabus, so how well you know the languages will determine how well you do in this section. This is the section that the candidates may find to be the most difficult. However, let's see a few pointers you can use while writing the essay.
Introduction
Background/ Historical Information
What is the subject's main concept?
Give examples of the related current situation.
Features that are favorable
Obstacles/ negative aspects
Reforms that have been proposed
Conclusion
Avoid writing too much content which is not necessary. When it comes to presenting your points, be very specific.
Avoid being monotonous. Don't bring up the same idea or point more than once.
Do not deviate from the main point.
Maintain neutrality throughout your essay.
Best SSC JHT Reference Books
| | | |
| --- | --- | --- |
| Book | Author/ Publisher | Importance |
| English Grammar Book | Wren and Martin | This book has many wider concepts relating to grammar. It explains the complete subject in a precise way. |
| Popular English Grammar (with Hindi explanations) | H S Bhatia | The book enables candidates to learn English Grammar from Hindi |
| Competitive General English – Hindi | Think Tank of Kiran Prakashan | It is one of the most preferable books for all competitive exams. A clear explanation of the topics enables us to gain a complete subject. |
| Objective General English | S.P. Bakshi | It is a well-known book for its best latest editions. |
SSC JHT General Hindi Books
| | | |
| --- | --- | --- |
| Book | Author/ Publisher | Importance |
| Idioms, Phrases & Proverbs with Hindi Meanings | H S Bhatia | The meanings are presented to the aspirants in an easy manner in order to learn the core of the subject. |
| General Hindi and Concise Grammar – An Indispensable Guide for all Competitive Exams | Dr. Brij Kishore Prasad Singh | The grammar part of the language is given to the aspirants with a clear explanation in a limited way. |
| Adhunik Hindi Vyakaran aur Rachna (Hindi) | Dr Vashudevnandan Prasad | The grammar part of the subject is explained in clear terms. |
SSC JHT Previous Question Papers PDF Download
SSC JHT Previous Year Papers – Important Links
Download SSC JHT Previous Question Papers PDF

Click Here
SSC JHT Previous Year Question Papers PDF Download

Click Here
Download SSC Junior Hindi Translator Previous Question Papers PDF

Click Here
SSC JHT Previous Year Papers PDF Download

Click Here
SSC JHT Previous Question Papers PDF Download

Click Here
Follow our website @ freshersnow.com for more related information about the SSC JHT Exam.