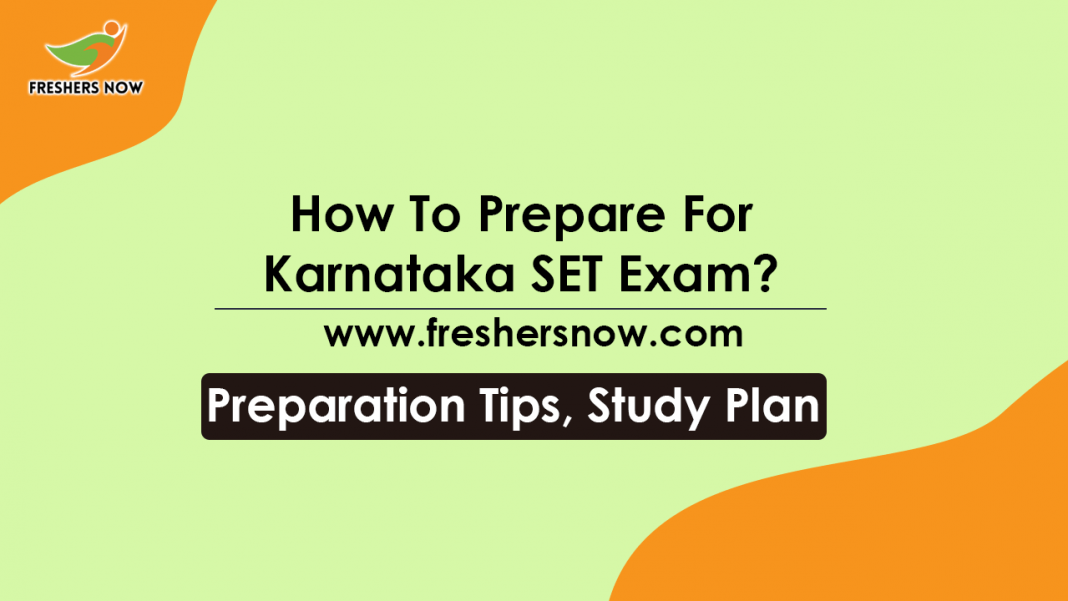 How To Prepare For Karnataka SET Exam? Preparation Tips, Study Plan: Are you planning to appear for the Karnataka State Eligibility Test? Then you must have a look over this page. This article solely contains the preparation tips and study plan of the KSET. Before you gear up with your preparation, take this article as a reference. As there will be huge competition for this exam, one must apply strategies. As a result, we have articulated this page with general doubts that candidates have such as "How to prepare for the KSET Exam?", KSET preparation strategies, study plan, and more. Read through this page for a better understanding.
We intend to guide you to reach your goal. So, you don't need to depend on others to guide you on "How To Pass KSET Exam?". Follow all the tips and tricks we have given, accordingly to crack this KSET in one go. Do not leave any section and try to understand it to apply during the time of your preparation for the KSET Exam.
How To Prepare For Karnataka SET Exam?
| | |
| --- | --- |
| Name Of The Organization | University of Mysore |
| Name of The Exam | Karnataka State Eligibility Test (KSET) |
| Mode Of the Exam | Online |
| Category | Preparation Tips |
| Official Website | kset.uni-mysore.ac.in |
KSET Exam Syllabus
For any exam, one needs to be thorough with the syllabus and the topics included in it. Let's also begin with the Karnataka SET Topic- Wise Syllabus and Exam Pattern which directs us to have a well-organized study plan.
Karnataka State Eligibility Test consists of 2 papers i.e, paper I will be common for all whereas paper II will be based on the specialization of the subject that a candidate chooses.
KSET Topic-Wise Syllabus
Teaching Aptitude

Teaching: Concept, Objectives, Levels of teaching (Memory,
Understanding and Reflective), Characteristics and basic
requirements.
Learner's characteristics: Characteristics of adolescent and adult
learners (Academic, Social, Emotional and Cognitive), Individual
differences.
Factors affecting teaching related to Teacher, Leaner, Support
material, Instructional facilities, Learning environment, and Institution.
Methods of teaching in Institutions of higher learning: Teacher-centered vs. Learner-centered methods; Off-line vs. Online methods(Swayam, Swayamprabha, MOOCs, etc.).
Teaching Support System: Traditional, Modern, and ICT-based.
Evaluation Systems: Elements and Types of evaluation, Evaluation in
Choice Based Credit System in Higher education, Computer-based
testing, Innovations in evaluation systems.

Research Aptitude

Research: Meaning, Types, and Characteristics, Positivism and
Post-positivistic approach to research.
Methods of Research: Experimental, Descriptive, Historical,
Qualitative and Quantitative methods.
Steps of Research.
Thesis and Article writing: Format and Styles of referencing.
Application of ICT in research.
Research ethics

Comprehension

A passage of text is given. Questions are asked from the passage to be answered

Communication

Communication: Meaning, types, and characteristics of communication.
Effective communication: Verbal and Non-verbal, Inter-Cultural and group communications, Classroom communication.
Barriers to effective communication.
Mass-Media and Society.

Mathematical Reasoning and Aptitude

Types of reasoning.
Number series, Letter series, Codes, and Relationships.
Mathematical Aptitude (Fraction, Time & Distance, Ratio, Proportion Percentage, Profit and Loss, Interest and Discounting, Averages, etc.).

Logical Reasoning

Understanding the structure of arguments: arguments forms, the structure of categorical propositions, Mood and Figure, Formal and Informal fallacies, Uses of language, Connotations, and denotations of terms, Classical square of opposition.
Evaluating and distinguishing deductive and inductive reasoning.
Analogies.
Venn diagram: Simple and multiple uses for establishing the validity of arguments.
Indian Logic: Means of knowledge.
Pramanas: Pratyaksha (Perception), Anumana (Inference), Upasana
(Comparison), Shabda (Verbal testimony), Arthapatti (Implication), and Anupalabddhi ( Non-apprehension).
Structure and kinds of Anumana (inference), Vyapti (invariable
relation), Hetvabhasas (fallacies of inference).

Data Interpretation

Sources, acquisition, and classification of Data.
Quantitative and Qualitative Data.
Graphical representation (Bar-chart, Histograms, Pie-chart, Tablechart, and Line-chart) and mapping of Data.
Data Interpretation.
Data and Governance

Information and Communication Technology (ICT)

ICT: General abbreviations and terminology.
Basics of the Internet, Intranet, E-mail, Audio, and Video-conferencing.
Digital initiatives in higher education.
ICT and Governance

People, Development and Environment

Development and environment: Millennium development and sustainable

development goals.

Human and environment interaction: Anthropogenic activities and their

impacts on the environment.

Environmental Issues: Local, Regional and Global; Air pollution, Water pollution, Soil pollution, Noise pollution, Waste (solid, liquid, biomedical, hazardous, electronic), Climate change and its SocioEconomic and Political dimensions.
Impacts of pollutants on human health.
Natural and energy resources: Solar, Wind, Soil, Hydro, Geothermal, Biomass, Nuclear, and Forests.
Natural hazards and disasters: Mitigation strategies.
Environmental Protection Act (1986), National Action Plan on Climate change, International agreements/efforts –Montreal Protocol, Rio Summit, Convention on Biodiversity, Kyoto Protocol, Paris. The agreement, International Solar Alliance

Institutions of higher learning and education in ancient India.

Evolution of higher learning and research in Post Independence India.
Oriental, Conventional and Non-conventional learning programs in India.
Professional, Technical, and Skill-Based education.
Value education and environmental education.
Polices, Governance, and Administration
KSET Paper II Syllabus
Karnataka State Eligibility Test Paper 2 Syllabus 
Click Here
Karnataka SET Exam Pattern

KSET Paper I
It consists of 50 objective type compulsory questions each carrying 2 marks.
The questions which will be of general nature, are intended to assess the teaching/ research aptitude of the candidate.
It will primarily be designed to test the reasoning ability, comprehension, divergent thinking, and general awareness of the candidate.
The time limit allocated for Part I is 1 hour.
KSET Paper II
This consists of 100 objective-type compulsory questions each carrying 2 marks which will be based on the subject selected by the candidate.
The time limit for paper II is 2 hours.
Total questions are 150 and the total marks are 300.
However, for both the papers OMR sheet, will be provided with the Booklet.
How To Pass KSET Exam?
As the SET exam will be conducted once a year. There will be humongous competition for this exam. One needs to plan to cope up with the competition. Nothing can be done without a proper plan and dedication. So, for such a competitive exam, you need to put a lot of effort to crack the KSET on the first attempt.
Remember, a paper I general test is to test your ability in teaching, research, communication, etc. So, candidates must learn the concepts instead of wasting time on only a few problems. Also, use out all the resources you have to learn the concepts. We have given a few preparation tips below, just apply those while gearing up for the KSET exam.
Karnataka SET Preparations Tips
To begin with, be well versed with the exam syllabus. Then check the exam pattern to be confident enough to tackle it while taking the exam. This is simple if you know the sections included in the exam, you will be aware of how much time you have to allot for each section.
know your own ability such as one will opt to complete the one whole subject in three or four days and the other may give equal time for all the topics included in a day.
Now, divide and rule. Yes, you heard it right. Division of topics into two parts i.e, toughest and easier.
Your study plan should be allotted more time for the difficult topics.
A study plan you prepare must not be till before the day of the exam. There should be at least 2 or 3 weeks for revision.
Stick on to your study plan.
Learning concepts is the best way to deal with any competitive exam. Try to handle the concepts instead of just memorizing few problems.
Maintain notebook and note all the important points. So, that you can skim and scan through all those points during the time of your revision.
Check your score on daily basis through practice tests. To know where you are lagging at.
Going through Previous years KSET Question Papers must be included in your study plan.
Try to solve as many model papers as you can to avoid confusion.
Taking mock tests at least once a week is advisable.
The time you utilized for your preparation should make you a better person.
KSET Study Plan
In this section, we have given the important topics that one should prepare daily. Since this SET exam will conduct once a year, aspirants will have ample time to prepare for it. Take a look at the topic-wise study plan.
Teaching Aptitude: This section focuses on Child Psychology and aims at the understanding level of the future professors about the teaching and to be supportive to the students in their all-around development. We advise candidates to polish the topics such as teaching concepts, Learner's characteristics, Teaching Support System, Evaluation Systems, Factors affecting teaching related.
Research Aptitude: This section is all about the researching and understanding ability of the candidates. It would be easy for the candidates who have experience in writing research papers. Brush up the topics such as research and its meaning, steps of research and methods and ethics of it. Also, thesis and article writing are equally important.
Comprehension: This will be very easy to complete. It is essential to practice on a daily basis. Practicing daily must help you understand the given passage at one read.
Communication: This section is all about the test for the person's communication level. Methods and modes of communication will be asked in this section. So, one has to prepare well in topics such as meaning and types of communication, verbal and nonverbal communication, mass media communication, etc. Practical learning would also help to tackle this section.
Mathematical Reasoning and Aptitude: Learn the strategies at the time of your preparation. These sections are to be cleared by applying the basic tricks. This section tests the mental ability of a person based on how quickly they can solve the problem. Handling the concepts is necessary. Key topics will be blood relations, seating arrangement, general arithmetic, and number series.
Logical Reasoning: This section is simple just needed careful reading and understanding of the question asked. This is all about the selection of questions. Choose wisely in the examination. Daily preparation is a must.
Data Interpretation: Tips and tricks don't help to solve this section. It is all about simple calculation. Manage your time to solve these sections. Data and governance, graphical representation, quantitative and qualitative data are the few important topics.
Information and Communication Technology (ICT): This deals with the basics of modern computer knowledge such as the internet and terminologies. Prepare all the fundamentals of the computer such as basics of the internet, intranet, e-mail, abbreviations, shortcuts, etc.
People, Development and Environment: Going through previous question papers and reading newspapers will be so enough to clear this unit. This section will be general as it includes a whole lot of topics related to cultural, regional, national, environmental, and global.
Higher Education System: This section is to tests the whole liability of the professor. Mainly your focus must be on the Institutions of higher learning in ancient India, Value and environmental education, Evolution of higher studies in Post-Independence India, Conventional and Non-conventional learning programs.
Books To Refer For Karanataka SET Exam
KSET Exam Books
Books 
Author / Publisher
KSET Karnataka State Eligibility Test [ PACK OF 4 BOOKS ] Study Material
 Sourav Sir's Classes
KSET Education (Paper 2) Exam Objective MCQs in English (Booklet)
–
UGC NET/SET General Paper 1
Truman's
UGC NET/JRF/SLET General Paper 1 Teaching and Research Aptitude
Arihant Expert
UGC NET/SET English Literature
Arihant Experts
SET-NET Paper-I ( General Paper on Teaching and Research Aptitude )
Vijeta Competitions Editorial Board
UGC NET Education by Gagan Manocha
Truman
Communication and Journalism
Atul Udaipuria and Nitesh Kumar Singh
UGC NET/SET Computer Science & Application
Sanjay Singhal and Sameer Mishra
There is nothing to be stressed, perfect planning and implementation are necessary. Speed and accuracy are the keys to cracking any competitive exam, working on it is also vital during your preparation. As paper 2 is all about the subject you choose, you must be knowledgeable enough to answer any question asked. Opt parallel study. Check the topics which have more weightage. Work on overall development as a professor. Also, keep checking our website @ freshersnow.com.
How To Prepare For Karnataka SET Exam? | FAQs
What is the scoring section in KSET Exam?
Almost all the sections are scoring in KSET Exam.
Is it easy to crack the KSET Exam on the first attempt?
Yes, with proper preparation and study plan is it easy to crack the KSET Exam on the first attempt.
What are the Karnataka SET Exam preparation tips?
Candidates, for Karnataka SET Exam preparation tips, check Freshers Now site.
How many months of preparation are needed for the KSET exam?
There should be at least 3 months of preparation is needed for the KSET exam.