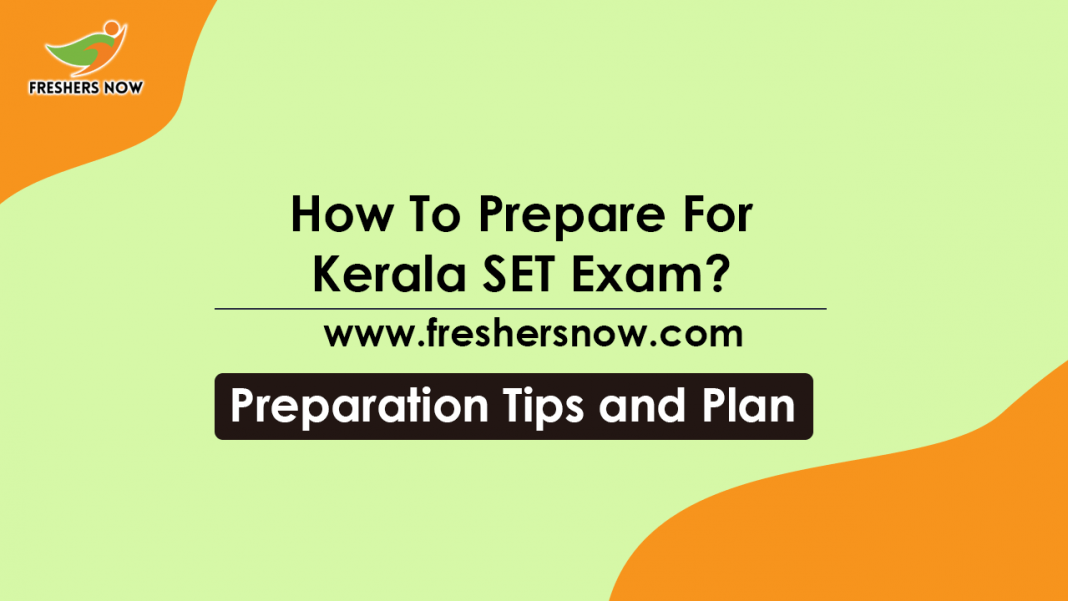 How To Prepare For Kerala SET Exam? Preparation Tips, Study Plan @ lbscentre.kerala.gov.in: This page will provide you with detailed instructions on "How To Prepare For Kerala SET Exam?" Take a look at this entire article if you are planning to take the Kerala State Eligibility Test. This page will assist you in properly preparing for the Kerala SET Exam. To pass the Kerala SET Exam, one must create a strategy for studying. We will show you how to use effective strategies and Kerala SET Exam preparation tips to pass the Kerala SET Exam quickly and easily. Do not skip any of the sections below, only the most important Kerala SET Exam preparation information has been provided on this page. To read this article, scroll down.
How To Prepare For Kerala SET Exam?
| | |
| --- | --- |
| Conducting Body | LBS Centre for Science & Technology |
| Name Of the Examination | State Eligibility Test (SET) |
| Session | February Session |
| Post Name | Teaching |
| Category | Preparation Tips |
| Selection Process | Written Test |
| Job Location | Kerala |
| Official Site | lbscentre.kerala.gov.in |
What Is Kerala Set Exam?
Kerala SET is a state-level examination. The Kerala SET is held twice a year. The Kerala State Eligibility Test (Kerala SET) conducted by the Kerala Government. Kerala SET is a test used to recruit good teachers to maintain high teaching standards in Higher Secondary Courses. Generally, the exam is held in March and September. The exam will be divided into two stages, with Paper I focusing on general knowledge and aptitude and Paper-II focusing on specialized subjects.
Qualification For Kerala SET Exam
Yes, you can learn about the qualifications needed to apply for the Kerala SET Exam in this section. There will be general questions for anyone considering taking any exam, such as "What is the qualification for the SET exam in Kerala?" The Kerala SET Eligibility Criteria is one of the most important things an aspirant should know before applying for the exam. .
Kerala SET is an important exam for aspirants interested in pursuing a career as a higher secondary school teacher. Aspirants must have earned a Master's Degree in the relevant subject with a minimum of 50% or equivalent grade. A bachelor's degree in education (B.Ed) in any discipline from any of Kerala's universities, or equivalent qualifications from any other university. Even the final year students of Master's Degree and B.Ed can apply for this set exam.
Kerala State Eligibility Test Exam Syllabus
Let's begin to be well versed with the Kerala SET Exam Syllabus. Knowing the syllabus will allow us to develop an effective study plan. The topics covered in the Kerala State Eligibility Test Exam Syllabus are listed in the table below. Kerala SET Paper I Syllabus will be the same for all whereas Kerala SET Paper II Syllabus will be based on the subject they choose.
Kerala SET Paper I Topic Wise Syllabus
General Studies

General Science– Mathematics, statistics, physics, chemistry, and biology
Social Science– Economics, history, geography and Indian polity (class 10 level)
Humanities– Literature (classics and masterpieces of world and Indian literature), art (major art forms of India), and culture (life and society in India)
Kerala Studies– Social Reforms, national movements, Kerala model of development, literature, art, and culture

Language and Reasoning

Comprehension and vocabulary
Basic English Grammar
Logical Reasoning and Analytical Ability
Numeracy skills – Pattern Recognition and Orders of Magnitude

Foundations of education

Philosophical Foundations
Educational Philosophy
Major philosophical systems in the East
Major philosophical systems in the West
Eminent thinkers in Education – Gandhiji, Tagore, Vivekananda, Plato, Rousseau, Montessori, Frobel, John Dewey, Paulo Freire
Value education
Sociological Foundations
Relation between education and sociology
Social functions of education
Social change and education
Education and social institutions
Education and socialization
Psychological Foundations
Educational psychology
Personality
Intelligence
Social and cognitive development
Adolescent characteristics
History & Policies of Education
History of education in Kerala and India
Acts and bills relevant to higher education
Programs for universalization of education
Institutions of education at the national and state level
Reports and policies on education in the post-independence period

Current Affairs

Events, persons, and awards
Sports and games
Culture (films, literature, music, and performing arts)
Technology –inventions, innovations, and discoveries
Environmental issues, movements, treaties, and legislations -national and international
UN and global affairs
Institutions of higher learning and research, scholarships, and new initiatives (national and state level)
Indian constitution and politics and recent legislations –right to information and right to education

Teaching, Learning, and Evaluation

Teaching Methods
Teaching skills
Methods of teaching
Techniques and approaches to teaching
Instructional models of teaching
Teaching & learning resources
Learning
Learning theories
Teaching Aptitude
Teaching aptitude
Administrative aptitude
Reflective practices
Professional development
Teacher characteristics
Applications of learning theories
Learner characteristics
Learning environment
Learners with special needs
Evaluation
Tools and techniques for evaluation
Continuous evaluation
Terminal evaluation
Grading
Feedback and remediation

Communication, Technology Research, and Educational Administration

General applications
Research in Education
Basic aspects of educational research
Types of research
Methods, tools & techniques of research
Action research
Communication
Communication and education
Basic principles of communication
Types of communication
Barriers in communication
Classroom application of communication
Computer and ICT
Basics of computer knowledge
Computer networks & internet
Office tools
ICT enabled learning
Reporting of research
Educational Administration
Planning and administration at the national level
The organizational structure of education in the state
School administration
Management & governance
International agencies and education
Kerala SET Exam Pattern
| | | | |
| --- | --- | --- | --- |
| Papers | Subject | No. Of Questions | Marks  |
| Paper I  | General Knowledge (Part A) and Aptitude in Teaching (Part B) | 120 (60 questions each part) | 120 Marks (Each question carries 1 mark) |
| Paper-II | All Subjects Expect (Mathematics & Statistics) | 120 | 120 |
| | Mathematics & Statistics | 80 | 120 (Each Question Carries 1.5 Mark) |
Kerala SET Exam Study Plan
A study plan should be based on the amount of time you need to dedicate to exam preparation. Also, prepare yourself to spend a certain amount of time each day on daily preparation. When making a study plan, one should be constantly careful. Because the Kerala SET has such a large syllabus. The clear intention of preparing a study plan is to cover all topics included in the syllabus, so don't skip any topic and get started on your study plan as soon as possible.
List important exam topics using the detailed syllabus provided above, make a list of important exam topics that can be found in the previous year's question papers. Practice those topics thoroughly to ensure that you understand the concepts. Similarly, make a list of any weak sections and then practice them. Make thorough and precise notes on everything, and organize them in such a way that they will help in quick revision.
Kerala SET Exam Preparation Tips
Candidates must stick to a study plan. Try to dedicate more time to the subjects that you find difficult and less time to the subjects that you are well-versed in.
Analyze your strengths and weaknesses in the areas where you excel. Then you'll be able to properly distribute your study time.
Research and learn about the types of questions that will be asked on the Kerala SET exam, as well as the exam pattern, so you know what to expect.
After you've completed your preparation, set aside one week for revision and practice.
Make the most of the previous year's questions by practicing as much as you can. This will also assist you in grasping the pattern of questions and answers.
Learning concepts is necessary. In terms of objective-type questions, shortcuts are extremely useful.
Avoid learning any new material in the days leading up to the exam. This will only add to your confusion about the subject, resulting in an incorrect response.
Going through Previous Kerala SET Exam Questions Papers must be included in the study plan.
Taking the mock tests will help you cope up with speed and accuracy.
Best Books To Refer For Kerala SET Exam
Kerala SET Exam Material
Books 
Authors/ Publishers
General Knowledge
Lucent
General Knowledge
Arihant
High School English Grammar and Composition Key
Wren & Martin
Objective General English
SP Bakshi
A Modern Approach for Logical Reasoning
RS Aggarwal
Foundations of Education
A. Chaube and S. P. Chaube
Foundations of Education
Jason C. Robinson
Teaching and Research Aptitude
KVS Madaan
Manorama Year Book
Mammen Mathew
As this SET exam has a large syllabus, getting an early start is essential. Your study schedule should allow you to finish the entire syllabus within two or three weeks before the exam and later time should be spent on revision. Make time for yourself and don't be stressed. The tools to pass any exam are time management, hard work, patience, and determination. We advise candidates to follow our website @ Freshers Now to get instant updates regarding the Kerala SET Exam information.
How To Prepare For Kerala SET Exam? | FAQs
How many months does it take to finish the Kerala SET Exam syllabus?
The Kerala SET Exam syllabus takes 2 to 3 months to complete.
Is there a negative marking in Kerala SET Exam?
No, there is no negative marking in the Kerala SET Exam.
How to prepare for Kerala SET Exam?
Candidates can check the Freshers Now to be aware of the Kerala SET Exam preparation tips.
How many times will the Kerala SET Exam be conducted in a year?
The Kerala SET Exam will be conducted twice a year.