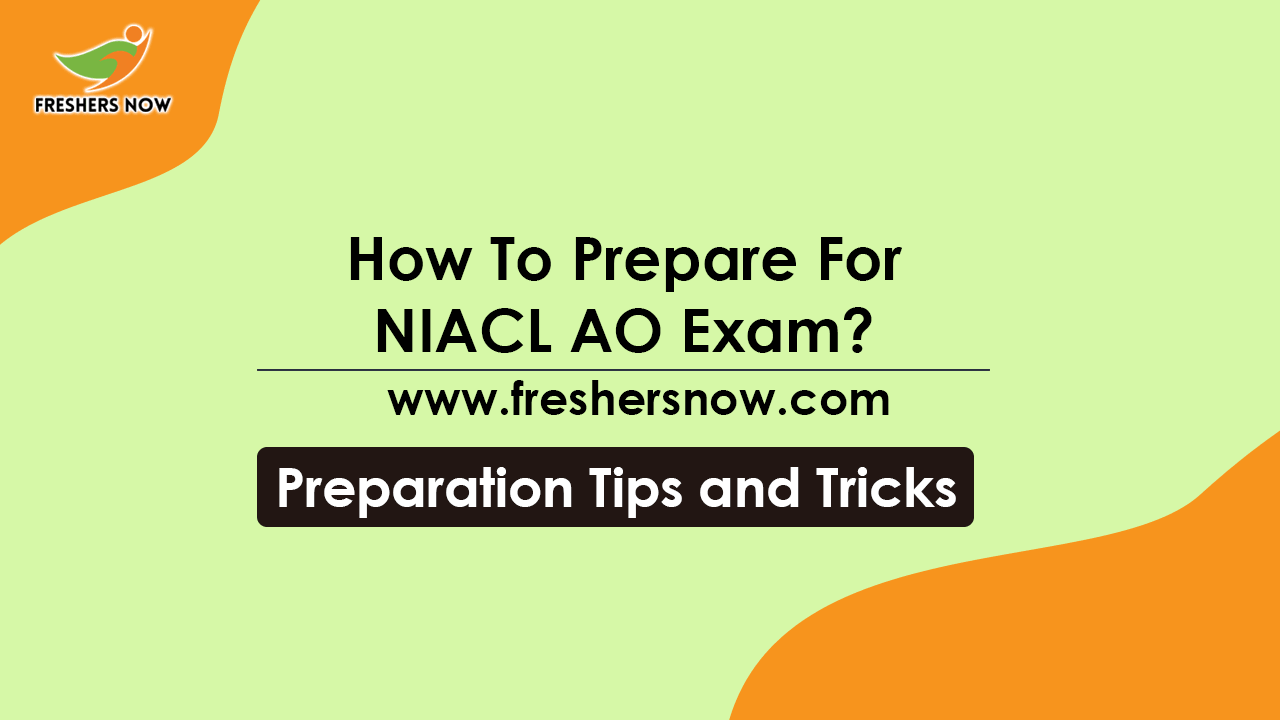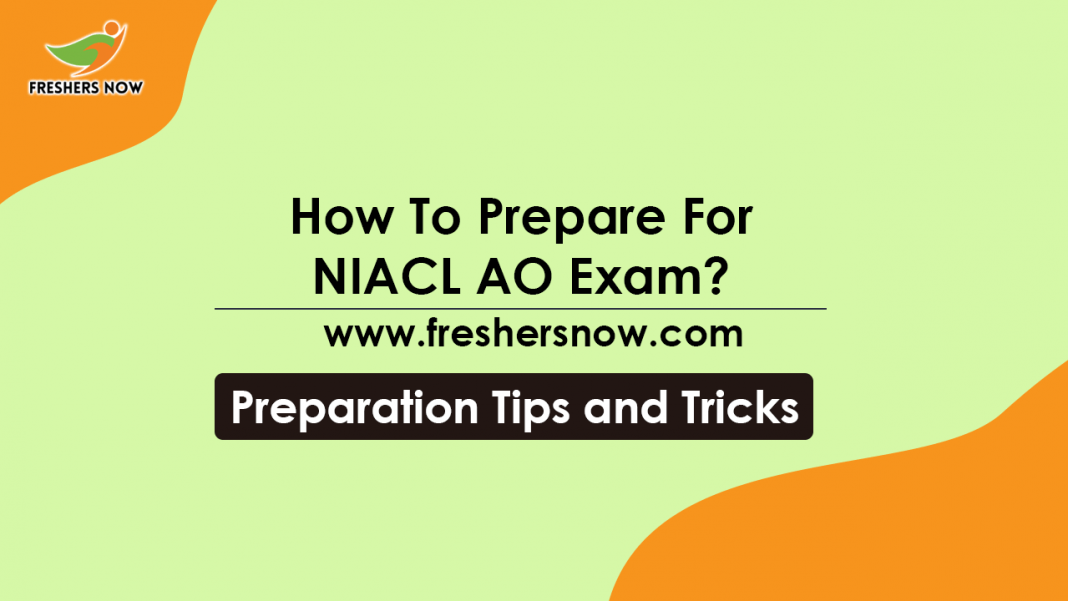 How To Prepare For NIACL AO Exam? Preparation Tips, Study Plan: This page is merely for the aspirants who are preparing and appearing for the NIACL AO Examination. Moreover, the officials of the New India Assurance Company Ltd (NIACL) conduct the Administrative Officer periodically. To learn out the New NIACL AO Preparation Tips, and NIACL AO Exam Study Plan, Best NIACL AO Reference Books, we intend to build confidence in the aspirants also to clear out the general doubt of "How To Prepare For The NIACL AO Exam?", we have framed out this page. So, go through this entire page to get a head start on your NIACL AO Exam Preparation.
How To Prepare For NIACL AO Exam? Preparation Tips, Study Plan
NIACL AO Exam
Organization Name
New India Assurance Company Ltd (NIACL)
Post Name
Administrative Officer (Scale-I)
Category
Preparation Tips
Selection Process

Preliminary Examination
Mains Examination
Personality Test/ Interview

Job Location
Across India
Official Site
newindia.co.in
NIACL AO Exam Syllabus
We recommend the aspirants of any competitive exam must have a clear knowledge of the exam syllabus which leads to prepare the effective New India Assurance Company Ltd (NIACL) Administrative Officer study plan. Will see the topics involved in the given New India Assurance Company Ltd (NIACL) Administrative Officer syllabus.
Phase – I: Preliminary Examination
A preliminary Examination consisting of Objective Tests for 100 marks will be conducted online. This would consist of 3 sections (with separate timings for each section) as follows: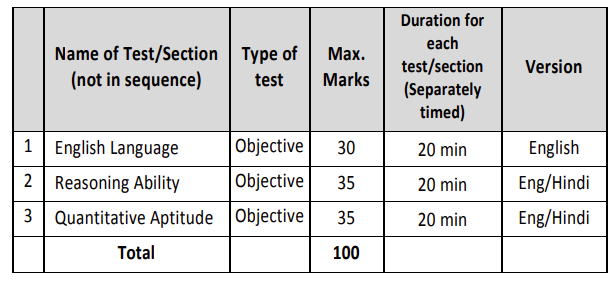 Phase – II: Main Examination
(I) Objective Test: The Objective Test of 2.5 hours duration will be as follows. There will be separate timing for every section.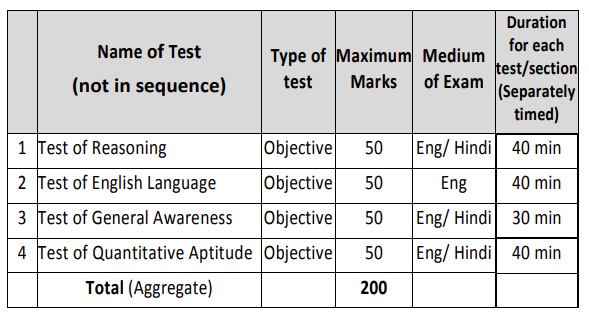 (ii) Descriptive Test: The Descriptive Test of 30 minutes duration with 30 marks will be a Test of English Language (Letter Writing-10marks & Essay-20 marks). The descriptive test will be in English and will be conducted online mode.
Phase – III: Interview
Candidates who have been shortlisted at the end of Phase-II will subsequently be called for an Interview to be conducted by the Company. The interview will be conducted at select centers. The weightage (ratio) of Online Examinations and Interviews will be 75:25 respectively. The center, address of the venue, time & date of the Interview will be informed to the shortlisted candidates in the call letter. Candidates are required to download their interview call letters from the company's website. Please note that any request regarding change in date, center, etc. of the interview will not be entertained. However, the company reserves the right to change the date/ venue/ time/center, etc. of the interview or hold a supplementary process for a particular date/session/venue/center/set of candidates at its discretion, under unforeseen circumstances, if any.
How To Crack For NIACL AO Exam?
To crack the New India Assurance Company Ltd (NIACL) Administrative Officer Exam on the first attempt, follow this saying "Practice Makes Man Perfect". Yes, that's completely true. To beat out the competitor one must use patient, practice, and hard work as tools. Divide the syllabus topics into two parts. By doing so, one can get the idea of where to start from. Also, work on the topics you have zero knowledge of and later on skim through the topics you know.
All three stages of the recruitment process are necessary for an aspirant. So, try for a parallel study which means while studying for the prelims also study for mains. But when the prelims exam is near just stick on to only prelims revision. Although there will be at least 20 days from the prelims exam to mains.
NIACL AO Exam Study Plan
NIACL AO English Language
 The English Language section of the NIACL AO Exam is one of the highest-scoring sections, requiring a thorough understanding of English grammar and language.
Daily, one must read and write. Candidates should improve their vocabulary and have a solid understanding of grammar.
Reading improves in having a good command of the comprehension passage, while writing allows candidates to succeed in the descriptive section of the exam later on.
Taking a mock test as part of your overall preparation will aid in time management as well as the analysis of strong and weak areas.
Check:  Practice English Questions & Answers
NIACL AO Quantitative Aptitude
Candidates must understand the required fundamental concepts. It is simple to arrive at the correct option if the candidates have a clear understanding of the concepts.
In this section, the most important factor is speed. So, candidates should work on speed and accuracy.
Candidates should not avoid any type of question because they believe it is pointless. After all, we never know which question will appear on the exam.
One should practice this section daily to achieve the required exam speed.
The mock tests are necessary daily to get a better understanding of the section. This can also help to be aware of the areas to be strong at.
Check: Aptitude Questions 
NIACL AO Reasoning
Candidates should be familiar with the concepts of the reasoning section's topics.
Practice the topics daily because this section requires regular practice.
The Reasoning section necessitates mental alertness as well as logical abilities.
Candidates must understand the nature of the questions to perform well in this section.
Check: Reasoning Questions
NIACL AO Professional Knowledge
Candidates should thoroughly review their specialization syllabus.
Regularly practice the questions to be prepared for the exam.
Look over previous year's questions to get a sight of the exam's pattern and prepare according to the questions' trends.
Master the important topics.
NIACL AO Preparation Tips
Practice improving knowledge.
Maintain a notebook while preparing.
Note down the important points subjectwise.
It is all about learning concepts and polishing the concept you already know of.
The notes you make should be understandable. So, when the exam is near you can skim and scan through it.
Conclude your ability before you sit on to prepare a study plan i.e. which topics should be cover first and topics for later.
Time management, speed, and accuracy are the key to crack any competitive exam.
Try not to take any choice while preparing. Cover all the topics in the syllabus given.
Mock tests or test series are a must at regular intervals.
Also, previous years' question papers are must go through.
Push your boundaries and study hard because the competition will be heavy.
Best NIACL AO Reference Books
Refernce Books For NIACL AO Exam
Books 
Authors
A New Approach to Verbal and Non-Verbal Reasoning
B S Sijwalii
Quantitative Aptitude for Competitive Examination
RS Agarwal
High School English Grammar and Composition
Wren and Martin
Lucent General Knowledge
Lucent
Reading Comprehension, Ordering of Sentences, Ordering of Words, and Cloze Test
Dilip Khushwaha
Hope the information provided about the NIACL AO Exam on our page is suitable for your search. So, do follow us on FreshersNow.Com.