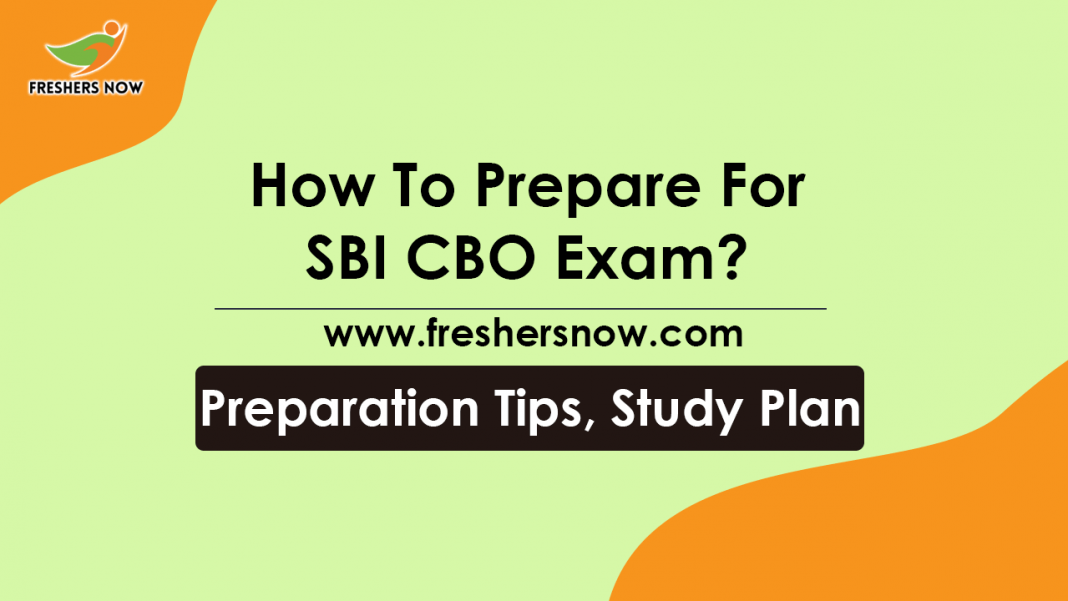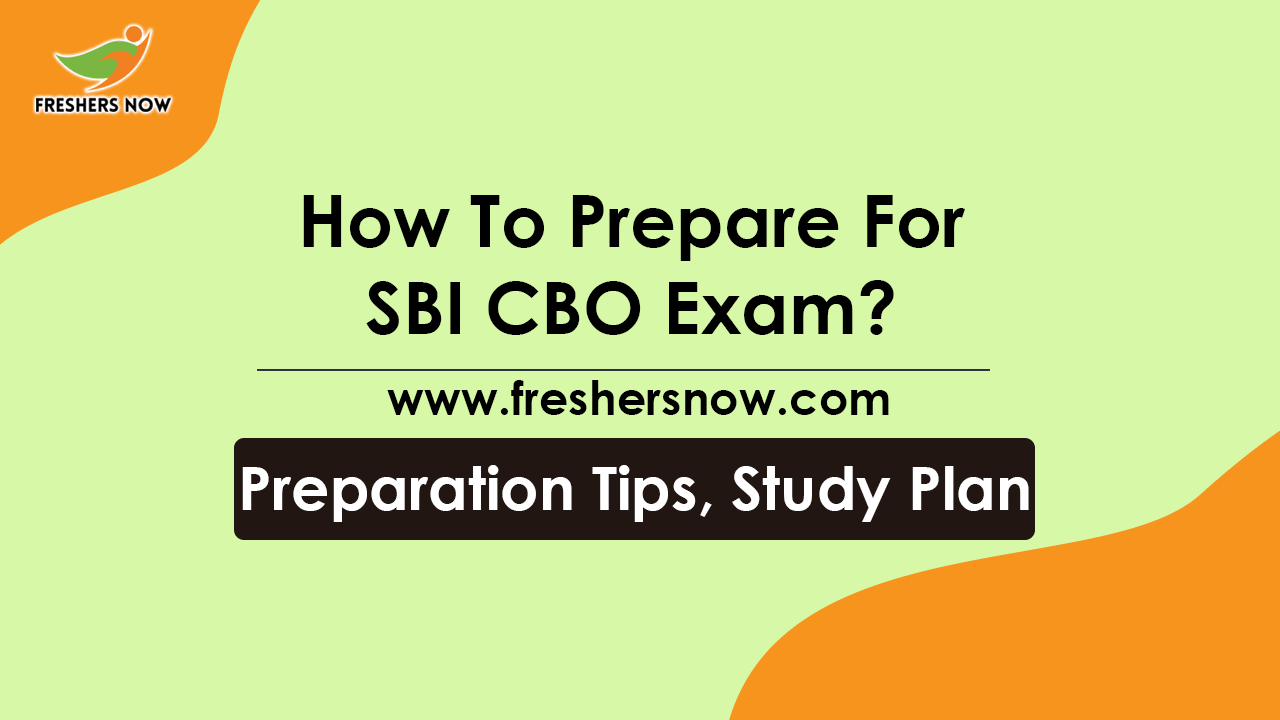 How To Prepare For SBI CBO Exam? Preparation Tips, Study Plan: Hello there! Do you want to qualify in the SBI CBO Examination on your first try? If that's the case, read on. We've included techniques for passing the SBI CBO Exam, as well as SBI CBO Exam Preparation Tips, SBI CBO Exam Study Plan, Best SBI CBO Exam Reference Books, and more. Candidates who have a thorough understanding of "How To Crack SBI CBO Exam" can easily qualify for the SBI CBO Exam. So, go over the complete article for a better understanding.
How To Prepare For SBI CBO Exam? Preparation Tips, Study Plan
How To Crack SBI CBO Exam?
Organization Name
State Bank of India (SBI)
Post Name
Circle Based Officer (CBO)
Category
Preparation Tips
Selection Process
Shortlisting and Interview/ Written Test
Job Location
Across India
Official Site
sbi.co.in
How To Crack SBI CBO Exam?
Any competitive exam candidate must make up their mind and set a goal to complete the exam syllabus on time. Everyone will have a different approach to study for the SBI CBO Examination. However, there are some basic procedures to follow in order to achieve the goal. While learning new topics, one must exercise patience.
Candidates should not stick to outdated approaches and topics that they are familiar with. It is vital to try your hand in the relevant fields. Self-motivation is required, and you must not undervalue yourself. If you're not satisfied with your learning or don't see any results, you're not on the correct track to passing the SBI CBO Exam. Then try implementing new preparation methods. So, before talking about the topic-wise syllabus, let's have a look at the exam pattern.
Latest SBI Circle Based Officer Exam Pattern
Objective Test Pattern
Subject Name
Questions
Marks
General/ Economy/ Banking Awareness/ KYCAML/ Preventive Vigilance/ Legal Issues
30
60
Data Analysis & Interpretation
20
40
Reasoning & Computer Aptitude
30
60
English Language
20
40
Total
100 Questions
200 Marks
Duration: 2 Hours
Descriptive Exam Pattern
Subject Name
Questions
Marks
Letter Writing
1
25
Essay – 250 words on banking related
1
25
Total
2 Questions
50 Marks
Duration: 30 Minutes
For incorrect answers, there will be a penalty. A 1/4 mark will be deducted for each incorrect answer given by the candidate. There will be no negative marking if the candidate does not answer the question.
Topic Wise SBI CBO Exam Syllabus
General Awareness

Important Places
Books and Authors
Awards
Headquarters
Current Affairs
Banking Awareness
GK Updates
Currencies
Prime Minister Schemes
Important Days
Indian Constitution Questions
UNO
Finance
RBI Functions
Agriculture
International Economy
Countries / currencies
Banking Terms
Marketing
Fiscal-Monetary Policies
Awards & Honors Sports
Questions on Indian Economy
History of Banking
Books & Their Authors

Data Analysis & Interpretation

Data Sufficiency
Pie Chart
Bar Graph
Line Chart
Radar/Web
Tabular Form
Caselet Form
Missing Data Interpretation
Simple and Compound Interest
Mensuration
Average
Profit and Loss
Ratio and Proportion
Work, Time, and Energy
Time and Distance
Probability
Number Series
Simplification/ Approximation
Quadratic Equation
Relations

 Reasoning Ability

Input-Output
Data Sufficiency
Blood Relations
Order and Ranking
Alphanumeric Series
Seating Arrangements
Puzzles
Inequalities
Syllogism
Distance and Direction
Verbal Reasoning

Computer Knowledge

MS Word, Microsoft OneNote
Microsoft Access
Introduction to Computer Science
Boolean Algebra
Computer Networks
Emerging Technologies and Web Publishing
PC Software and Office Automation
Database Management System
Data Structures
MS PowerPoint
MS Visio and MS Excel
Microsoft Outlook
The Internet
Workplace Productivity Tools
MS Project, Microsoft Publisher

English

Sentence Correction
Para Jumbles
Fill in the Blanks
Cloze Test
Reading Comprehension
Spotting Errors
Sentence Improvement
Para/ Sentence Completion
SBI CBO Exam Preparation Tips
Before the start of your preparation try to understand the difficulty level of the exam. The SBI CBO is a single exam, unlike the other bank exams.
But according to the syllabus, candidates have to prepare to take up the difficulty level also.
Start with the basics of every subject. Also, start with the subject which you have no idea about. Later for the topics, you have knowledge in.
Do not cling to one topic. Try your hand in all the required and scoring topics in a capable way.
Learn the techniques of solving questions easily. Time management is important.
Giving mock tests at regular intervals is necessary so that you can analyze the topics you are weak at and strong at.
Don't be stressed. Stress affects your preparation. Reading 8 hours a day is necessary but rest is also equally important. Just don't let anything distract you while preparing.
Daily reading newspapers, try to improve your knowledge by watching the news. Reading books and magazines will also help you in a way.
Try out to separate the important and unimportant topics. It will be easy by going through all the previous question papers.
SBI CBO Exam Study Plan
Data Analysis and Interpretation: Caselets based on concepts studied in Quantitative Aptitude and fewer direct questions can be expected in the Data Analysis and Interpretation section. The key to acing this section is to keep revising Quantitative Aptitude concepts while also practicing cases based on them.
Banking Awareness: It is necessary to have a thorough understanding of banking principles, legal studies, and principles. While the majority of the interview questions will focus on the practical side of banking. Also, the theoretical aspect should not be overlooked.
Reasoning Ability: The most important thing to remember in order to pass this section is to practice. Get to know the various types of puzzles (floor-based, queue-based, circular-based, and so on) and continue to practice them on a daily basis (a minimum of two puzzles in a day is a must). Also, because critical reasoning is a big part of this section, you should exercise it.
General Awareness: Current events from the previous six months to a year must be thoroughly prepared. This can be accomplished by making notes from newspapers, consulting Gk books, and revising them on a regular basis so that they remain fresh in minds and can be recalled during the examination if necessary.
General English: Reading comprehension and grammar concepts should be the primary focus. These two, if mastered, will aid you in navigating this section with ease, as almost all of the topics are based on them directly or indirectly. As a result, keep practicing RCs, reviewing grammar concepts, and answering various types of questions.
Descriptive Test: It considers a significant portion of the overall weighting of the test. If properly prepared, this section will undoubtedly score. Because you will have a total of 30 minutes for the essay and letter, time management is essential in this section. In those 30 minutes, you must comprehend the question, think to note down relevant points, structure the essay and letter appropriately, and type it out as well, so time management is critical to completing the descriptive test on time.
Prepare For SBI CBO Exam Interview
To begin with, the thing one should remember while preparing for the interview round is to maintain a thorough understanding of your department. So, candidates should be well-versed in your department and the work you do in order to make a positive and lasting impression on the panel.
In addition, thoroughly examine all of your graduation notes, as there is a chance that the panel will inquire about basic questions from your graduation. "How did your graduation help you in the banking sector?" is one possible question. Please make sure to answer this question well.
Communication ability should be sufficient, as it is an important factor that leaves a lasting impression on the panel. Maintain a strong command of the words you select and speak in front of the panel.
Have a thorough understanding of the State Bank of India, read all facts and information about the bank, such as its founding, recent mergers, slogan, and so on, this will assist you in answering questions about the bank.
Have a thorough understanding of government programs and be up to date on new government programs affecting the banking industry. For this, read the newspaper on a daily basis, as it will be of great assistance to you.
Prepare well for situation-based questions, which are likely to be asked by the panel during an interview, in which you will be expected to use your analytical skills as well as your banking knowledge, and in which your presence of mind and trust will be extremely beneficial and important.
In conclusion, Body Language or Body Posture is important, as is hand posture because it reveals a lot about your personality.
Best SBI CBO Exam Reference Books
| | |
| --- | --- |
| Books | Authors |
| Banking Awareness Handbook of Banking Information | N.S.Toor |
| Banking Awareness | Arihant Publication |
| Static GK General Knowledge | Arihant |
| Lucent General Knowledge | Dr. Binay Karna |
| A Modern Approach To Verbal Reasoning | R.S. Aggarwal |
| Analytical Reasoning | S Chand and Rs Aggarwal |
| A New Approach to Verbal and Non- Verbal Reasoning | B.S. Sijwali |
| Objective Computer Awareness | R. Pillai |
| Computer Knowledge | Siksha Aggarwal |
| Fast Track | Rajesh Verma |
| Data Interpretation | Nishit K. Sinha |
| Data Analysis & Interpretation | Mc Graw Hill |
| English Grammar | Wren Martin |
| Objective General English | S.P. Bakshi |
Hope the above content is helpful for the aspirants of the SBI CBO Examination. Do follow our website @ freshersnow.com.