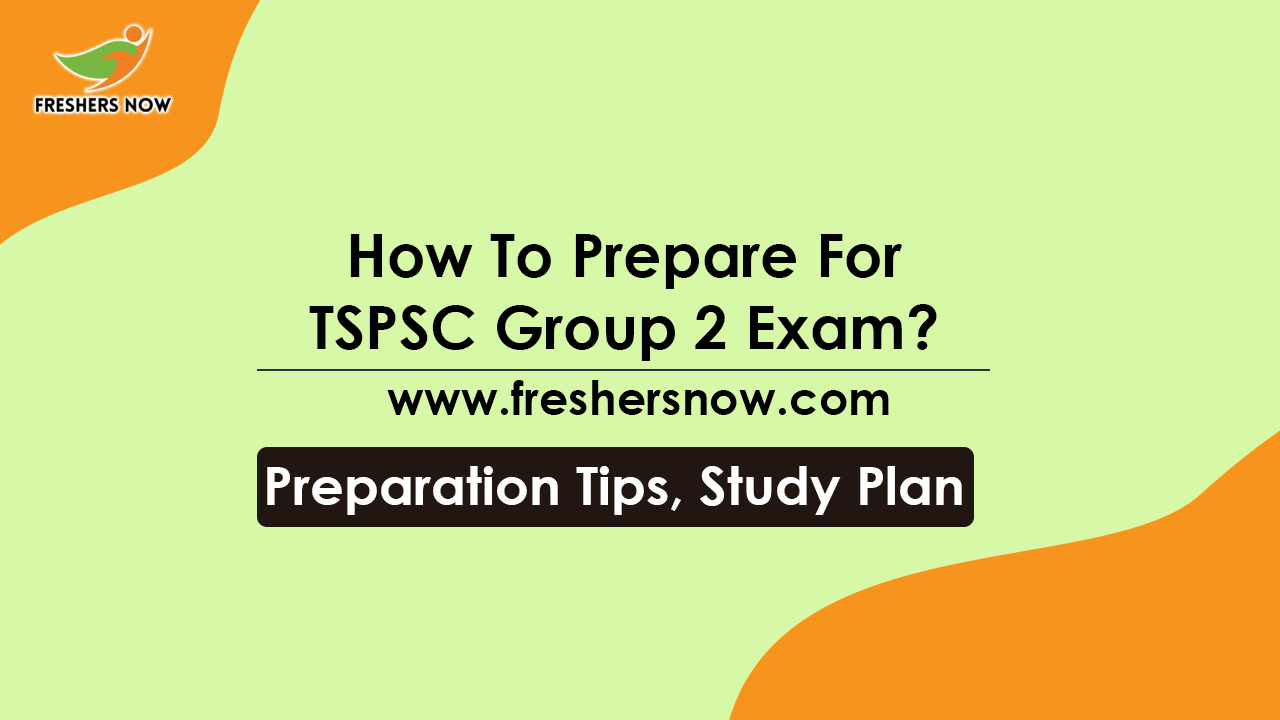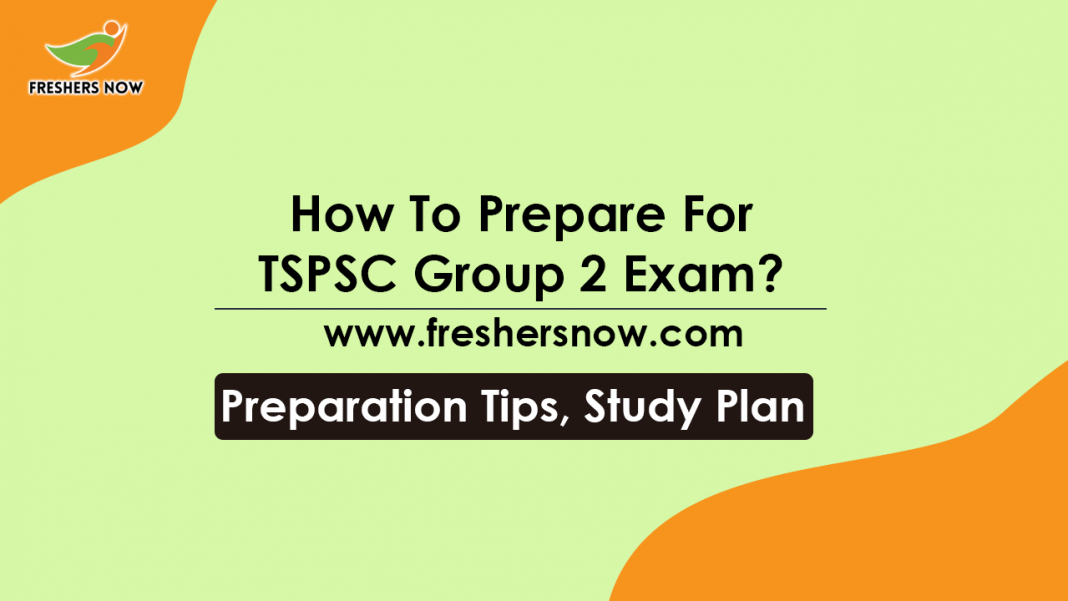 How To Prepare For TSPSC Group 2 Exam? Preparation Tips, Study Plan, Study Materail: This page is for candidates who are interested in taking the Telangana PSC Group II Exam. Don't rush to the coaching centers, instead, read this article and we'll show you how to prepare for the TSPSC Group 2 Exam from the comfort of your home. The competition will be tougher this time because we have been through the lockdown period and have had more time to prepare for the competitive exams. If you want to pass the TSPSC Group 2 Examination, you must begin studying right away and not waste any time.
In India, getting a government job is a huge challenge because there are so many people competing for few positions. Getting a government job, on the other hand, is not impossible. It's actually beneficial if you don't know anything at all. Because a pot that is empty can be filled with valuable items. The strategy, tips tricks of the TSPSC Group 2  Exam have outlined below. Scroll down to read all the sections for vital information to take up an organized study plan.
Telangana Group II Vacancies
So, everyone, before they apply for any competitive exam, must be aware of posts involved in it. In this section, you can check the TSPSC Group 2 Vacancies.
Deputy Tahsildar in Land Administration
Assistant Registrar in Registrar of Cooperative Societies
Executive Officer Grade-I in the Endowments department
Assistant Labour Officer in Commissioner of Labour Department
ACTO-Assistant Commercial Tax Officer (Commercial Tax Sub-Service)
Sub-Registrar Grade-II (Registration SubService)
Extension Officer (Panchayat Raj and Rural Development Sub Service)
Assistant Section Officer GAD (Single Unit) Secretariat
Assistant Development Officer (ADO) in Handlooms and Textiles
Municipal Commissioner Grade-III in (Municipal Administration Sub Service)
Prohibition and Excise Sub Inspector (Excise Sub-Service)
Assistant Section Officer (ASO) in Law department secretariat
Assistant Section Officer in Finance department secretariat.
How To Crack TSPSC Group 2 Exam?  Preparation Tips, Study Plan
Telangana State Public Service Commission Group – II
Organization Name
Telangana State Public Service Commission (TSPSC)
Post Name
Municipal Commissioner Gr. III, Assistant Commercial Tax Officer, Sub-Registrar Gr.II, Extension Officer, Prohibition and Excise Sub Inspector, Deputy Tahsildar in Land Administration, Assistant Registrar, Executive Officer Grade-I, Assistant Labour Officer, Assistant Development Officer, Assistant Section Officer GAD (Single Unit) Secretariat, Assistant Section Officer
Category
Preparation Tips
Selection Process
Written Test, Interview
Job Location
Telangana
Official Site
tspsc.gov.in
TSPSC Group 2 Test Pattern
Stage
Paper
No. of Questions
Total Marks
STAGE I
PAPER I: General Studies and General Abilities
150
(150 x 4 = 600)
PAPER II: History, Polity and Society
150
PAPER III: Economy and Development
150
PAPER IV: Telangana Movement & State Formation
150
STAGE II
Interview
75
75
Total Marks
675
TSPSC Group 2 Exam Study Plan
Understand Exam Pattern & Syllabus
Examine the pattern and syllabus carefully after reading the official notification. Make a list of the subjects that are most important to you and those that are least important. After that, make a list of your weakest subjects. Calculate how much time you'll need to invest in the entire preparation by strategizing and creating a study plan accordingly.
Gather Study Material
The quality of your preparation is determined by the study material you use. If you don't want to go to a coaching center, gather all the required books and use all the resources available on the internet. We have gathered few related TSPSC Group II Books and arranged them below. Check through those and go through all the links presented on this page for better knowledge by taking the quiz.
Planning
Planning ahead of time will help you become a better person. As a result, organize your TSPSC Group 2 study plan in such a way that you will be able to sit in a government position.
Rather than sitting for endless hours, spend quality time with books. 6 to 8 hours of quality time is more than enough to finish the syllabus do not sit for 12 to 14 hours just to finish the syllabus in a timely manner.
Take a break every hour to relax and refresh your mind.
Every day, try to complete two papers at the same time to cover the majority of the syllabus.
On Sundays, try to avoid reading.
Maintain a Short Notes
Make a point of writing down everything you've learned. Use Google to look up any topic you want to learn more about. Make a list of the points that you want to remember. It will assist you in memorizing important information.
Practice Mock Tests
TSPSC Group 2 Mock tests are essential for determining how you should approach the exam, how you should distribute time while answering questions in different sections, and what types of questions you will be answering. Giving mock tests is very similar to giving final exams. So, whenever you finish a section, take a practice test right away to see if your preparation is up to standard. Candidates can take benefit of our website's free mock tests. Just have a check on it.
Revise
Government exams, such as TSPSC Group 2, take a long time to prepare for as it contains large syllabus. One may forget what was learned earlier in the preparation stage. As a result, it's critical that you review everything at least once before the final exam. If you skip revision before the exam,  you will be distraught when you sit for the exam.
TSPSC Group 2 Preparation Tips
Just keep in mind that there is no such thing as a "general rule" when it comes to studying for an exam. These are some general tips and tricks given in this section. You have the freedom to change and study according to your own abilities. Remember to find a plan that works for you.
The syllabus is extensive, but don't worry. Begin by reviewing and digesting the entire syllabus listed above.
Choose the perfect study plan that suits your time.
Prepare for higher weighting topics.
Make a list of all of the data and information you obtain from various sources.
Create and stick to daily notes.
Examining all TSPSC Group 2 Previous Papers will clearly identify the types of questions you will encounter on the exam.
Enhance your reading speed.
Give full-length and sectional mock tests to get a better understanding of the paper pattern, time allocation, and other flaws in your defense.
TSPSC Group 2 Study Material
TSPSC Group 2 Previous Papers PDF Download
The rest of the information about TSPSC Group 2 is available on our website @ Freshers Now, including recruitment opportunities, admit cards, and more.