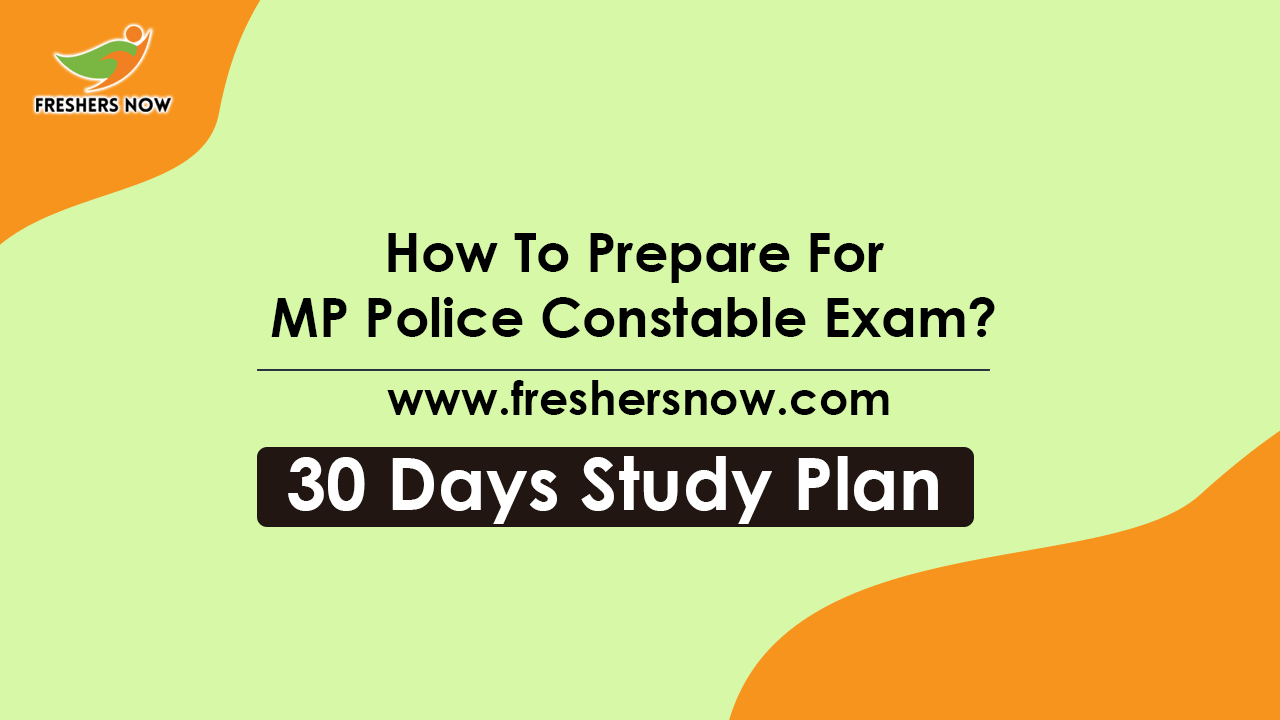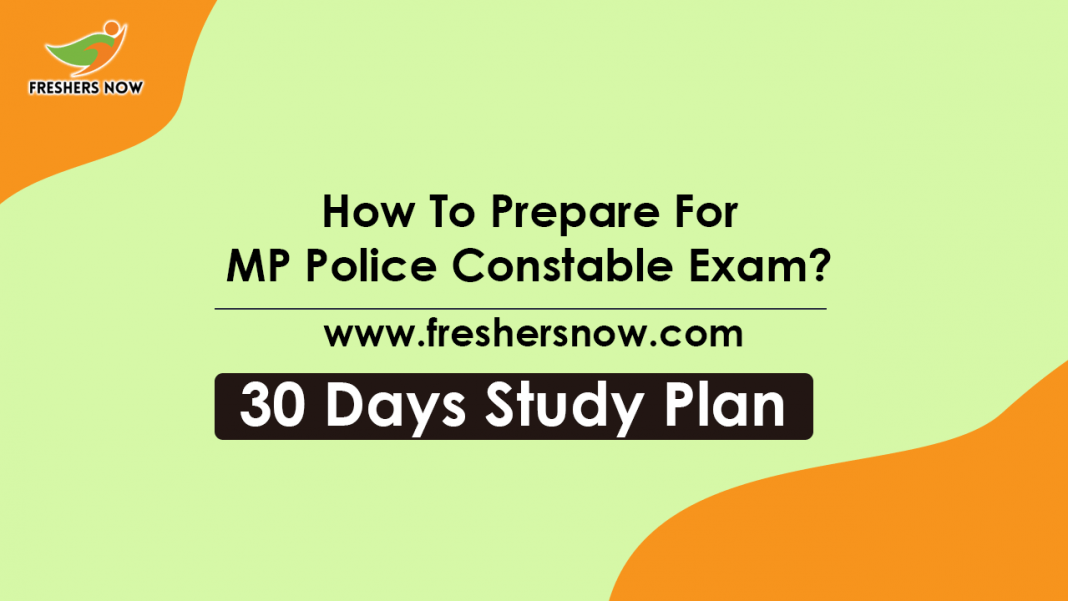 How To Prepare MP Police Constable Exam? Preparation Tips, 30 Days Study Plan: Candidates who are planning for the MP Police Constable Exam and want to achieve a high score can go through this page. We have provided detailed instructions on "How To Crack MP Police Constable Exam" on this page. We have also provided you with the most up-to-date MP Police Constable Exam Preparation Tips and a 30 Days MP Police Constable Study Plan. You can also get the best MP Police Constable Reference Books so that they will help you during the test preparation. So, candidates, read this entire page for a better understanding and to qualify for the MP Police Constable Exam easily.
How To Prepare MP Police Constable Exam? 30 Days Study Plan for MP Police Constable
Madhya Pradesh Police Constable Exam Preparation
Organization Name
Madhya Pradesh Police Department
Post Name
Constable
Category
Preparation Tips
Selection Process
Written Test, Personal Interview
Job Location
Madhya Pradesh
Official Site
peb.mp.gov.in
How To Crack MP Police Constable Exam?
One of the most desirable jobs among the youth is that of an MP Police Constable. Because of the high level of competition and the large number of vacancies available, all candidates must be prepared to follow a strict schedule in order to succeed in the MP Police Constable Exam. First and leading, all candidates must be familiar with the MP Police Constable Syllabus & Exam Pattern. This will enable them to manage their time more effectively and efficiently, increasing their chances of success. Before going to learn more about how to prepare for the MP Police Constable Exam 2021, let's see the Madhya Pradesh Constable Exam Syllabus and Exam Pattern through the below sections.
Latest MP Police Constable Exam Pattern
The examination is conducted for 100 marks.
The candidates applying for the Constable post need to answer additional papers i.e Paper-II which is conducted for 100 marks.
Technical Questions are asked in Paper-II.
Number of Papers
Name Of The Subjects
Number of Marks
Paper-I
General Knowledge and Reasoning
40 Marks
Intellectual Ability and Mental Aptitude
30 Marks
Science and Simple Arithmetic
30 Marks
Paper-II
Computer Networking Software Subjects
100 Marks
Time Duration: 2 Hours
MP Police Constable Exam Syllabus
General Knowledge

Important Dates
Music & Literature
National Dance
Famous Places
Artists
Tourism spots of Historical Importance
Sculptures
Musical Instruments
About India and its neighboring countries
New inventions
World organizations
Geography of India
Economic issues in India
National News (current)
International issues
Tribes
Indian Culture
Handicrafts
Countries and capitals
Political Science
Scientific observations
Famous Places in India
Books And Author
Science and innovations

General Science

Natural Products and Drugs
Nuclear Chemistry
Chemical Kinetics and Thermodynamics
Organic reaction mechanism and
StereochemistryOrganometallic compounds, Bioinorganic chemistry, and Polymers
Electrochemistry
Analytical Chemistry and Instrumental methods
Poisons and Pesticides
Quantum Chemistry
Atoms
Electromagnetic waves
Semiconductor electronics
Waves
The s – block elements
Communication systems
Organic chemistry-some basic principles and techniques and hydrocarbons
P-block elements – group 14 (carbon family)
Solutions
Chemical bonding and molecular structure
Electrochemistry and chemical kinetics
Haloalkanes and Haloarenes

Computer Knowledge

MS Word, Microsoft OneNote
Microsoft Access
Introduction to Computer Science
Boolean Algebra
Computer Networks
Emerging Technologies and Web Publishing
PC Software and Office Automation
Database Management System
Data Structures
MS PowerPoint
MS Visio and MS Excel
Microsoft Outlook
The Internet
Workplace Productivity Tools
MS Project, Microsoft Publisher

Simple Arithmetics

Time and Distance
Probability
Simplification and Approximation
Averages
Issues on L.C.M and H.C.F
Pipes and Cisterns
Problems on Numbers
Compound Interest
Volumes
Profit and Loss
Odd Man Out
Races and Games
Numbers and Ages
Mixtures and Allegations
Percentages
Problems on Trains
Time and Work Partnership
Ratio and Proportion
Boats and Streams
Simple Interest
Areas
Simple Equations
Quadratic Equations
Indices and Surds
Mensuration
Permutations and Combinations

Reasoning

Mirror Images
Grouping Identical Figures
Figure Matrix Questions
Problem on Age Calculation
Decision Making
Inference
Analogy
NonVerbal Series
Test of Direction Sense
Number Series
Alphabet Series
Arguments
Ven Diagram
Blood Relations
Coding and Decoding
Number Ranking
Arithmetical Reasoning

Intellectual Ability and Mental Aptitude

Time and Work Partnership
Ratio and Proportion
Boats and Streams
Simple Interest
Time and Distance
Problems on Trains
Areas
Races and Games
Numbers and Ages
Mixtures and Allegations
Mensuration
Permutations and Combinations
Problems on L.C.M and H.C.F
Pipes and Cisterns
Percentages
Simple Equations
Problems on Numbers
Averages
Indices and Surds
Compound Interest
Volumes
Odd Man Out
Quadratic Equations
Probability
Profit and Loss
Simplification and Approximation
MP Police Constable Exam Preparation Tips
Set a goal for each day and plan ahead of time.
Attempt to meet the goal every day, but not at the expense of your understanding.
Make it a habit to keep track of what you know and don't know.
Maintain a notebook and note down the important points.
Don't forget to take notes on everything you've learned.
Make sure to study each detail in relation to the state of Madhya Pradesh at all times.
Manage time effectively. To crack the MP Police Constable examination easily.
Mock tests are necessary taking for the analysis of your practice.
Practicing the previous question papers is a must. So, try to include in your daily study schedule
Subject Wise MP Police Constable Practice Tips
General Knowledge and Reasoning:
Candidates must concentrate on this subject because it is a high-scoring and simple subject.
Reading information about Madhya Pradesh (MP) related to their culture, history, wildlife sanctuary, and other topics, as well as keep up with current events in the state.
Candidates need a lot of practice in Reasoning to be able to answer the question in a shorter amount of time.
The reasoning is to test for the logical ability of the person.
Speed and accuracy are the keys to complete the reasoning section.
Simple Arithmetic & Science 
Up to the tenth grade, the science subject includes questions in physics, chemistry, and biology.
Candidates are not required to read in-depth scientific knowledge. Below, we'll go over some important topics that are sufficient for the exam.
It is necessary to practice the question besides high speed and accuracy in Simple Arithmetic.
Intellectual Ability and Mental Aptitude
It's simple to answer questions about intellectual ability. These questions are only used to assess candidates' mental abilities.
Candidates can score well in this section, but the practice is required to answer these questions in a timely manner.
Practice on concentration and alertness to understand the question by one read.
30 Day MP Police Constable Exam Study Plan
We here have arranged the 4-week plan for the aspirants of the Madhya Pradesh Police Constable
First Week
Second Week 

To begin, organize your study materials according to the various topics you will be studying. This will save you time when looking for books. Also, keep a running note of important topics and topics that you tend to forget. It will come in handy later for a quick review of what you've learned.
Examine previous year's papers to see if there is a pattern to the various questions that have been asked. This will give you an idea of the weighting of the topics from various subjects, as well as which topics are important and what you have prepared, and what you still need to do

This week's main goal is to begin revising logical reasoning, as it is the topic that requires the most time and practice. It is also the most important of all the subjects.
Also, focus on mathematics because it has a lot of important topics that need to be practiced on a regular basis.
Try to complete subject-specific model test papers and keep track of the time and number of questions you answered correctly. This will allow you to keep track of time and put your efficiency to the test.

Third Week 
Fourth Week 

Concentrate on the Aptitude Section and analyze the areas that take the most time or are prone to errors. Now is the time to determine their priority level.
Learn and practice all of the shortcut techniques for numbers and alphabets that are required in a few Mental Aptitude and Reasoning Ability questions.
Consider your two-week progress. Check to see if your grades have improved since you started by taking the mock tests

The Recruitment Examination is only a few days away. Here's what you should do in the week leading up to the MP Police Constable Exam.
Each day, complete at least one Mock Test and analyze it as soon as possible.
Review the short notes you made while studying for this exam. Those will be extremely useful for revision.
Don't add anything new to your to-do list. It is preferable to strengthen and revise only what you have already learned.
Best MP Police Constable Reference Books
MP Police Constable Exam Important Books
Books 
Authors/ Publisher
Madhya Pradesh Samanya Gyan
Upkar
A Modern Approach to Verbal & Non-Verbal Reasoning
RS Aggrawal
Madhya Pradesh General Knowledge
Snehil Tripathi
Verbal & Non-Verbal Reasoning By Disha Publication
Gajendra Kumar
Madhya Pradesh Constable
Neetu Singh
MP Police Aarakshak
Neetu Singh
A Mirror of Common Errors
Dr. Ashok Kumar Singh
Play with Advanced Maths
Abhinay Sharma
Quantitative Aptitude for Competitive Examinations
RS Agrawal
Follow our website Freshers Now for more updates on MP Police Constable Exam Preparation.