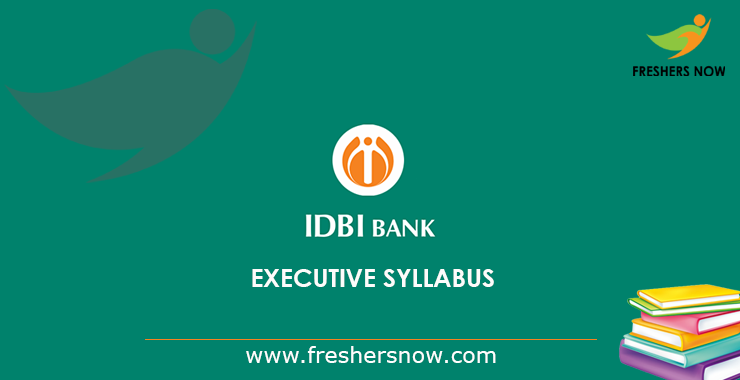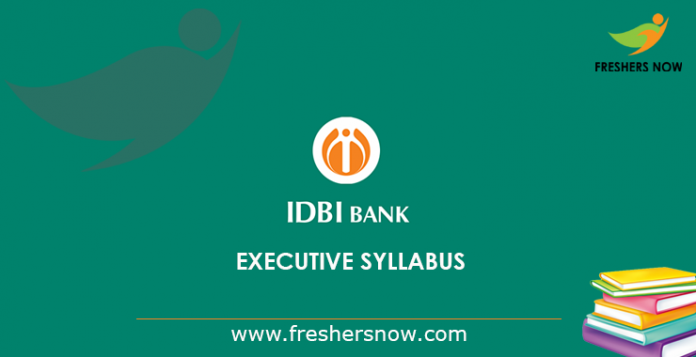 IDBI Bank Executive Syllabus 2019: Many of you are looking for IDBI Executive Syllabus 2019. Get complete subject wise IDBI Syllabus 2019 along with the IDBI Executive Exam Pattern 2019 from this article. Since the Recruiters of IDBI Bank are recruiting for the position of Bank Executive to fill 300 vacancies. So, there is a huge competition between all applicants. In that way, to gain their desired position, aspirants need to practice well and should have a complete idea on the IDBI Executive Selection Process 2019. Down Here, check the detailed information and get full clarity on the IDBI Bank Recruitment Process.
You Can Also Check: ★ IDBI Bank Executive Recruitment
IDBI Bank Executive Syllabus 2019 | Complete Information
IDBI Bank Executive Syllabus 2019 | Exam Pattern
Organization Name
IDBI Bank
Post Name
Executive
Total Vacancies
300 Vacancies
Category
Exam Syllabus
Selection Process
Online Test, Document Verification, Pre-Recruitment Medical Test
Job Location
Across India
Official Site
idbi.com
IDBI Executive Selection Process 2019
IDBI Executive Selection Process 2019 is given clearly in this section. Candidates can have complete information like the rounds in the qualifying process that is the Online Test, Document Verification and Medical Test. The applicants, who are successful in the online test, would be called for document verification and Pre-Recruitment Medical Test. The number of applicants called for document verification and pre-recruitment medical test will also be at the discretion of IDBI Bank. Applicants qualifying both in the online test and declared fit in the pre-recruitment medical test shall be considered for final shortlisting. Reference for the medical test does not imply final selection, which may please be noted.
Online Test
Document Verification
Pre-Recruitment Medical Test
The final selection or offer of employment would be made based on applicant's marks in the online test, being found medically fit and subject to fulfillment of all other eligibility criteria as stipulated in the advertisement.
You Can Also Check: ★ IDBI Bank Executive Admit Card
IDBI Executive Exam Pattern 2019
The Exam Pattern for the Executive position in the IDBI Bank will be very simple. IDBI Executive Exam Pattern 2019 gives the structure of the exam that is the details of the number of subjects, the number of questions, the number of marks and the total time duration for the Online Examination. Here, in this test, each question carries 1 Mark. And also there will be negative marking. Check all those in the below given table and a note provided after the table.
IDBI Bank Executive Online Test Pattern 2019
Subject Name
Number Of Questions
Number Of Marks
Test of Reasoning
50
50 Marks
Test of Working English Language
50
50 Marks
Test of Quantitative Aptitude
50
50 Marks
Total
150 Questions
150 Marks
Time Duration: 90 Minutes
Note:
The above tests except for the Tests of English Language will be available bilingually, i.e. English and Hindi
For each question for which a wrong answer has been given by the candidate, one fourth or 0.25 of the marks assigned to that question will be deducted as penalty to arrive at corrected score.
If a question is left blank, i.e. no answer is marked by the candidate; there will be no penalty for that question
Document Verification & Pre-Recruitment Medical Test
Candidates need to carry below given documents while attending for the Document Verification and the Pre-Recruitment Medical Test.
PAN Card
Passport
Permanent Driving Licence
Voter's Card
Bank Passbook with a photograph
Photograph
identity proof issued by a Gazetted Officer
People's Representative along with a photograph
Identity Card issued by a recognized College/ University
Aadhar/ Eaadhar card with a photograph
Employee ID
Examination Centers
Ahmedabad
Amritsar
Bhopal
Bengaluru
Belgaum
Bhubaneswar
Coimbatore,
Chennai
Chandigarh
Delhi- NCR
Guwahati
Gwalior
Hyderabad
Jaipur
Kanpur
Greater Kolkata
Kochi
Lucknow
Madurai
Mangalore
Mumbai/ Navi
Mumbai/ Greater Mumbai/ Thane
Nagpur
Patna
Pune
Raipur
Rajkot
Ranchi
Thiruvananthapuram
Vijayawada
Vishakhapatnam
Download PDF Of IDBI Bank Executive Syllabus 2019
Well, after referring to this section having complete details of the IDBI Bank Executive Recruitment details, download the IDBI Bank Executive Syllabus 2019 PDF attached at the end of the page. Hence practice each and every topic given in the IDBI Syllabus 2019 and get prepared for the examination.
IDBI Bank Executive Reasoning Syllabus
Verbal Reasoning
Classification
Operations of Mathematics
Venn Diagrams
Word Sequence
Missing Characters
Sequential Output training
Directions
Test on Alphabets
Eligibility Test
Data Sufficiency
Alpha- Numeric Sequence Puzzle
Puzzle Test
Blood Relations
Coding- Decoding
Analogy
Series Completion
Verification of truth of the Statement
Situation Reaction Test
Direction Sense Test
Assertion and Reasoning
Arithmetical Reasoning
Non-Verbal Reasoning
Construction of squares and Triangles
Series
Completion Incomplete Pattern
Spotting embedded figures
Classification
Rules Detection
Analytical Reasoning
Paper Folding
Paper Cutting
Cubes and Dice
Water Images
Mirror Images
Dot Situation
Identical figure groupings
Forming figures and analysis
Figure Matrix
IDBI Executive Syllabus – English Language
Completion
Error Correction
Transformation
Prepositions
Antonyms
Active and Passive Voice
Substitution
Sentence Arrangement
Fill in the blanks
Spotting Errors
Para Completion
Joining Sentences
Error Correction
Sentence Improvement
Synonyms
Spelling Test
Substitution
Passage Completion
Idioms and Phrases
Sentence
Quantitative Aptitude | IDBI Syllabus
Compound Interest
Volumes
Odd Man Out
Quadratic Equations
Probability
Time and Work Partnership
Ratio and Proportion
Boats and Streams
Simple Interest
Time and Distance
Problems on Trains
Areas
Races and Games
Numbers and Ages
Mixtures and Allegations
Mensuration
Permutations and Combinations
Problems on L.C.M and H.C.F
Pipes and Cisterns
Percentages
Simple Equations
Problems on Numbers
Averages
Indices and Surds
Profit and Loss
Simplification and Approximation
To Download IDBI Bank Executive Syllabus 2019 PDF: Click Here
★ ★ ★ View More Exam Syllabus ★ ★ ★
Well, hope complete details given are useful to all the applicants. In case if you have any doubts and queries, ask us in the comment section given below. Bookmark our website Freshers Now, to get updates and alerts of the latest information. Thank You!!!