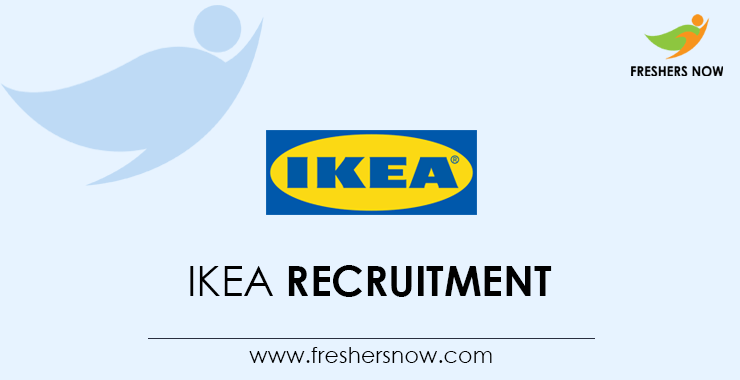 IKEA Recruitment 2022 | Junior Cyber Engineer in Bengaluru: Hello aspirants, are you waiting for a job opportunity in the cyber engineering platform then we have good news for you. So without delay go through the complete article to know about IKEA Job Openings 2022. The TR team of IKEA company is hiring for Junior Cyber Engineer in Bengaluru. The recruiters of the IKEA careers are looking for talented candidates with skills like Python, java, technical skills, and good problem-solving skills. We think this is the best opportunity for the candidates who are willing to work in the cyber security platforms. According to the IKEA company, the candidates want to rectify the hacking problems. Interested candidates can apply for IKEA Job Vacancy 2022 using the direct link provided at the end of the page. Further, we provided complete information according to IKEA Recruitment 2022.
IKEA Recruitment 2022 | Overview
| | |
| --- | --- |
| Company Name | IKEA |
| Job Role | Junior Cyber Engineer |
| Experience | Freshers |
| Qualifications | Graduates |
| Schedule | Full Time |
| Category | IT Jobs |
| Location | Bengaluru, Karnataka |
| Website | www.ikea.com |
IKEA Careers | Role
Have you asked yourself what are the challenges of creating secure software? What do we mean by software security, and why do we struggle with it? Then you could be the one we are looking for!
At IKEA we are building, integrating, and using software to solve complex problems. To fulfill our IKEA vision, "a better everyday life for the many people," we need to ensure that the software we create and use is safe for both our customers and co-workers.
We are looking for software with a security interest or a security engineer to join the Software Security Capability to help us reach new heights in software security.
IKEA Recruitment 2022 | Essential Skills
Understanding of Software Development Lifecycle.
Worked with at least one of the programming languages like Java, Python, JS, Go, etc.
Basic understanding of Cyber Security concepts like Vulnerabilities, Risk, Secure Code scanning (SAST / SCA), Threat Modelling, etc.
Knowledge about different Security standards like OWASP Top 10, CWE, etc.
IKEA Responsibilities
We are looking for people to join us who share and are passionate about our IKEA culture and values which play a major part in our business and day-to-day work life. For you to thrive and grow with IKEA, it's important that you naturally lead with our values in mind such as togetherness, renewing and improvement, simplicity, different with meaning, and caring for people and the planet. You can read more about our values and life at IKEA at ikea.com.
We expect that you understand the complexities in security and risk mitigations in software development that manifest themselves in complex and distributed systems. You know that things are not black and white. You are curious, open-minded, and can work independently towards a common goal.
Work within the central Software Security Capability, focusing on the automated security testing part of our services.
Define IKEA-specific best-in-class security automation strategies and practices that be easily used by product teams.
Create automation together with security engineers and product teams across the company that enables us as a company to utilize the strengths of automated security testing.
Improve and expand on the types of techniques that we utilize today, i.e., code scanning, dependency analysis, fuzzing, and dynamic analysis.
IKEA Recruitment 2022 | Important Link
To Apply For IKEA Recruitment 2022
Click Here
We hope that the above-provided information about IKEA Job Openings 2022 will be useful to You. For more Job recruitment stay tuned to our site @ freshersnow.com.