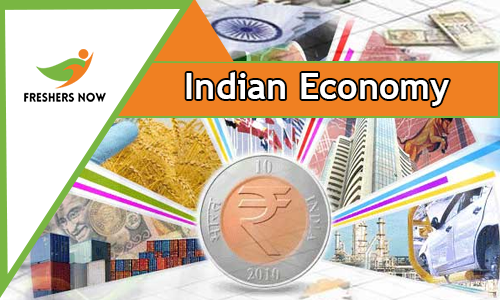 Want to learn about the Indian Economy in an Interesting manner? then look at the Online Quiz we are providing on this page. Well, this article is going to cover all the topics related to the Indian Economy. And this Quiz is also boon for the people who are preparing for Different kind of the Entrance Exams. And particularly those are preparing for the civil and UPSC Services. By practicing the Quiz we provided in this post, an individual can easily grasp the knowledge. Thus eventually, you can do good in those Exams. Go below to this post for an interesting way to learn about our Indian Economy.
We are providing aspirants the Indian Economy Online Test that contains different questions based on the given concept. Indian Economy Quiz helps to face the competitive exams, which plays a very prominent role in candidates career. Meanwhile, they can also face these type of competitive examinations by practicing more and more the given Indian Economy Gk Questions And Answers.
Indian Economy Quiz Details
| | |
| --- | --- |
| Quiz Name | Indian Economy |
| Category | GK |
| Number of Questions | 25 |
| Time | 30 Minutes |
| Exam Type | MCQ (Multiple Choice Questions) |
Indian Economy Online Test
Well, this article will provide you the concept of Indian Economy. Furthermore, details like Indian Economy General Knowledge Questions And Answers which will assist you up to the mark. This quiz helps us to crack various competitive exams like SSC, IBPS, Civil Services, Railways, etc.; Here we provide quiz which helps to crack the competitive exams in an easy manner through which candidate can rate themselves. So, the candidates don't be late in facing the examinations. Moreover, Spend some short time with us and good results. Look at the below post
About Indian Economy
It is a developing mixed economy. Its economy is sixth largest by nominal GDP and third largest by PPP(purchasing power parity) in the world. The growth of the this is positive due to the young population, low dependency ratio, healthy savings and investment rates. Soviet Union's practices post-independence highly inspired by this.
It is essential to understand the economic system of India during the British rule. During the British rule, the economy of India became a net raw material supplier, and a net importer of finished products and no British economist attempted to measure the per capita income and national income of India.
Primary sector: In fact, the economic activity depends mainly on the exploitation of natural resources, fishing, mining, and extraction of oil and gas, agriculture and its related activities.
Secondary sector: It involves manufacturing and Industrial production of physical goods.
Tertiary sector: It involves providing the intangible goods like services, attention,        advice, experience, and discussion. Telephony and IT are good examples of the service sector.
Goals of the five-year plan include like Growth, Equity, Modernisation, Self-Reliance. Key things in the Indian economy are Economic and population growth, demonetization had mixed success and working employment for women.
Benefits of Practicing Indian economy Quiz:
There are various types of benefits by practicing these quiz. They are:
The status bar is displayed which helps to know that the number of questions completed.
Well in this Quiz, candidates can understand better as they know before reading this article.
The visual representation of this post is like an online test which helps in building the confidence in individual careers.
Results Of Indian Economy Quiz
The results are given based on the number of questions submitted on or before the time allotted.
By going through this Quiz, the candidate who is facing any competitive exam can improve the knowledge.
For more updates and information keep following our site Freshersnow.com
Practice More GK Questions and Answers

| | |
| --- | --- |
| ★ Join Freshers Now Social Media Channels: | Click Here |