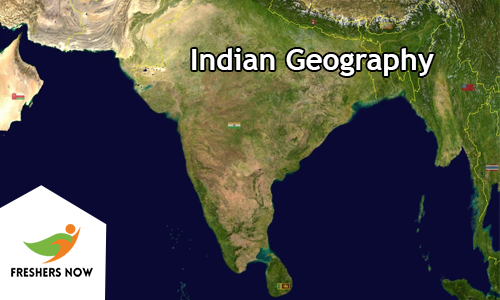 Indian Geography Quiz: Are you curious to learn about Indian Geography topics? Then take the Indian Geography GK Online Test from here. Candidates may get frustrated in surfing various websites, referring many books related to Indian Geography, then don't worry, we are here you, by providing the Indian Geography Quiz. Moreover, in this post, we are offering the Indian Geography Online Test which contains various questions that are useful for every candidate to face multiple competitive exams. And it plays a prominent role in one's career. So, to overcome the difficulties in those competitive exams, this post we have arranged the Indian Geography GK Questions and Answers.
Indian Geography Quiz Detail
| | |
| --- | --- |
| Quiz Name | Indian Geaography |
| Category | GK |
| Number of Questions | 25 |
| Time | 30 Minutes |
| Exam Type | MCQ (Multiple Choice Questions) |
Indian Geography Questions and Answers
Indian Geography Quiz is available in the above. Comparatively this post provides Indian Geography GK Questions and Answers through which the candidates can crack the examinations. As there are many competitive exams like IAS, State PSC, SSC CGL, SSC CHSL, SBI PO, SBI Clerk, IBPS PO, IBPS Clerk, LIC AAO, UIIC AO, NICL AO, SBI Associate PO, and other Bank Clerk exams. Indian Geography General Knowledge Questions and Answers which helps to clear the test in a relaxed manner and can rate themselves. For more updates follow his website Freshersnow.com
About Indian Geography GK Questions
India is the 7th largest country in the world. It lies on the Indian Plate, which is northern portion of the Indo-Australian Plate. India is surrounded by three different water bodies and is easily recognized in the world map. India spreads over an area of 3.28 million sq.km. Indian Geography is available into two parts:
Political Geography
Physical Geography
Political Geography: India is a land of 29 different states, six union territories, and 1 National capital territory. The most populous state of India is Uttar Pradesh. Jammu and Kashmir is the beautiful state in the country. India as seven union territories. Delhi is the capital of India. The Line of Control (LOC) is the border of both India and Pakistan.
Benefits of practicing Indian Geography Quiz
With the help of this page, you can quickly learn the illustration of the concept Indian Geography.
This post also helps you for better improvement of your answers even by practicing more times as you can.
Through this Indian Geography Quiz, you can understand more about the topic through the explanations provided.
This Quiz is like a mock online test which helps in the erection of the confidence in one's careers.
Results of Indian Geography Quiz
As the time is allocated for all questions given in Indian Geography Online Test, the results are awarded as well.
It provides an appropriate explanation for every question.
By going through this Indian Geography quiz, every candidate can face their competitive exam.
Therefore, we hope that after taking the Indian Geography Quiz, competitors can improve their skills. Also, aspirants can come to this page regularly and retake the Indian Geography Online Test. Visit our website freshersnow.com on a daily basis.
Practice More GK Questions and Answers