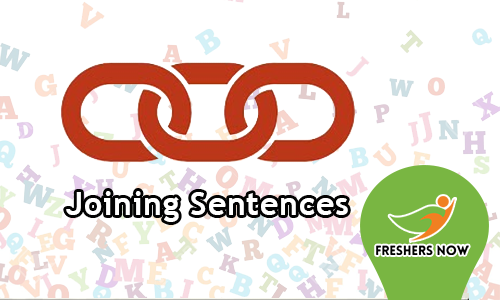 Joining the sentences is the major problem for many of the beginners who are taking different Exams. Don't worry here in this current page we are providing a Joining sentences English Quiz which is very useful to beginners. And also, these type of questions appears in many competitive exams like GRE, TOEFL, SSC, CAT and many other post-graduation exams as well as the Recruitment Tests too. So, you must practice our Joining sentences Quiz with the joining sentences questions given here. And we gathered the Questions from various National and International Level Question papers.
Practicing this Joining sentences English Quiz will provide you with confidence on how to combine two sentences with appropriate conjunction or prepositions within a span of half an hour. Many of the beginners are facing problems in solving Conjunctions topic because they do not have proper knowledge on how to combine sentences. Ahead of this communication skills are developed by following this. Furthermore, we are providing details of the Quiz. Therefore, stick on to our page for the Joining Sentences Quiz.
Details of the Joining Sentences English Quiz
Here we are providing some details about the Joining Sentences Quiz. The questions were given to you to solve and answer them. You will get total of 22 Questions. The time limit is 30 minutes, so more than one minute is given to every question. Some choices are also offered for you among them you have to choose the right one. The questions are of type verbal ability and improve your spoken skills through this Joining Sentences English Quiz. Here a tabular form is enclosed for more details.
| | |
| --- | --- |
| Quiz Name | Joining Sentences |
| Category | English Quiz |
| Number of Questions | 22 |
| Time | 30 Minutes |
| Exam Type | MCQ (Multiple Choice Questions) |
Joining Sentences Questions and Answers
About Joining Sentences English Quiz
Joining Sentences means combining two or more sentences into one compound statement. A compound statement forms by choosing the coordinating conjunctions between two coordinate clauses. In this Quiz, you have to identify what is the conjunction that suits your sentence both grammatically and conceptually. We provide some of the conjunctions here observe them and analyze them and choose the correct answer. We can combine two statements by following the below rules or by using words given below. They are
Using infinitives like "to" and some other infinitives.
Make use of a noun or phrase to combine the sentences.
Use a participle like "a" or "an" or definite article like "the."
By using conjunctive words like and, as well as, both.
Using but, yet, whereas, nevertheless as coordinating conjunctions.
By using or, either-or, nor, neither-nor, otherwise pairwise conjunctions.
Benefits of practicing Joining Sentences English Quiz
Accuracy in answering the question increases by solving the question.
Moreover, We are providing this to you for free of cost.
Time management is known to every person who attempts the Quiz.
In less time you can gain more knowledge.
Results of Joining Sentences English Quiz
After the proper submission of the Joining Sentences English Quiz, you can get your score with grades and points. You can master this topic by constant practicing. Everyone can understand as we are providing a summary of the concept. You can analyze your level of performance for more details follow us on Freshersnow.com.
Practice More English Questions and Answers
| | |
| --- | --- |
| ★ Join Freshers Now Social Media Channels: | Click Here |