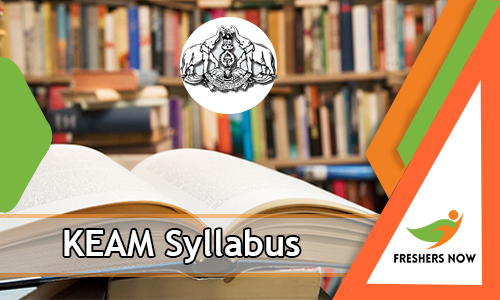 KEAM Syllabus 2020 PDF Download & Exam Pattern: We have provided the syllabus of the Kerala Engineering Architecture Medical Entrance Examination (KEAM) for all the three subjects that are included in the exam. The subjects are Chemistry, Physics, Mathematics. Applicants must make themselves aware of the syllabus to cover all the topics. For more information, you can visit the official site of the CEE Government Of Kerala (CEE Kerala) @ cee.kerala.gov.in.
Therefore, all the KEAM Syllabus 2020 is important for the candidates to keep themselves updated and helps to manage time to plan a strategy and prepare according to that. In addition to that, we have also added the latest KEAM Exam Pattern 2020 in detail. Furthermore, updates keep reading this article for more details on KEAM Syllabus 2020.
KEAM Syllabus 2020 – Overview
★ You Can Also Check ★
KEAM 2020 Exam Pattern
In this section, candidates can find the Engineering Entrance Exam and Medical Entrance Exam. Most of all candidates are getting confused about the KEAM exam pattern. Furthermore, to reduce their confusion we have enclosed the details Exam Pattern of KEAM. The Engineering Entrance Exam Paper consists of two papers. Each paper has 120 questions. The question paper will be multiple-choice questions. Therefore, the time duration of the exam is 2 hours 30 minutes. For each correct answer, 4 marks will be awarded. Hence, there will be negative marking. No marks will be deducted for unattempted questions.
Paper
Name of the Subject
No. of questions
Minimum Marks
Paper I
Physics & Chemistry
120
+4/-1
Paper II
Mathematics
120
+4/-1
Total – 240 Questions | Time limit – 5 Hours
Download KEAM Syllabus 2020 PDF
Therefore, aspirants can click on the link below to download the KEAM Syllabus 2020 PDF. Moreover, we are providing you with effective and quick links to redirect you to the official website of CEE. And also, aspirants can download the KEAM syllabus PDF for free of cost. Therefore, by downloading this KEAM 2020 Syllabus PDF, applicants can prepare well for the KEAM exam and easily score better marks. Soon the concerned authority of CEE will conduct the KEAM Exam on specified dates. Moreover, as soon as, the dates are updated on the official website, we will update you in this article. Hence, we suggest all the aspirants check our article frequently to find the recent updates regarding KEAM Syllabus 2020.
KEAM Physics Syllabus
Introduction and Measurement
Principles of Communications
Description of motion in two and three dimensions
Laws of motion
Current Electricity
Optics, Dual Nature of Matter and Radiations
Atomic Nucleus and also Gravitation
Description of motion in one dimension
The motion of System of particles and rigid body rotation
Mechanics of Solids and Fluids, Oscillations
Waves, Electrostatics
Magnetic effect of Current and Magnetism
Electromagnetic Induction and Alternating Current
Work, Energy, and also Power
Heat and Thermodynamics
Electromagnetic Waves
Solids and Semiconductor devices
Biology Syllabus For KEAM Exam
Physiology Of Animals
Diversity In The Living World
Plant Kingdom
Cell And Cell Division
Structural Organisation Of The Body
Biotechnology
Biodiversity And Conservation
Biology In Human Welfare
Physiology Of Plants
Reproduction And Development In Animals
Reproduction, Growth, And Development
Ecology And Environment
Origin And Evolution Of Life
Animal Kingdom
Genetics
Basic Concepts Of KEAM Syllabus for Chemistry
Polymers & Biomolecules, Environmental Chemistry & Chemistry in Everyday Life.
Bonding & Molecular Structure, States of Matters: Gaseous state, Liquid State, Solid State.
And also, Periodic Properties of Elements & Hydrogen: Classifications of Element & Hydrogen.
And also, Laws of chemical combination, Atomic Structure.
P-Block Elements: General characteristics of p-block elements, Silica, Group 18 elements, Boron, xenon.
Organic Compounds with Functional Groups Containing Oxygen and Nitrogen.
S-Block Elements & Principles of Metallurgy: Alkali metals, Alkaline earth metals, Principles of metallurgy.
And also, D- and F- Block Elements: d-Block elements, f-Block Elements: Lanthanides & Actinides.
Chemical Equilibrium: Physical and chemical equilibria, Equilibria involving chemical systems, Concepts of acids and bases.
Thermodynamics: System and surrounding, First law of thermodynamics, the second law of thermodynamics.
Solutions: Types of solutions, Colligative properties.
Chemical Kinetics, Surface Chemistry, Coordination Compounds & Organometallic
Basic Principles, Purification & Characterization of Organic Compounds.
Hydrocarbons: Alkanes and cycloalkanes, Alkenes and alkynes, Aromatic Hydrocarbons.
Organic Reaction Mechanism: Electronic displacement in a covalent bond, Common types of organic reactions.
Redox Reactions and Electrochemistry: Oxidation and reduction, Faraday's laws of electrolysis, Corrosion and its prevention.
And also, Stereochemistry, Organic Compounds, along with Functional Groups Containing Halogens.
Maths Syllabus
Trigonometry: Trigonometry Functions & Inverse Trigonometry Functions.
Algebra: Sets, Relations, and Functions.
Permutations, Combinations, Binomial Theorem and Mathematical Induction.
Complex Number, Quadratic Equations, Sequences and Series.
And also, Matrices and Determinants, Linear Inequations, Mathematical Logic & Boolean Algebra.
Geometry: Cartesian System of Rectangular Coordinates, Lines, and Family of lines.
Circles and Family of circles, Conic sections, Vector, Three Dimensional Geometry.
Calculus: Functions, Limit & Continuity, Differentiation, Application of Derivatives.
Indefinite Integrals, Definite Integrals, Differential Equations.
Statistics: Statistics and probability.
To download the KEAM Syllabus 2020 PDF: Click Here
Therefore, we hope the info that we are providing on KEAM Syllabus 2020 PDF & Exam Pattern is useful for candidates. Furthermore, recent and also everlasting updates stay tuned to our website Freshersnow frequently.
KEAM Syllabus 2020 – Frequently Asked Questions
What is the standard of KEAM Exam Questions?
The standard of the Entrance Examination will be that of Higher Secondary or equivalent examinations.
What is the marking scheme in KEAM Exam 2020?
For each correct answer, 4 marks will be awarded. For each incorrect answer, 1 mark will be deducted.
What is the pattern of the KEAM Engineering Entrance Examination?
For the Engineering Entrance Examination, each Paper will have 120 questions to be answered in 150 minutes.