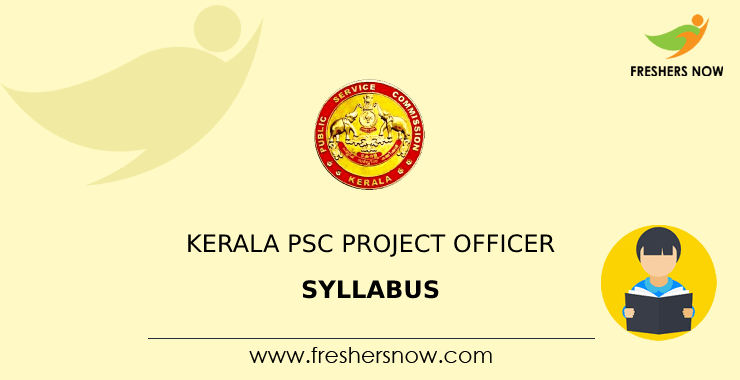 Kerala PSC Project Officer Syllabus 2022 & Exam Pattern PDF Download: Hey Guys!! Get the latest update regarding the Kerala PSC Syllabus 2022 from this page. All the aspirants who have applied for the Project Officer post can scroll down this entire page for the data regarding the Kerala PSC PO Syllabus 2022. The higher officials are planning to conduct the exam on the announced date. Moreover, for the sake of the aspirants, we have also provided the direct link to download the Kerala PSC Project Officer Syllabus 2022. Click on the direct link and start preparing for your exam.
In the below sections, aspirants can follow the data about the Kerala PSC Project Officer Exam Pattern 2022. This written exam has questions based on Educational Qualification and the total marks are 100. The time allotted for this exam is 1 hour 30 minutes with Objective type of questions. The medium of the question paper is English and there are a total of eight parts in the exam.
Kerala PSC Project Officer Syllabus 2022 – Overview
Kerala PSC Project Officer Syllabus 2022 & Exam Pattern PDF Download
Name of the Organization
Kerala Public Service Commission
Posts Name
Project Officer
Category
Syllabus
Job Location
Kerala
Official Website
keralapsc.gov.in
Kerala PSC Project Officer Exam Pattern 2022
We have observed that many applicants are searching for the Kerala PSC Exam Pattern 2022 all over the internet. For such candidates, we have given the entire  Kerala PSC PO Exam Pattern 2022. The pattern of the paper will be helpful for all the aspirants who are ready to take the exam. Take your time and collect all the necessary data regarding the Kerala Project Officer Exam Pattern 2022. We have given the details like the number of questions, name of the subject, duration, total marks, etc which indeed helps the applicants get the highest score in the exam. Knowing the structure helps the candidates prepare for the exam well and make use of this data and get a good score in the exam.
The mode of this exam is online (objective Multiple Choice).
The medium of the exam is English.
The duration of the exam is 1 hour and 30 minutes.
The maximum mark for this exam is 100.
The questions are based on educational qualifications.
| | |
| --- | --- |
| Part | Marks |
| Part I | 20 marks |
| Part II | 5 marks |
| Part III | 30 marks |
| Part IV | 10 marks |
| Part V | 5 marks |
| Part VI | 5 marks |
| Part VII | 15 marks |
| Part VIII | 10 marks |
| Total Marks | 100 Marks |
Kerala PSC Project Officer Syllabus 2022
The Kerala PSC Syllabus 2022 is very crucial for all the applicants appearing for this exam. This exam is for the post of Project Officer in Apex Societies of Co-Operative in Kerala which plays an important role. The pdf below gives the list of topics and subjects that are needed to be prepared for the exam. So, click on the direct link and start your preparation. The data provided here is collected from the official website and for any other queries applicants can visit the official site. We hope every candidate gets the highest score on the exam.
Part I
Classification of fishes and major aquatic organisms with special reference to commercially important species, Aquatic biodiversity, Habitats, Food & feeding habits of fishes, Fishery biology including fish and shellfish taxonomy, Endemic and exotic fish species, Indigenous ornamental fishes, Marine ornamentals including invertebrates. Conservation of fish resources in India, Mapping of water bodies, Resource assessment and fisheries potential, Survey and investigation of fisheries resources, Riverine Fisheries of India with special reference to fisheries of South Indian States, Fisheries of lakes, reservoirs/ reservoir fisheries management. Impact of damming of Rivers, Sport fisheries in India.
Part II
Marine capture fisheries in India and across the globe, Brackish water fisheries/ backwaters and estuaries, Methods of catching fishes; Hook and lines, Various types of nets, Parts of important nets, Injurious/ harmful fishing, Making of nets, Construction of fishing vessels/ marine engines. Status of fisheries development in India with special reference to Kerala.
Part III
Culture practices, pond preparation, Aquatic weeds, and their control, Prestocking management, Post stocking management, Supplementary feeding, Pollution of water bodies, Water quality management, Stocking of fish species, Intensive, extensive & semi-intensive fish culture, the culture of Indian Major Carps/ exotic carps/ other species of aquaculture significance like GIFT, Basa, Murrells, catfishes, Culture of cold-water fish species, Composite fish culture, Propagation of fish culture in the private sector, Sewage fed fisheries, Prawn and shrimp culture in India and abroad. Integrated fish farming; Paddy cum fish culture, Duck cum fish culture, Other types, RAS Technology, Bio Floc Technology, Aquaponics, Cage culture, Pen culture, Inland fish culture, Shellfish culture; shrimps, crabs, and other shellfishes, Marine aquaculture in India (Pearl oysters/ oysters/ clams/ mussels/ seaweeds/ others). Fish and shellfish diseases and health management. Fish feed mills, Carp feed manufacturers, Carnivorous fish feed manufacturers, and shrimp feed manufacturers.
Part IV
Fish genetics, Selective breeding, Hybridization, Fish spawning, maturation, and development, Induced breeding/ artificial spawning, Construction of Chinese/ jar hatcheries and other types of hatcheries, Site selection, facilities required, rules and regulations, Cryopreservation of fish gametes, Ornamental fisheries (breeding and management practices of various species of market demand), Commercial seed production of cultivable freshwater/ brackish water and marine fishes and shellfishes with more emphasis on commercially important species. Larval rearing, incubation, and nursery rearing. Live food organisms – Culture of Chlorella, diatoms, Rotifers, Cladocerans, Artemia, etc.
Part V
Export/ import of fish and fishery products, Fisheries products and bye products, Value addition, Health benefits of fish consumption, Post-harvest technology (various preservation methods; drying, chilling, freezing, canning, and others; theories and concepts), Fish spoilage, handling, packaging, transportation through cold chain modes and methods, Product styles and marketing channels.
Part VI
Fisheries Engineering (Aquaculture Engineering); Layout
/Design of farms, Raceways, Hatcheries, Drawing of water supply, Cold chain-refrigeration engineering, Major equipment, power calculations, and alternative energy sources for farming and processing.
Part VII
Fisheries Statistics, Fish population dynamics, Fisheries economics. Fisheries regulations/ legislation/ recommendations of the various committees for fisheries conservation; Inland Fisheries Act, Various State Fisheries Acts/ Regulation, Inland fisheries Act of Kerala, Kerala Marine Fisheries Regulation Act, Code of conduct for responsible fisheries/ aquaculture, Role of Fish Farmers' Development Agency and implementation of various schemes under PMMSY, trawl ban regulations, recommendations of various committees constituted for fisheries development in India and Kerala, FAO, Sustainable Development Goals (SDGs), CRZ regulations, Marine protected areas, Coral reefs.
Part VIII
Role of Indian Council of Agriculture Research in Development of Fisheries in India, Various ICAR and other Government institutions working for fisheries development, Fisheries Cooperative Societies, Apex Societies, Societies Acts and Regulations, Societies in Kerala and other States, MATSYAFED, National Fisheries Development Board (NFDB), Fisheries education/ training, MPEDA, CAA.
Kerala PSC Project Officer Syllabus 2022 & Exam Pattern PDF – Important Link
To Check And Download Kerala PSC Project Officer Syllabus 2022 & Exam Pattern PDF
Click Here
This page has exclusive content relating to the Kerala PSC Project Officer Syllabus 2022 and for more updates keep visiting our site @ Freshersnow.com.