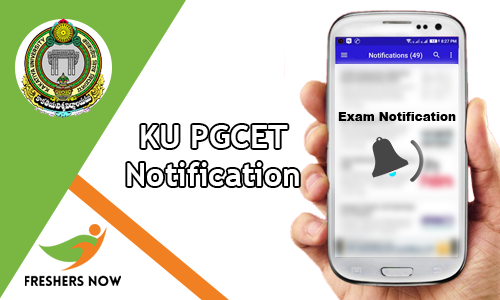 Candidates who are eagerly waiting to take their Post graduation programmes in Kakatiya University must have a look at this article. Every year regularly Kakatiya University conducts this Kakatiya University Post Graduate Common Entrance Test. Aspirants who are interested in taking their graduation programmes must apply to the KU PGCET Notification 2019. So aspirants stay tuned to this page to know more information on KU PGCET 2019. And, the information like Eligibility Criteria, Fee, and Application Form information are mentioned in the next sections. So, without skipping them have a picture on them.
Our team with great efforts have gathered the info of KU PGCET 2019 and specified in one page. And also we have mentioned the links at the bottom of this page. So, candidates can easily redirect themselves to downloading process. This is the simple process. Moreover, we have entitled the information of KU PGCET Notification 2019 like Eligibility Criteria, Fee, and Application Form. Additionally, we also mentioned the Exam Centers of KU PGCET 2019. And according to the eligibility criteria candidates need to apt the courses.
You Can Also Check: ★ KU PGCET Result
Even to know more information regarding the KU PGCET Notification candidates can visit the official site of the Kakatiya University. We have also included the official website on our page. And when candidates have a click on that, it redirects you to the official website. Moreover, it helps you to know better information of KU PGCET 2019. Therefore, we have mentioned the steps to follow in the application form. So candidates without any delay start working on them and visit the next sections to know much information.
KU PGCET Notification 2019
Kakatiya University PG Common Entrance Test is held for providing admissions into Post Graduation courses like Science, Arts, and Commerce by Kakatiya University. And for the aspirants who are having the desire to do graduation programmes must stay tuned to this page. Many of the contenders are part of this university by undergoing with this Kakatiya University Post Graduate Common Entrance Test. And many of the students got admission into P.G., P.G. Diploma and Integrated M.Sc program in various prescribed colleges.
Moreover, fascinated students can submit the application form before the last date. After successful completion of the application form, only candidates can move to the further process. Kakatiya University will conduct this KU PGCET 2019 examination for selecting students. And candidates can choose their willing course details from KU PGCET web options from the official website. Also after completing the registration procedure, individuals can download their hall tickets. Hence, the University does not yet announce examination date. So, candidates touch with us to know more facts.
You Can Also Check: ★ KU PGCET Previous Question Papers
Overview Of KU PGCET Notification 2019
Thus by the table, as mentioned earlier candidates can know the information like name of the examination and the conducting body. Moreover, we have also included the details like Mode of application and the level of the test. We have also arranged the official website. Having the data in table format will help the candidates to get the details quickly. They can understand and grasp the info. Furthermore, we have also mentioned the updated information of the KU PGCET Notification 2019. And the officials not yet released the date for Notification. So, candidates keep referring this post.
Exam Centers For KU PGCET
Kakatiya University Post Graduate Common Entrance Test 2019 will be held across Warangal and Karimnagar centers. Therefore, candidates need to apt their convention centers. Moreover, exam centers are liable to change by the Kakatiya University. And for 5 years integrated M.Sc program the exam centers are allocated in Warangal location only. Therefore candidates need to choose the exam centers carefully. So you will face problems then. And these exam centers are allotted by the official body Kakatiya University. Moreover, candidates are required to give Kakatiya University Post Graduate Common Entrance Test in the granted examination center itself.
You Can Also Check: ★ KU PGCET Hall Ticket
Courses Offered By KU PGCET
M.A. (Telugu/ English/ Hindi/ Sanskrit/ Economics/ Political Science/ Public Administration/ History/ Sociology Gender Studies.)
Sc. (Botany, Zoology, Chemistry, Biochemistry, Microbiology, Biotechnology, Physics, Mathematics, Applied Mathematics, Statistics, Geology, Computer Science, Psychology)
MHRM- Master of Human Resource Management
MSW- Master of Social Work
MTM- Master of Tourism Management
MCJ- Master of Mass Communication & Journalism
Financial Accounting
M.Com. (Banking and Insurance) and M.Com.(Computer Applications)
G. Diploma in Sericulture and Clinical Bio-Chemistry
Master of Library & Information Science (MLISc)
Master of Education (M.Ed.)
And 5-Year Integrated PG Programme in M.Sc. (Biotechnology/ Chemistry/ Pharmaceutical Chemistry)
MSc(MIT)
KU PGCET Eligibility Criteria
Candidates applying for the KU PGCET 2019 should ensure that they must have below mentioned eligibility criteria for appearing in the entrance examination. Aspirants need to have a look at this eligibility criteria before they start the total process for the Kakatiya University Post Graduate Common Entrance Test.
Nationality
Contenders should be Indian National
Students should belong to Telangana state only and should satisfy the Local and Non-Local requirements as laid down by the Telangana State Education Institution.
Academic Qualification
Candidates passed or appeared for final year intermediate examination of 2019 are eligible for five years.
And are eligible to apply for the KU PGCET 2019 Admission.
Moreover, students of General Category are required to secure marks ranging between 45-50 percentage.
Therefore, and for reserved category candidates 40 percentage of marks are required to get through the exam.
Age Limit for KU PGCET
Therefore, no age limit for the aspirants applying in this entrance test.
Age of the candidates belongs to SC and ST, and other reserved categories will be as per the rules of the organization.
Seats Reservation
| Categories | Seats Reserved |
| --- | --- |
| Local Students | 85% |
| Non-Local students | 15% |
| Females | 33.33% |
| SC | 15% |
| ST | 7.5% |
| Physically Handicaped | 3% |
KU PGCET Application Fee
| Category | Application Fee |
| --- | --- |
| OC/BC candidates | INR 450 |
| SC/ST/PH candidates | INR 350 |
Candidates have to pay the KU PGCET Application Fee taking the consideration of the category. Furthermore, the aspirants have to choose their payment mode. And, the fee can be paid by the online method by using the Debit, Credit Card and Net Banking. Therefore, remember that the KU PGCET Application Fee can also be paid by the Demand Draft and even through e-challan. Additionally, to submit the application fees by these methods, aspirants should follow the given instructions upon choosing this type of payment method. Furthermore, the aspirants should keep the copy of the payment acknowledgement for further assistance.
You Can Also Check: ★ KU PGCET Syllabus
Details On KU PGCET Application Form
Candidates Name
Fathers Name and also Mother Name
Address
Date of Birth (DD/MM/YYYY)
Category
CG Domicile
Are you physically challenged? (Yes/ No)
Gender
Occupation
Documents Required For the KU PGCET Application Form
Mobile Number
KU PGCET – 2019 Information Brochure
Documents related to personal details.
12th and 10th class mark sheet
Category certificate (as per the need)
PH certificate
Soft Copies of scanned passport size photograph photo
Digital Signature in JPG or JPEG format
How To Apply For KU PGCET Application Form
Initially aspirants should visit the official website of the university @ www.kakatiya.ac.in.
And have a click on Registration link.
Aspirants should enter the info like Name & Personal information along with Email ID, and Mobile number& Date of Birth as present in SSC or equivalent certificate.
And after completion of giving the details, candidates will be sent a user ID and password on mobile number and email ID which are entered at the time of registration.
Also click on PROCEED TO PAYMENT link for paying the application fee.
Therefore, aspirants will redirect to the next page.
Now, students should enter the other Personal Details, Reservation details, and Communication details.
Candidates need to Upload passport size photograph and signature in JPG or JPEG format.
Now have a hit on SAVE & CONTINUE.
Therefore, the further process is candidates should enter all the educational details.
Now have a click on save.
A preview page will open overview of all the details entered by you.
And save or print the form for future reference.
Apply Now
To Apply For The KU PGCET Notification 2019: Click Here
Therefore, we hope the mentioned information on KU PGCET Notification 2019 is sufficient. If the candidates want to know much information on the KU PGCET they can stay tuned to our web portal Freshers Now. And also visit the official website of Kakatiya University.