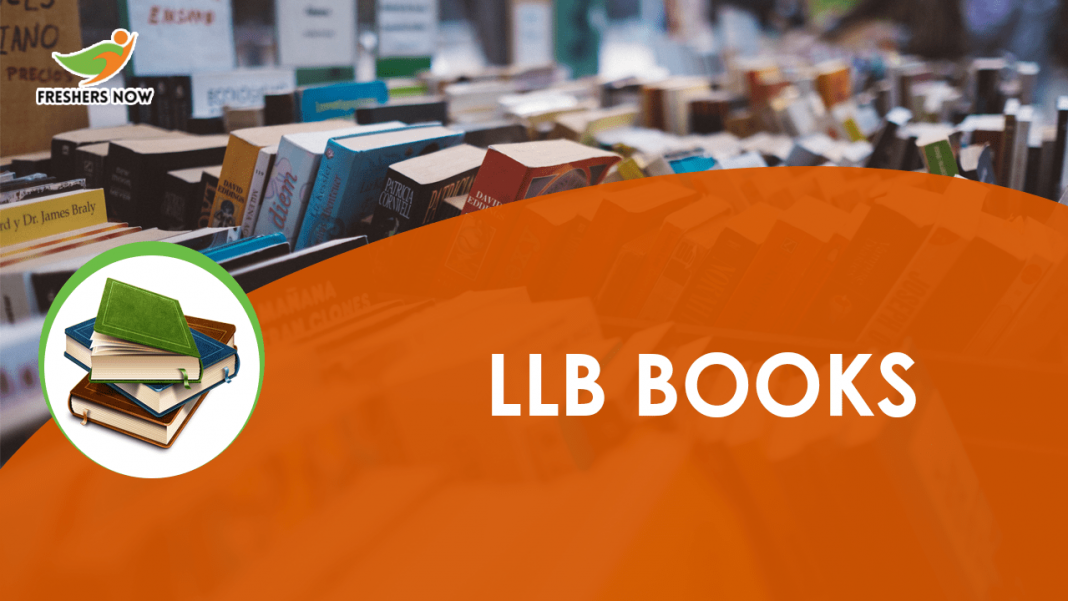 LLB Books for All Semesters: Hello Readers…!!! we have provided LLB Reference Books to complete the graduation in LLB. Candidates who are in search of the LLB Course Specializations, and New LLB Syllabus can go through this page to know more details. The LLB Books comprise of different laws that a candidate needs to learn by opting for this course. You can also know the Top Colleges that provide LLB Courses. There will be many jobs to do with the LLB Course Specializations that can make your future bright. Candidates can also get the details about the LLB Books for All Semesters, Best LLB Reference Books & their Authors in the upcoming parts of this page.
★★ Best Reference Books for All Competitive Exams ★★
What is LLB?
Bachelor of Legislative Law in short LLB is an undergraduate program of study of three years with a complete education. LLB course of three years consists of six semesters each semester consists of two semesters with different law papers of core and elective. LLB course introduces different kinds of laws such as Labour Law, Family Law, Criminal Law, etc. LLB is a course that drives the mind of candidates to the legal world because of different laws.
LLB Syllabus for All Semesters
LLB Books Syllabus for All Semesters has a completely legal version of subjects. These subjects let the candidates gain a complete grip upon the laws and sections. The below section contains the syllabus for all semesters of this course.
Semester-I
Labour Law
Law of Contract- I
Crime
Family Law – I
Semester-II
Professional Ethics
Constitutional Law
Law of Tort & Consumer Protection Act
Family Laws II
Semester-III
Arbitration, Conciliation & Alternative
Environmental Law
Law of Evidence
Human Rights & International Law
Semester-IV
Jurisprudence
Law of Contract II
Property Law including the transfer of Property Act
Practical Training – Legal Aid
Semester-V
Legal Writing
Administrative Law
Civil Procedure Code (CPC)
Interpretation of Statutes
Land Laws including ceiling and other local laws
Semester-VI
Company Law
Code of Criminal Procedure
Practical Training – Moot Court
Practical Training II – Drafting
LLB Course Elective Papers
Semester-I
International Economics Law
Women & Law
Criminology
Trust
Semester-IV
Comparative Law
Intellectual Property Law
Conflict of Laws
Law of Insurance
Semester-VI
Banking Law including Negotiable Instruments Act
Cooperative Law
Law of Taxation
Investment & Securities Law
LLB Course Specializations
LLB Course Specializations for candidates enable them to get an overview of the particular stream. Here are some of the specializations of the LLB Course.
Administrative Law
Banking Law
Code of Civil Procedure
Law of Evidence
Contracts
Criminology
Political Science
Intellectual Property Law
Environmental Law
Law of Taxation
Legal Writing
Legal Methods
Litigation Advocacy
Human Rights & International Law
Family Law
LLB Reference Books & Authors
LLB Reference Books & Authors act as a guide for the candidates in the time of preparation for exams. Here below are the Reference Books & Authors for the course.
Avtar Singh, Law of Contracts
Pollock & Mulla, Indian Contract Act
Seervai H.M. Constitutional Law of India, Bombay: N. M. Tripathi Pvt. Ltd., 1996, 3vols
Shukla V.N., Constitution of India, Lucknow: Eastern Book Co., 1995, 9th Ed.
Winfield and Jolowicz, Tort London: Sweet and Maxwell
Hepple and Mathews, Tort: Cases and Materials, London: Butter worths
Baxi Upendra and Danda Amita, Valiant victims and Lethal Litigation-The
Bhopal Case, 1990 Bombay M Tripathi Pvt., Ltd., 1990 Salmond, On Torts.
John D. Mayne – Hindu Law Usages
Mulla – Principles of Hindu Law
Pollock and Mulla – Indian Contract Act
Anson – Law of Contract
Top 10 Colleges for LLB Courses
Listed below are the Top 10 Colleges for LLB which candidates can make choices of their own for the completion of this course.
National Law School of India University, Bengaluru
National Law University, New Delhi
Nalsar University of Law, Hyderabad
Rajiv Gandhi School of Intellectual Property Law, IIT Kharagpur
National Law University, Jodhpur
West Bengal National University of Juridical Sciences, Kolkata
Gujarat National Law University, Gandhinagar
Symbiosis Law School, Pune
Jamia Milia Islamia, Delhi
Rajiv Gandhi National University of Law, Patiala
We hope that we have provided a complete Syllabus, Books for all the semesters of the LLB Course. Candidates who are in need of books for different courses stay tuned to our website Freshers Now.