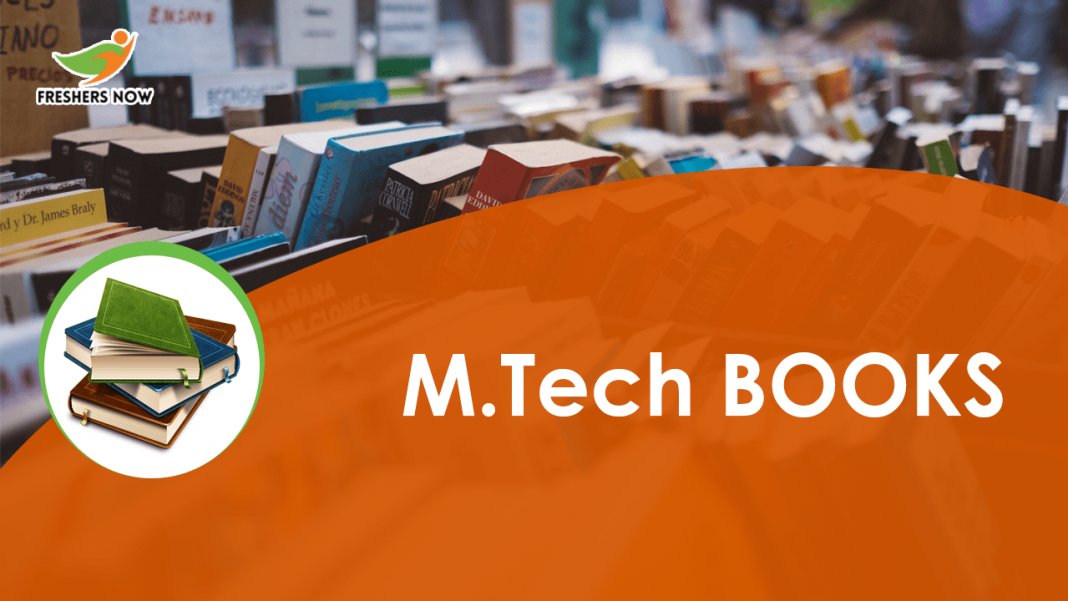 M.Tech Books For All Semesters (1st, 2nd Year): Here in this article, we have provided the complete M.Tech Syllabus, books, Reference books, and Authors for all semesters about the M.Tech Books. The candidates who are in search of Books for M.Tech can find all the books authors below section. To get M.Tech Books for all semesters check through the below sections. By referring to the M.Tech Books students can have knowledge about preparation for the exam.
★★ Best Reference Books ★★
What is M.Tech?
Master of Technology in short called M.Tech makes the candidates professionalized in the field of technology. M.Tech is a professional course and also one of the popular courses to learn technology. M.Tech is a course of two years with full-time or part-time education. M.Tech course consists of four semesters with different subjects related to technology.
The candidates should complete their B.Tech with 50%-60% of marks as aggregate in order to pursue the M.Tech course. The candidates who pursue M.Tech after completing B.Tech add an extra qualification and as well as skills and get well-versed with the technology. By the time candidates complete M.Tech they get hired in reputed companies as technologists.
M.Tech Specialization Courses
M.Tech Course offers candidates with different kinds of streams
Chemical Engineering
Process Control and Instrumentation Engineering
Computer Science and Engineering
Software Engineering
Electrical Engineering
Power Systems Engineering
Mechanical Engineering
Thermal Engineering
Electronics and Communication Engineering
VLSI System Design
1. Chemical Engineering
Here are the semester-wise subjects for this course.
Semester-I
Process Modelling and civilization
Advanced process control
Advanced chemical engineering
Advanced Mathematics
Analysis of chemical reactors
Designing of chemical reactors
Elective
Semester-II
Fluidization engineering advancement
Chemical process design
Phenomena of Advanced transportation
Advanced Organic Chemistry
Elective
Workshop
Semester-III
Chemical Process in Industries
Analysis and Instrumental Methods
Advanced Chemical Engineering
Workshop
Open Elective
Semester-IV
Analysis of Energy Engineering
Advancement in Materials Sciences and Technology
Open Elective
Project
Internship
2. Process Control and Instrumentation Engineering
Below are the subjects in all four semesters for this course.
Semester-I
Advanced Mathematical Techniques
Linear Control Theory
Modelling & Simulation of dynamic systems
Transducer Technology
Advanced Microprocessors & Micro controllers
Electronic Devices and Systems
Modern Power Converters
Control System Laboratory I
Instrumentation Laboratory I
Semester-II
Advanced Control Theory
Process Control and Instrumentation
Digital Control Systems
Adaptive & Robust Control Systems
Soft Computing Techniques
Digital Signal Processing
Real Time Systems
Industrial Automation and Control
Data Communication
Experimental Methods and Analysis
Ultrasonic Instrumentation
Control System Laboratory II
Instrumentation Laboratory II
Seminar
Semester-III
Remote Sensing and Control
Robotics
Reliability and Safety Engineering
Artificial Intelligence
Optical and Laser Instrumentation
Biomedical Instrumentation
Image Processing
Analytical Instrumentation
Project
Seminar
Semester-IV
Project & Dissertation
Seminar
3. Computer Science and Engineering
Here are the subjects in all semesters for this course.
Semester-I
Computer Networks
Advances in OS
Advanced Database Management System
Computer System Performance Analysis
Fundamentals of Computer and Introduction to C programming
Elective 1
Seminar
Semester-II
Formal Models in Computer Science
Advanced Algorithms
Advanced Computer Architecture
Cloud Computing
Elective 2
Project Phase-I
Seminar
Semester-III
Information Security
Elective 3
Elective 4
Project Phase-II
Evaluation of Project Phase-I
Semester-IV
Embedded Systems
Project Work Evaluation and Viva-Voce
Optical Networks
Advances in DIP
Computer graphics and visualization
4. Software Engineering
Below is a list of subjects in all semesters of this course.
Semester-I
Applied Probability and Statistics
Software Risk Management and Maintenance
Advances in Software Engineering
Formal Models of Software Systems
Advanced Data Structure and Algorithms
Energy Aware Computing
Practical
Software Requirements and Design Laboratory
Advanced Data Structures Laboratory
Semester-II
Software Project Planning and Management
Software Testing
Software Metrics and Quality Assurance
Data Warehousing and Data Mining
Socially Relevant Mini Project
Software Testing Laboratory
Big Data Analytics
Machine Learning
Practical
Semester-III
Software Design Patterns
Information Retrieval Techniques
XML and Web Services
Software Documentation
Project Work (Phase I)
Semester-IV
Project Work (Phase II)
5. Electrical Engineering
Here is the list of subjects in this course which you refer at a glance.
Semester-I
Power System Modeling
Advanced Power Electronics
Modern Control System
Communication Skills
PG Lab-I
Semester-II
AC /DC drives
Advance Power System Protection
Seminar-I
PG Lab-II or Mini Project
Power System Instrumentation
Semester-III
Project Management and Intellectual Property Rights
Project work Phase-I
Semester-IV
Project work Phase-II
6. Power Systems Engineering
Given below is the syllabus for all four semesters of this course.
Semester-I
Optimization Techniques
Renewable Energy Systems
Advanced Power System Analysis
Power Conversion Techniques
Power System Stability
Semester-II
Power System Operation and Control
High Voltage DC Transmission
Flexible AC Transmission Systems
Power System Simulation Lab
Semester-III
Project Work
Semester-IV
Project Work
Power System Engineering Electives: Semester- I
Industrial Control Electronics
System Theory
Analysis and design of Artificial Neural Networks
Digital Signal Processing & Applications
Digital System Design
Semester- II
Power Electronic Drives
Digital Controllers in Power Electronics Applications
Computer Networking
Electrical Distribution Systems
Fuzzy Systems
Design of Intelligent Controllers
VLSI Architecture and Design MethodologiesHigh Voltage Engineering
7. Mechanical Engineering
Here is the syllabus for this course for all semesters.
Semester-I
Numerical Analysis and Optimization
Mechatronics and Product Design
Experimental Stress Analysis
Instrumentation and Measurement
Metal Forming Analysis
Experimental Stress Analysis Lab
Mechanical Measurement Lab
Computational Lab
Semester-II
Theory of Elasticity
Design of Mechanisms
Principles of Machine Design
General Elective I
General Elective II
Seminar
CAD/CAM Lab
Design Practice Lab I
Semester-III
Mechanical Behaviour of Materials
Mechanical Vibrations
General Elective III
Design Practice Lab II
Materials Behaviour and Vibration Lab
Minor Project
Semester-IV
Dissertation
Mechanical Engineering Electives :
Elective Paper-I
Design of Pressure Vessels
Computer-Aided Design
Design of Bearings and Shaft
Design of Pollution Control Equipments
Elective Paper-II
Design and Metallurgy of Welded Joints
Materials Management
Fracture Mechanics
Finite Element Methods
Elective Paper-III
Robotic Engineering
Total Quality Management
Computer-Aided Vehicle Design
Tribology
8. Thermal Engineering
Semester-I
Advanced Thermodynamics
Advanced Fluid Mechanics
Advanced Engineering Mathematics
Advanced Heat Transfer
Engineering Software Lab
Elective I
Elective II
Semester-II
Experimental Methods in Thermal Engineering
Principles of Turbomachines
Internal Combustion Egine, Combustion & Pollution
Computational Fluid Dynamics
Advanced Heat Transfer Lab
Elective III
Elective IV
Thermal Lab-II
Successful Research and Development Program
Semester-III
Seminar
Project
Industrial Training
Semester-IV
Seminar
Project & Dissertation
Thermal Engineering Elective Papers:
Turbocompressors
Convective Heat Transfer
Design of Wind Power Farms
Fire Dynamics and Engineering
Combustion
Advanced Power Generation Systems
Computational Heat Transfer
Micro/nano scale heat transfer
Thermal Design
Radiative Heat Transfer
Lattice Boltzmann method
Heating, Ventilating and Air-conditioning
Gas Dynamics
Heat Exchangers
Steam and Gas Turbines
9. Electronics and Communication Engineering
Semester-I
Advanced Microprocessor &Micro Controllers 4
Information and Communication Theory
Advanced Engg. Math
Advanced digital signal processing
Fundamentals of digital electronics and Communication
Seminar
Semester-II
Wireless Networks
Mobile communication
Advanced Network
Open Elective IV
Open Elective V
Term paper leading to thesis
Semester-III
Security in Communication Network
Project Development and Resource Management
Dissertation (Part-I)
Semester-IV
Dissertation (Part-II)
Electronics and Communication Engineering Elective Subjects:
Monolithic Microwave Integrated Circuits
Cognitive Radio
Error Control & Coding
Optical Communication
Advanced Satellite Communication
Information Theory
Next Generation Networks
Signal Compression
Soft Computing
Pattern Recognition
FPGA based System Design
Adaptive Filters and systems
10. VLSI System Design
Semester-I
Digital VLSI Design
Signal Processing
CMOS digital integrated circuit design
VLSI technology & design
Simulation Lab (VLSI)
Seminar
Semester-II
Low Power VLSI Design
CMOS Analog and Mixed Signal IC Design
Design for Testability
VLSI Laboratory – II
Mini Project – II
Semester-III
Comprehensive Viva voice
Internship/Dissertation Phase – I
Semester-IV
Dissertation Phase – II
VLSI System Design Elective Subjects
Here are some elective subjects that a candidate can choose of their own choice.
Digital Signal Processors And Architecture
Image Video Processing
VLSI Signal Processing
System Modeling And Simulation
Low Power VLSI Design
Semiconductor Memory Design And Testing
Hardware-Software Co-Design
Digital System Design
Device Modeling
Advanced Digital Signal Processing
Network Security & Cryptography
M.Tech Reference Books & Authors for All Semesters
M.Tech Reference Books along with authors help the candidates to prepare well for the examinations. The reference books help the candidates to gain the subject knowledge in different ways. Below are the Reference books & Authors for all the Semesters.
Transport Phenomena, R. B. Bird, W. E. Stewart, and E.N. Lightfoot, John Wiley, 1960.
Transport Phenomena – A Unified Approach, R.S. Brodkey, and H.C. Hershey, McGraw Hill, 1988.
Momentum, Heat and Mass transfer, C.O. Bennet and J.E. Myers, McGraw Hill, 1993.
Gajaria G.T., Laws Relating to Building and Engineering Contracts in India,
Jimmie Hinze, Construction Contracts, McGraw Hill, 2001.
Jack Meredith & Samuel Mantel, Project Management: A managerial approach, Wiley India
Thomas N. Huckin and Leslie A. Olsen, Technical Writing and Professional
Communication for Non-native Speakers of
English; Tata McGraw Hills, International Edition, 1991.
Jeff Butterfield, Soft Skills for Everyone, Cengage Learning India Private Limited,2010.
Cormen, Leiserson, Rivest, "Introduction to Algorithms", McGraw Hill.
Aho, Hopcroft, Ullman, " The Design and Analysis of Computer Algorithms", Addison Wesley.
Papoulis, S. Pillai, Probability, Random Variables and Stochastic Processes, Tata McGraw Hill
T Veerajan, Probability, Statistics, and Random Processes
R.P.Singh, S.D. Sapre, Communication Systems, Analog &Digital
We wish we have provided enough information regarding M.Tech Books. The books help the candidates to get complete knowledge of the different streams of the course. For more books on different courses stay tuned to our website Freshers Now.