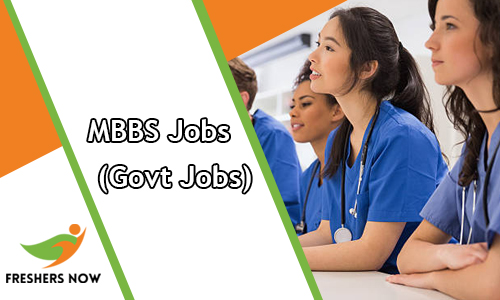 MBBS Govt Jobs 2020
Tired of searching for MBBS Govt Jobs 2020? then without delay take a look at this complete page and find out the current openings related to Medical Jobs In India. An immense number of job hunters are very passionate about the Doctor Jobs 2020. Candidates those who completed their MBBS can refer the entire page very deliberately. Because most useful details have been shared on this page. So we insist the contenders that don't miss this golden opportunity and apply for various MBBS Government Jobs 2020 through this page. We all know that the Doctors are responsible for raised life expectancy. An enormous of the government organizations are inviting the applications for eligible aspirants. Hence, check the above table and apply.
After 10th many of the students choose the medical related courses or groups. As per the latest news, a large number of students had completed their education. And now all the contenders are very curious to check the MBBS Govt Jobs 2020. So that, we have created this page and sharing all the recently available recruitments which are officially declared by the various authorities. We are going to present the pretty information regarding Medical Jobs In India 2020. By clicking on the above given links you can get the entire overview of specific job openings. So check out the details and apply on or before the end date. Interested contenders can also check the Nursing 2020 from our site.
Medical Jobs In India 2020
Today we are going to provide a clear information about MBBS Govt Jobs 2020. You can also check the various Govt Jobs 2020 from our website related to MBBS Job Openings 2020. According to the official news, a massive number of job fighters are looking for Medical Govt Jobs 2020. On this page, we have given the mandatory information about Government Jobs for MBBS freshers 2020, MBBS Experienced Govt Jobs 2020, Govt Jobs for MBBS Doctors, MBBS Government Jobs in Railway 2020, Jobs for MBBS Doctors in Unicef, Jobs for MBBS Doctors in Delhi etc. Also, there are various Govt MBBS Jobs 2020 available in India. Hence, without wasting your valuable time check them all before.
Check the above given table and go through the MBBS Govt Jobs 2020 details of each and every recruitment. Also, completion of checking the table select any of the recruitment and check the details. If you are having the complete eligibility criteria such as education qualification, age limit then click on the link and continue to the next step. Also, contenders need to pay an application fee that is given by the authorities. We know that the application fee is different for various category contenders. So choose your category and pay an application fee through online mode. After that take a look at the remaining information such as selection process, pay scale details.
Govt MBBS Jobs 2020
A large number of organizations like DHS Assam , MCGM, OPSC, NHM Goa, GMCH Chandigarh, PGIMS Rohtak, CDMO, VMMC SJH, GTBH, WBHRB, BNCMC, Manipur PSC, JKPSC, EDMC, RIMS, AIIMS Bhubaneswar, SGPCI, DLSA Burdwan, BARC, UHSR, GSSSB, JRHMS, ESIC Mumbai, NRHM Punjab, NEIGRIHMS, ALIMCO, DME AP, OPSC, APPSC, TSPSC and much more authorities are seeking for the proficient contenders those who had completed their MBBS Degree in recognized university or institute. In order to select the contenders into their organization. Those who are waiting for the MBBS Govt Jobs 2020 can apply through online mode for the latest Medical Jobs In India 2020 through this page.
After completion of the registration process, all the aspirants need to concentrate on the preparation. As much as possible spend the time of preparation. Because getting a Medical Job is not an easy task. All the applied aspirants need to work hard. Without checking Exam Pattern, Syllabus and Previous Papers it is very hard to clear the written test. To help the aspirants in their preparation time on our website we have given the accurate material. Before going to take a part in the written test all the applicants have to prepare well according to the material. So that you can easily crack the test. After written exam, you have to face some of the rounds such as Medical Test, PET and interview. So those who want to make their bright future in Medical filed need to clear all the rounds.
Government Medical Jobs In India 2020
The Government organizations offers excellent pay scale along with the grade pay to the selected aspirants. Every year a huge number of vacancies like Radiographer, Assistant Professor, Medical Officer (Assistant Surgeon), Lab Technician, Counselor, LHV, Demonstrator, MO, Teacher, General Duty Medical Officer, Senior Resident Doctor, Junior Resident, Senior Resident, General Duty Medical Officer, ANM, Pharmacist, Lab Technician, Senior Nursing Officer / Staff Nurse Grade-I, Nursing Officer / Staff Nurse Grade-II, Para Legal Volunteer, Para Medical Worker, Public Health Manager, District Consultant, Finance cum Logistics Consultant, Social Worker, District Urban Health Manager, DEIC Manager, Block Programme Manager etc are available. Pick up the suitable post and check the starting date as well as end date and apply.
We hope the details on this page regarding MBBS Govt Jobs 2020 gives a clear idea. Hence, those who are about to graduate or who are going to complete their MBBS can stick with this page and find out the latest information. Visit our website www.freshersnow.com and keep updating yourself by referring to the current Medical Jobs In India 2020. We suggest the job seekers that bookmark this page by pressing the cntrl+d.