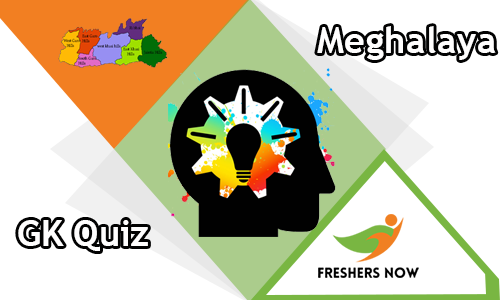 Meghalaya GK Quiz Questions and Answers: Meghayala is mostly known word to all the people of the country because of its pleasant weather. Well, Do you want more information about Meghalaya? Then stick on to our Meghalaya GK Quiz Questions article, provided for you all? So, why are you late move on to further details about the Meghalaya quiz? Meghalaya GK quiz questions and answers are given to you guys for the better understanding of the questions. Hurry up, don't waste your time by seeing different information. we provide you Meghalaya General Knowledge Questions which are very helpful to various competitive exams like Civil service and Group-1 and Group-2 and many other exams. So, let us look on to our Meghalaya GK questions given below and some about them.
Details of Meghalaya GK quiz
Here details of Meghalaya GK quiz are provided to you guys. Check for the details provided in tabular form. Meghalaya GK Questions consists of 25 questions and 30 minutes of time to answer them. You can not reanswer the question. Once you record or fix for the answer it won't change. And this gives you serious about the exam. In this Meghalaya General Knowledge Quiz right is given with green tick mark and the wrong answer is given with red Mark. So that you can easily differentiate the right and wrong. Proper utilization of time will gives you good results and aids in different exams and interviews. Let us know some points about Meghalaya. Move on to about Meghalaya given below.
| | |
| --- | --- |
| Quiz Name | Meghalaya General Knowledge |
| Category | General Knowledge Questions  |
| Number of Questions | 25 |
| Time | 30 Minutes |
| Exam Type | MCQ (Multiple Choice Questions) |
Meghalaya Quiz Questions and Answers
About Meghalaya GK Quiz
Meghalaya is the familiar word to all the people across India and over the world. Meghalaya is hotspot place for tourism because of its pleasant weather and fresh air attracts many people. Due to which it is recorded as the most visited places India. some of the tourist places in Meghalaya are Seven Sisters Falls Umiam Lake, Don Bosco Centre for Indigenous Cultures, Double Decker Living Root Bridge, Double Decker Living Root Bridge.
Capital: Shillong
Chief Minister: Conrad Sangma
Languages: Khasi, Garo, Jaintia, Bengali, Assamese, English
Population: 3,211,000
Rivers: Simsang, Manda, Darming, Ringge, Gamol, Bugi
State animal: Clouded leopard
State bird: Hill myna
Official State flower: Lady slipper orchid
State tree: Gamhar
Major crops: Potato, cotton, pineapple, orange
No.of Districts: 11
Benefits of practicing the Meghalaya GK Quiz
The main benefits you get by having this Meghalaya quiz are
We can know about the state very well.
You get confidence after attempting this quiz so that you can face any of the interviews and come out of your dream jobs.
Very helpful in gathering information about Sikkim so that everyone can serve the country once you pass the exam.
You can crack toughest exams very easily.
Results of Meghalaya GK Quiz
Also, Results are given to you in the form of grades, points, and marks so that you can get an idea how much more you have to study. Results of the Meghalaya GK Quiz are available to you in pdf form we download it and it will provide questions with correct answer along with the proper explanation of every question. To know more about this, visit our site Freshersnow.com for latest updates.
| | |
| --- | --- |
| ★ Join Freshers Now Social Media Channels: | Click Here |