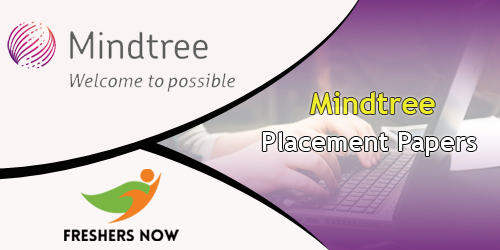 Want to crack the Mindtree Interview Questions 2018? then you have to focus on Interview Questions which are available in this article at free of cost. Usually, a huge number of candidates are waiting to clear the interview round. So check the latest Mindtree Technical as well as HR Interview Questions in this article. This post is very helpful for the Freshers and Experienced candidates. To learn more information related to the Interview Questions scroll down the current article and refer. Moreover, you can get all the Mindtree Company Interview Questions and Answers. We are here to provide the latest Interview Questions for the sake of candidates.
Mindtree Interview Questions 2018
Searching for Mindtree Interview Questions 2018? then no need to fear because on our website you can get the exact details that are officially updated on the official website. So aspirants are advice that practicing more Mindtree Company Interview Questions boost up the confidence level of the candidates. So that they can easily clear the test without fail. The Mindtree will be select the applicants for Mindtree Recruitment 2018 by organizing Written Test, Coding Test, Technical Interview and HR Interview. The present article helps you by clearing the Technical Interview round and HR Interview round. Spend your valuable time on this post and get a clear picture of Interview Questions.
Mindtree Interview Questions 2018 Details
| | |
| --- | --- |
| Name Of The Company | Mindtree |
| Qualification | Any Graduates/ Post Graduates |
| Job Location | Across India |
| Category | Interview Questions |
| Official Website | www.mindtree.com |
Mindtree Interview Questions 2018 For Freshers And Experienced Candidates
Important and frequently asked questions are available in this section for both Freshers and Experienced candidates. The Mindtree Interview process will be very tough without checking the Mindtree Interview Questions 2018 no one cant clear the round. Once you clear the Technical and HR rounds you got a chance to work with Mindtree. The Mindtree is offering many of the benefits for their employees and there is a free environment in the company. Candidates no need to feel the stress because the friendly environment is available in the Mindtree Company. Mindtree Off Campus 2018 is the great job chance for the people who have been looking for IT Jobs.
Mindtree Technical Interview Questions 2018 For Freshers
Check the frequently asked questions in the technical round from this section. Some of the Interview Questions will be listed in the below sections.
Software Engineering Interview Questions For Freshers:
What is software engineering?
Which SDLC model is the best?
When you know programming, what is the need to learn software engineering concepts?
Who is software project manager?
How can we derive the size of software product?
Mention some project management tools.
How can you measure project execution?
What is SRS?
What is error tracking?
Define process?
Define software configuration model?
Mention the categories of debugging approaches?
Define prototype?
What is concurrency and how it is achieved in software?
Briefly, define top-down and bottom-up design model.
What are CASE tools?
What is functional programming?
Mention the formula to calculate Cyclomatic complexity of a program?
What is black-box and white-box testing?
Network Engineer Interview Questions For Freshers:
What are the layers of the OSI reference model?
Explain node
Define LAN
What are routers?
Describe Network Topology
What is the maximum length allowed for a UTP cable?
Briefly, describe NAT.
What is RIP?
How does a network topology affect your decision in setting up a network?
What is WAN?
How many layers are there under TCP/IP?
What is the importance of implementing a Fault Tolerance System? Are there limitations?
What is NOS?
How can you identify the IP class of a given IP address?
What is the main purpose of OSPF?
Describe star topology
Give some examples of private network addresses.
What is Hybrid Network?
One way of securing a network is through the use of passwords. What can be considered as good passwords?
Mindtree HR Interview Questions For Freshers
Tell me about yourself
What is your greatest weakness?
Why have you applied for this particular job?
What is the most difficult situation you have had to face and how did you tackle it?
Why do you want to work at our company?
Where do you see yourself in 5 years?
What are your hobbies and interests?
What is one thing that you like about our company?
Where do you see yourself in 5 years?
Why do you want to work for us?
Mindtree Technical Interview Questions 2018 For Experienced
Oracle Interview Questions For Experienced:
What is the use of NVL function?
What is DML?
How do we display rows from the table without duplicates?
What is USING Clause and give example?
How do we create privileges in Oracle?
What is a cursor variable?
How do we get field details of a table?
What is a View?
How can we delete duplicate rows in a table?
What is hash cluster?
Can we store pictures in the database and if so, how it can be done?
What is difference between SUBSTR and INSTR?
What are privileges and Grants?
How to display row numbers with the records?
What is the parameter mode that can be passed to a procedure?
How to display employee records who gets more salary than the average salary in the department?
UI/ UX Interview Questions For Experienced:
What is your design process?
How do you work with engineers/Product Managers/other designers?
What's an example of great design (digital or physical)?
As a designer, what do they think is the most important aspect of their job?
When is it relevant to focus on one of these areas vs another?
Tell us a bit about how you undertake user testing?
How do you know that what you're designing works for the user? Tell us a bit about personas and your approach to research and incorporating research in your work?
Describe your challenges as a UI designer?
How do you manage the difference with your UX designer?
What is the app you think with a bad UI design?
Give an example of a popular user interface and how will you redesign it?
Mindtree HR Interview Questions For Experienced Candidates
Can you tell us something about your previous boss?
How would you improve upon our product/ company?
Are you comfortable in learning new technologies?
How long can you commit to working with us?
Why should we hire you?
What is your expected salary?
What motivates you at work?
Why are you leaving your previous job?
Is there anything that you do not like about your last or current job?
freshersnow.com helps the candidates to get the clear and complete information related to Interview Questions, Syllabus and Test Pattern, Placement Papers, Off Campus Drives and much more related to MNC Companies.