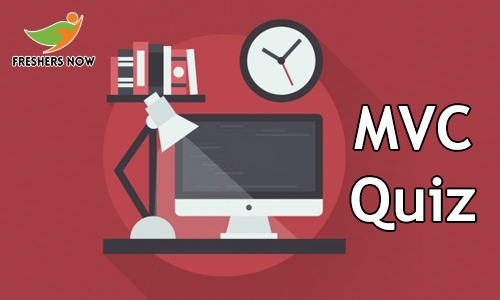 Candidates, are you searching for MVC Quiz? Then you are at the right place. Our article provides you with MVC MCQ Online Test with leading MVC Objective Type Questions and Answers. Hence, aspirants, those who want to attend campus interviews can practice the quiz. Also, we suggest the aspirants check the whole article for more important stuff like benefits of taking the online test, models of questions asked in the exam, type of questions, etc. Moreover, let you know that the questions that we are providing in this post are collected from experts. Therefore, candidates can practice the MVC MCQ Online Test without worrying.
MVC Quiz Details
| | |
| --- | --- |
| Quiz Name | MVC |
| Category | Technical Quiz |
| Number of Questions | 25 |
| Time | No Time Limit |
| Exam Type | MCQ (Multiple Choice Questions) |
MVC MCQ Quiz Instructions
Before attending an interview, candidates can practice the previous papers or mock tests to qualify for the interview process. Here we are providing you with the complete details in the article about the MVC MCQ Online Test. The test contains 30 questions for 30 marks with no time limit.  As mentioned earlier this is a Multiple Choice Questions type exam. So, after the completion of the test, candidates have to remember that he/she should click on SUBMIT TEST. Otherwise, your answers will not be submitted. Furthermore, contenders should not refresh the page until the exam is completed.
MVC Online Test
About MVC
Model View Controller is (MVC) is an architectural pattern. Moreover, it helps to separate an application into three main logical components. Each component handles specific development aspects of the application. The Model Components corresponds to all the data related logic actions that the user does. The View is used for UI logic of the application. And, finally, the controller acts as an interface between Model and View. Therefore, candidates those who are eagerly waiting to take the test can attend the MVC Quiz from the above section. Furthermore, we suggest the candidates take the test to improve your time management skills, accuracy, and speed.
Benefits of Practicing MVC Quiz
There are many benefits of practicing the MVC Quiz. Here we are providing you with some of the benefits that you obtain by practicing the test.
You can learn time management skills.
Crack the interview easily.
Gain minimum knowledge on MVC.
Improve your accuracy and speed.
How To Check MVC Programming Online Test Results
So, after the completion of the test, candidates have to click on Submit Test. And, after submitting the test, the aspirants have to wait for some more time to check their results. Moreover, we suggest the candidates not to refresh the page while taking the MVC MCQ Online Test.
So, candidates, those who have any queries can comment in the comment box that is present below. Also, by practicing the test, you can learn and improve the technical skills. Therefore, to practice more relevant online tests you can stay tuned to our website Freshersnow.com